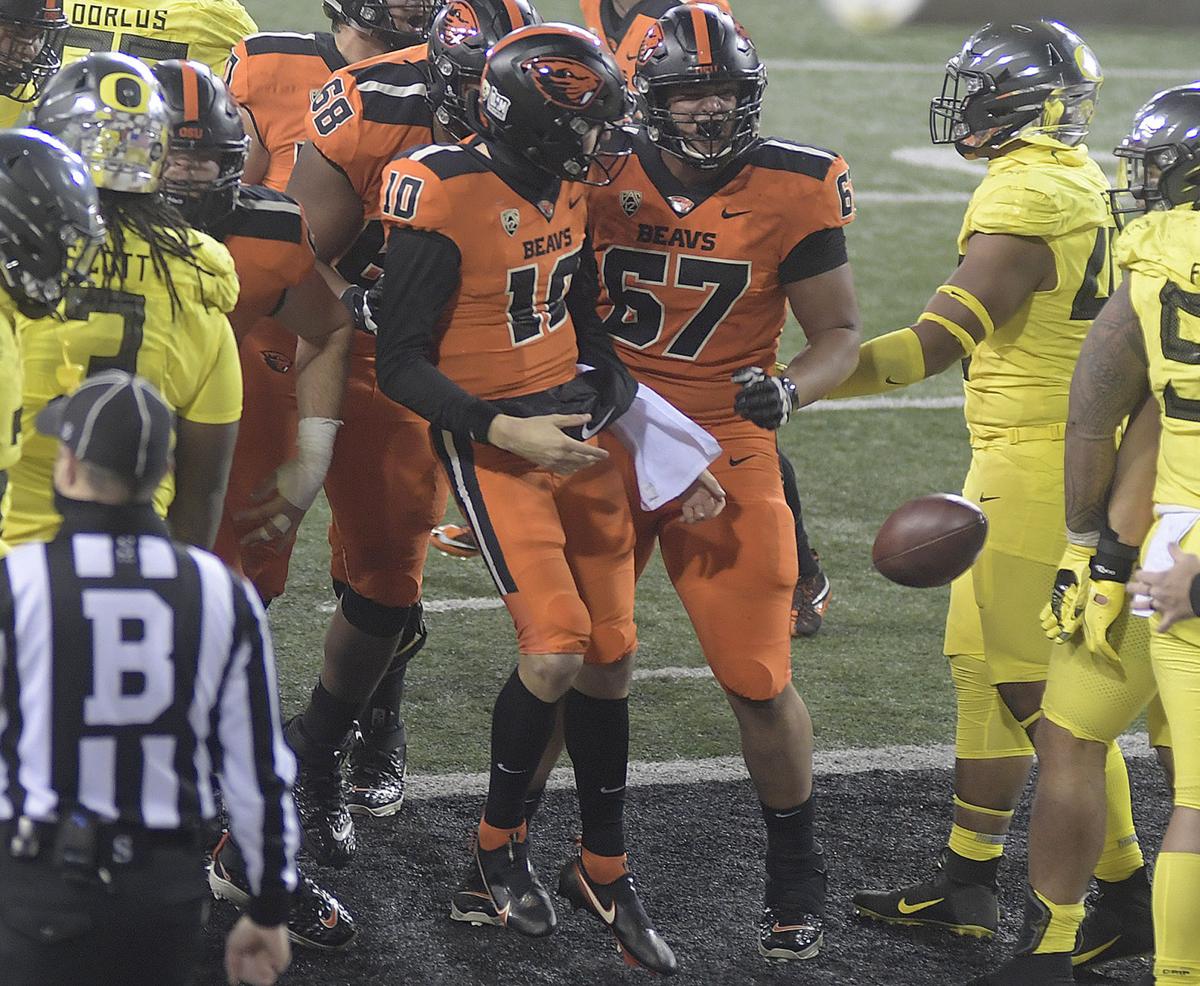 Mark McElroy has been coaching football for more than 35 years and has helped countless players kickstart their college and NFL careers. 
He says that Chance Nolan has the best instincts of any quarterback he's ever coached. 
That isn't just hyperbolic praise — it means a lot coming from McElroy. He's spent more than two decades as the head coach at Saddleback College, a powerhouse junior college that is nestled in the football hotbed of Southern California. 
Saddleback has sent 22 quarterbacks to Division 1 schools since 2003 alone. That includes Colt Brennan, the former University of Hawaii star who racked up the fourth-most passing touchdowns in the history of Division 1 football. 
Out of all of them, McElroy believes Nolan, a redshirt sophomore at Oregon State who will make his first Pac-12 start this weekend, has the best natural play-making instincts.
"Let's just say people who like Oregon State football are going to have a lot of fun watching Chance play," McElroy said. 
Nolan will step in for injured stater Tristan Gebbia when the Beavers face Utah at 7:30 p.m. Saturday and hope to keep Oregon State rolling after back-to-back wins. 
It's been a bit of a winding journey to Corvallis for Nolan, a 6-foot-3, 200-pound signal-caller who didn't receive much recruiting buzz out of high school and ended up at Middle Tennessee State. 
He took a redshirt year there in 2018 and then transferred to Saddleback, where he had absolutely no guarantee of playing time. 
When Nolan arrived at Saddleback, the Gauchos already had a starting quarterback. Robbie Patterson, who starred at South Medford High School, led Saddleback to a conference title as a freshman in 2018 and was voted its player of the year by his teammates. 
Nolan entered the 2019 season intending to compete with Patterson and one other player for the starting job. But Patterson suffered a non-contact injury during the first scrimmage of the year and missed the entire season. 
Patterson is now on a full scholarship at University of Montana and is in the mix to start for the Grizzlies. For many teams, the loss of such a talented starter would have been devastating. But Nolan stepped in and didn't miss a beat.
He led the Grizzlies to a 9-2 record, was named the league's most valuable player and quickly began to vault up recruiting boards. 
McElroy said he has known Oregon State coach Jonathan Smith since he was  a teenager — Smith spent his prep days at Glendora High School, 50 minutes north of Saddleback College. 
McElroy gave Smith a call early in the 2019 season to let him know that he had a special quarterback in the fold and told Smith to keep an eye on him.
"We did. You would watch his games and he was impressive," Smith said. "Distributing the ball, winning games. He can move his feet but also can make all the throws. It was a battle in the recruiting process down to the end. He had some real options in our league. We felt really fortunate to win that one."
Among those options were Utah, the team Nolan will make his first career start against. The Utes gave Nolan a scholarship offer, as did UCLA and Oklahoma State. 
"I think Chance does have great instincts," Smith said. "Early on, when he didn't have a grasp of the entire playbook, he still found ways to move the ball and find open receivers. So I think his instincts of playing the position and timing are pretty good."
Almost as soon as Nolan arrived at Saddleback, McElroy knew he brought something special on his hands.
"I recognized that his instincts were through the roof. It's kind of like having Steph Curry or John Sotckton running down the court with the ball," McElroy said. "You got guys that just make great decisions on the move and have great vision. So I told him Game 1 during pregame, 'Just trust your instincts. You know what our scheme is, but you just do what you do best.'"
On the second play of that first game, Nolan quickly cycled through his reads and launched a 53-yard touchdown to a receiver who was, maybe, the third or fourth option on the play. 
"That's an advanced decision that most people wouldn't pick up and he picked it up," McElroy said. "I went 'This kid is gonna be unbelievable.'"
Nolan threw for more than 3,000 yards and ran for over 1,000 more that season — numbers that are made more impressive by the fact that he often exited games late in the third quarter because Saddleback frequently won in blowout fashion. 
Smith didn't want to tip his hand as to whether the Beavers will add any designed runs for Nolan. But he did say they will take advantage of Nolan's skills. 
McElroy praised Nolan's leadership skills and his ability to connect with teammates while at Saddleback. A handful of Oregon State players spoke earlier this week about the respect they have for the quarterback, and Smith believes the Beavers will have a steady presence under center, even with the loss of a respected player like Gebbia. 
"I think this team is behind Chance," Smith said. "We've got a bunch of leaders outside the quarterback room. So I don't see that being a major factor. I think guys are confident in Chance, but also guys want to step up their games even further for Tristan."
Jarrid Denney can be reached at 541-521-3214 or via email at Jarrid.Denney@lee.net. Follow him on Twitter @jarrid_denney