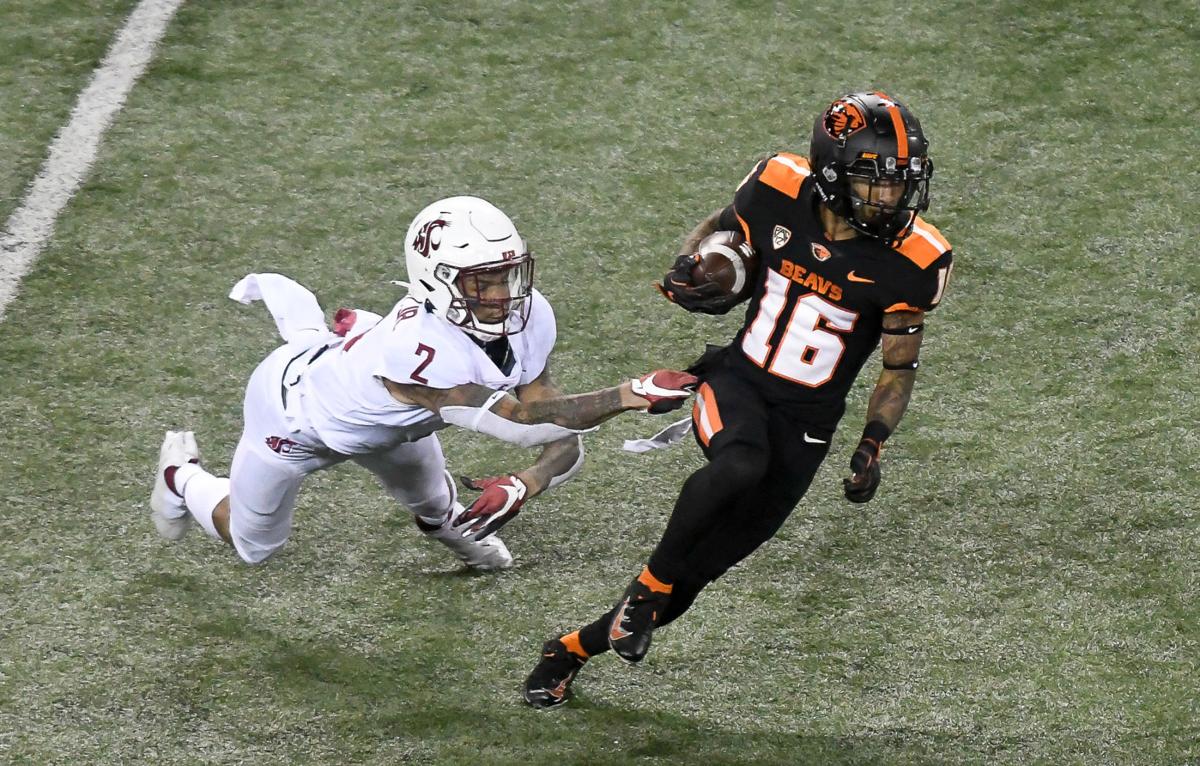 The injury hits keep coming for the Oregon State football team. 
At the start of this season, the Beavers' ran out Trevon Bradford, Champ Flemings and Kolby Taylor as their starting receivers. Now, the team might be without all of them, as well as a handful of other starters, for Saturday's season finale against Arizona State. 
"We'll see what (Bradford) looks like (Thursday). You know how these guys are — they love to play," Smith said. "Things could change, but currently I see him as doubtful."
Oregon State could also be without backup receiver and special teams standout Jesiah Irish, who missed last week's game due to COVID-19 contact tracing protocols. 
That leaves Tyjon Lindsey, Tre'Shaun Harrison and true freshman Zeriah Beason as the likely starters at receiver. Aside from those three, Anthony Gould is the only receiver to play a snap this season. 
Smith said the team is still uncertain about the status of star running back Jermar Jefferson, who left last week's game with an ankle injury in the fourth quarter. 
"Jermar did a little bit today," Smith said of Jefferson's workload at practice. "Hoping to do some more tomorrow."
The pileup of offensive absences could also affect the special teams play. Bradford is the Beavers' starting punt returner, and Flemings is the primary option returning kicks. Irish would normally be the next man up at both spots, but if it's unclear if he will be available. 
Jefferson filled both roles last week against Stanford, but if he is also injured, Gould might be the first option in the return game. 
Oregon State's defense took a hit this week, too. Starting cornerback Nahshon Wright suffered a knee injury against Stanford and will not play. His brother, Rejzohn Wright, would have been in line to make his first career start, but he dislocated a couple fingers in practice earlier this week and will also be unavailable Saturday. 
"It would have been awesome for Rejzohn — with Nahshon out, Rejzohn would have got a bunch of time," Smith said. "That's painful for those two guys."
Alex Austin and Isaiah Dunn have split time at the other cornerback spot this season and might be the two starting corners for the season finale. Jaden Robinson could also slot in, or one of the versatile safeties like Alton Julian or Wynston Russell could bounce over to corner to replace the Wright brothers. 
Earlier this week, Smith said star middle linebacker Avery Roberts is also done for the season with a broken arm. Starting outside linebacker Addison Gumbs has not played a game this season, and starting safety David Morris has been out since the season opener. 
Jarrid Denney can be reached at 541-521-3214 or via email at Jarrid.Denney@lee.net. Follow him on Twitter @jarrid_denney