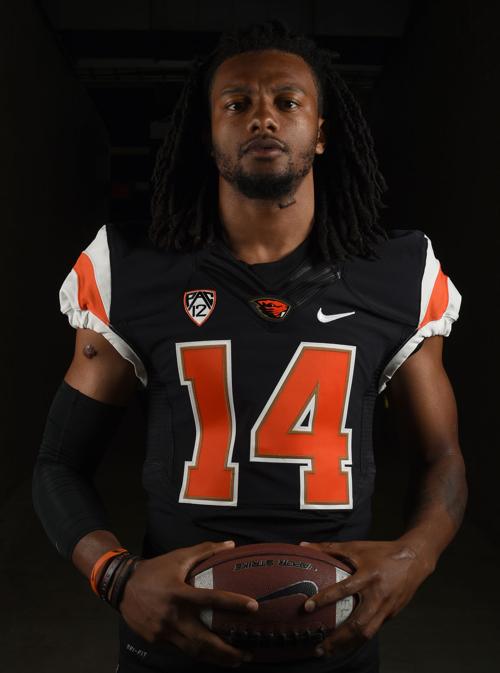 BEND — Last season came to a close for the Oregon State football team and the defensive backfield was left without a leader.
Larry Scott had finished his eligibility, so Treston Decoud stepped into the void.
"After last season we started this group message thing and he would text us whenever we would have film and we would all do footwork together," sophomore corner Dwayne Williams said.
"He just really stepped up as a leader and we all followed behind. It's his senior year so we're all going to help him go out with a bang. Help him go to the next level."
Decoud is a senior, although his time at OSU has been limited to one season because he arrived in Corvallis as a transfer.
He quickly took over a starting spot at left corner opposite of Scott and finished with five pass breakups, one sack and 50 total tackles in 10 games.
He had two games with eight total tackles and had nine against Oregon with seven unassisted.
"Personally, it's a big year. I've got dreams of the NFL," Decoud said. "But I'm going to live day by day and live game by game and hopefully I'll be one of the 11 to step on the field every day to help my team be successful."
Although Decoud had a solid junior year, particularly considering he put up those numbers while missing parts of three contests, he has been working on developing all aspects of his game.
"There's nothing that I can't work on," Decoud said. "Mental, physical, you just have to work on everything to be successful in this league and over this training period that is what I have done. So I'm ready for the big task."
Williams said Decoud is a strong role model on the field and Williams likes his demeanor.
Decoud's attitude rubs off on Williams and the other members of the secondary.
"Whenever he's on the field, it's always go time for him," Williams said. "Whenever I'm feeling off or whatever, he's like, 'let's go, 'Wayne. Let's go." He just gets me going whenever I'm feeling down. I like that about him."
While Williams looks up to Decoud for inspiration and help, Decoud gets his direction from his teammates and the coaches.
He does not look to one player for guidance.
"The coaches and the guys on the team now, they help me," Decoud said. "I see them every day and we talk every day and by them doing their job they help me do my job and make my job easier. So I wouldn't say it's just one person, I think the team helped me. The guys that I go to war with and I'd definitely say the coaches."
The cornerbacks now have their own coach in Cory Hall. That enables the secondary to be split into two groups with the safeties coached by Derrick Odum.
Decoud said the technique work is essentially the same.
He likes the defensive backfield this season and is positive the players will be ready.
"I feel good about it," he said. "We worked hard for this and I think everybody's ready for it. I think everybody prepared themselves to be put in this moment. I think we'll successful as long as we stay on the same page and we keep working hard."