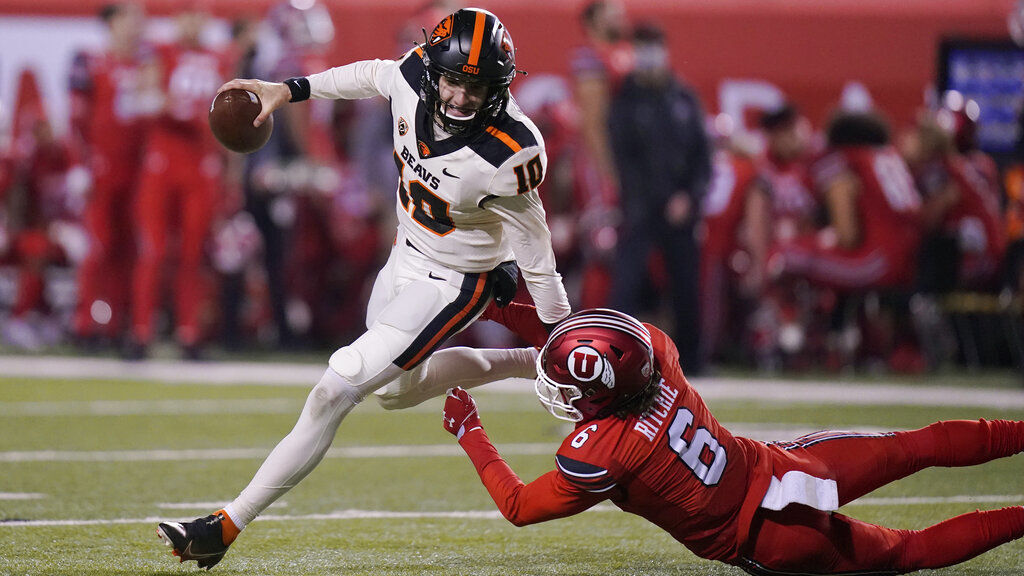 Oregon State came close to completing its third dramatic win in as many weeks Saturday night.
Here are 5 takeaways from Oregon State's nail biter in Salt Lake City:
Oregon State doesn't quit
The Beavers had every excuse to bow out of this one. They trailed by 20 at the start of the fourth quarter. They were playing without their starting quarterback, star running back, backup running back, a starting wide receiver and one of their best outside linebackers. 
And yet they roared all the way back and had a shot to win it on the final drive of the night. You can fault them for the execution early on; the struggles stopping the Utah run game were obvious, and the offense never looked threatening. 
But the Beavers, like they have all season, played with a ton of heart and found a way to hang in the game. 
Title hopes dashed
So much can change with one game. Around 7 p.m. Saturday, Oregon State appeared to have a legitimate path to the Pac-12 title game. Thanks to Oregon's loss to Cal in Berkeley, the Beavers, for a brief moment, were very much in the mix to vault to the top of the messy Pac-12 North standings. 
A win over Utah would have left the Beavers tied for second place in the division with the Ducks (3-2), who they hold the tiebreaker over thanks to last week's victory in Corvallis. Then, Oregon State would have needed to beat Stanford next weekend and cross its fingers for an Oregon win over first-place Washington (3-1).
That doesn't sound like too wild a scenario, does it?
The loss to Utah torpedoed that dream, though. Oregon State tumbled to the bottom of the North standings and will need to beat the Cardinal in Corvallis in order to get out of the cellar. 
Chance Nolan can play
The numbers weren't exactly pretty for the redshirt sophomore Chance Nolan in his Pac-12 debut. He finished 20-for-38 passing for 202 yards, threw an interception on his first pass of the night and took three sacks. 
But he brings some things to the table that no Oregon State quarterback has brought in a long, long time. Nolan doesn't just possess the cliche "sneaky" athleticism. He has some real wheels and looks like a threat in the open field. His willingness to take deep shots and brush off hits from defenders revealed a real sense of confidence. The kid is a gamer and wasn't exactly working with a full arsenal due to Oregon State's running back situation. 
Obviously there is plenty to improve upon. But give him an offseason and a full spring slate to work on his game. There is some real talent there. 
Avery Roberts' 'worst game'
Avery Roberts has been everywhere for the Beavers this season. He has 65 tackles in five games — that's 17 more than any player in the Pac-12. 
On Saturday, the junior middle linebacker was seemingly in on every play. He racked up a career-high 21 tackles. The school record is 22. 
So it was a bit surprising that when he was asked about his contribution after the game, he bluntly responded: "I played my worst game of the season." He explained that he simply "wasn't executing the way that he was supposed to" and noted that he missed some tackles. 
Maybe the game film will show that he is right. The Beavers got shredded by Utah's run game, for sure. Regardless, Roberts' response displayed the accountability that Oregon State's players have brought into every game this season. They don't want to rack up meaningless stats, they want to win. 
Missed opportunities
A couple moments from the early portion of the game stood out that could have potentially swung things in Oregon State's favor. 
Late in the first quarter, Nolan lofted a long pass to Teagan Quitoriano near the end zone that bobbled out of the tight end's hands. The ball was a bit underthrown, but Quitoriano has been a dependable pass catcher during his time in Corvallis, and it was surprising to see him drop what would have been a 39-yard touchdown. The Beavers ended up having to settle for a 50-yard field goal attempt that missed wide right. 
Later, Oregon State cornerback Nahshon Wright dropped what would have been an interception on a deep ball from Jake Bentley. Instead of the Beavers getting the ball back, the Utes capped an 89-yard, 14-play scoring drive.
Obviously drops happen in every football game. But if those two plays had gone Oregon State's way, you might be looking at a different ball game. 
Jarrid Denney can be reached at 541-521-3214 or via email at Jarrid.Denney@lee.net. Follow him on Twitter @jarrid_denney