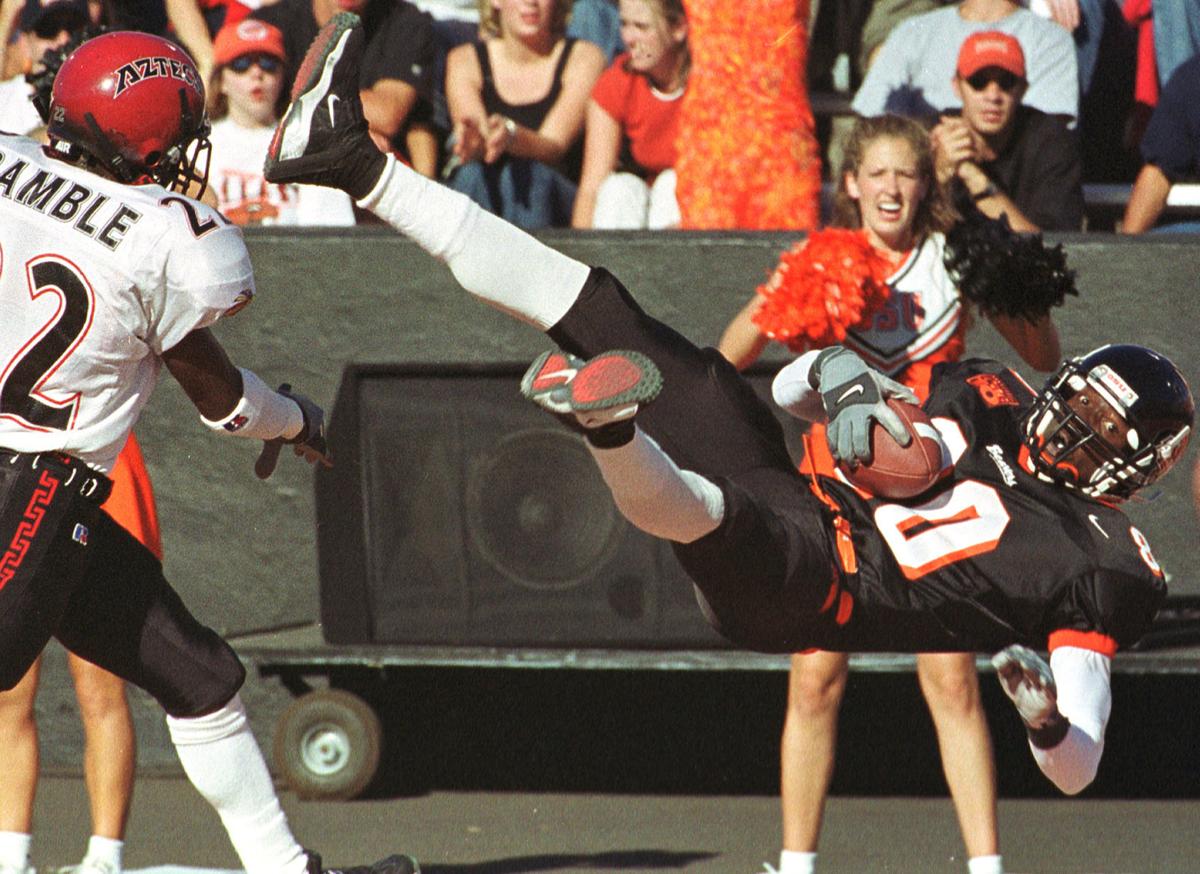 Oregon State receiver Chad Johnson darts off the line of scrimmage, heading straight for cornerback Johan Thomas.
Thomas, a freshman who was recruited because of his cover skills, knows that Johnson has rare speed for a college player, the type of speed that NFL scouts drool over and that cornerbacks fear. One little hesitation or mistake by a defensive player could mean a very long touchdown play.
Thomas backpedals, keeping what seems to be a safe cushion between them in case Johnson decides to go into a full sprint.
Instead, Johnson starts to cut to his right. Thomas turns to follow, but Johnson is gone.
"He came down and got me turned one way, (then) he went back the other way and I rearranged myself and he just went deep on me," Thomas said. "His speed is just … he's got good speed."
Thomas said he has never faced a receiver with Johnson's speed.
"No, not that fast," he said. "I'm learning, though."
Thomas estimated that Johnson could run the 40-yard dash in 4.2 or 4.3 seconds. Eric Yarber, the Beavers' receivers coach, said a sub-4.4 time was probably closer to the truth and to find an athlete who can run that fast is unusual.
Johnson, a transfer from Santa Monica College who has one year of eligibility left, said his speed was developed when he was a youth by competing against other very fast athletes.
"I just always knew I was fast," he said. "Growing up in Florida, everybody could really run and to able to hang with the fast people as far as running track or playing football, everybody could move."
Johnson is more than just a sprinter trying to play football, however. Not only is he a deep threat, but he can run short and medium routes with precision as well. He has been compared to NFL stars such as Isaac Bruce of the St. Louis Rams.
That's not a stretch, said Yarber, who played four years in the NFL as a wide receiver.
"The skills that Chad has, you look for it in a NFL receiver," he said. "He has great hands, he's great off the line of scrimmage, versus press. He runs great routes, he has great speed, great feet. He's good at running after the catch, so all the things professional scouts look for in a receiver, he has them."
Johnson has a long, lean build (6-2, 187) which gives him a height advantage over most cornerbacks in the Pacific-10. He is also deceptively strong.
Thomas said he tries to step up and get his hands on Johnson to defend him.
"He's a pretty physical, quick guy, and strong too, so it's kind of hard," he said. "I just try to get my hands on him. I think (what makes Johnson an effective receiver is) a combination of speed and strength probably. And he has good fundamentals."
Miami offers plenty of distractions for a young man.
Why go to class when you have the beach, surf and sun year-round?
Why do your chores or school work when you have your buddies to run around with in the warm south Florida evenings?
Johnson spent the first 18 years of his life sampling the fruits of the city.
"Miami was real hard," he said. "So many distractions, so many people trying to get you to do the wrong thing. You've really got to stay focused."
Johnson never knew his father, and his mother, Paula, left Miami for Los Angeles while she was pregnant with his little brother when Johnson was about 2. Johnson stayed in Miami with his grandparents.
His grandfather, who passed away in 1994, provided him with a father figure that he had been missing and his grandmother took the role of his absent mother. Johnson still calls them mom and dad. He said he is dedicating this football season to his grandfather.
Nevertheless, Johnson proved to be a handful. He said he skipped class, partied and got into fights. It would be the on-going theme of Johnson's academic career.
"My grandmother raised me the right way, it's just that I was real stubborn," he said. "And I was very immature. I made the wrong decisions all through life. I didn't learn from my mistakes and the same mistakes (were made) over and over and over again."
Going to school was one thing. Playing sports was quite another. Johnson enjoyed playing football, basketball and soccer. Football was a particular favorite.
"I always played football," he said. "I don't remember what age I started at, but probably as soon as I could walk, I always played ball. I was real small, maybe 4 or 5. I just never stopped. That was the sport. Football was it."
Johnson started out playing quarterback and receiver. Although he liked throwing the football, he realized as he got older that if he wanted to continue to play the sport, he would have to stick with catching the ball.
"Because the higher the level you play at, your body has to be fit for the position," he said. "As far as quarterback, my body wasn't fit to play quarterback at all. I was too light as far as height-wise, and playing quarterback wouldn't get me into the NFL, so I had to think about what I need to play when I get to the next level and receiver was the best thing."
Johnson was a good enough receiver by the time he was a freshman at Miami Beach High that he wound up starting all four seasons at the position. He caught 55 passes for 1,300 yards and nine scores as a senior.
Yet his academic problems continued to plague him throughout high school. Johnson sometimes lost his eligibility after the fall, forcing him to miss basketball.
"I couldn't balance it," he said. "In order to play those sports, I had to be able to play the sports and hit the books at the same time. And I couldn't hit the books at the same time to play the sports."
When Johnson graduated in 1996, he could have been headed to play for Steve Spurrier at Florida or Bobby Bowden at Florida State.
While high school teammates Samari Rolle, Terry Cousins and Dwayne Starks went to schools such as Florida State, South Carolina and Miami, Johnson found himself without a Division I letter of intent to sign. In fact, he really didn't have much of any kind of offer to go with.
Rolle, Cousins and Starks have since gone on to the NFL.
"It's affected me a lot because as far as back then, those were the type of people I should have wanted to follow," Johnson said. "They hit the books, they went to big four-year schools. They all were there four years where I should have followed in their footsteps and now they're all in the NFL and I'm still back, playin' around, not handling business when I could have been right where they are at the same point."
Johnson found himself at Langston University in Oklahoma. He wasn't there for long.
"I got in trouble," he said. "Not going to school again, not going to class. I got in fights."
He moved in with his mother in Los Angeles and enrolled in Santa Monica College. He played in 1997 and caught 57 passes for 1,238 yards and 17 touchdowns.
Grades caught up to him again, and he was forced to sit out the 1998 season. Johnson regained his eligibility in 1999 and played in 10 games, finishing with 63 receptions for 862 yards and six scores.
Johnson will finally get his shot at Division I football this season with OSU. He worked hard all year to stay eligible and it has paid off with a spot on the Beavers' roster. Johnson is already No. 1 on the depth chart at split end.
He said he chose the Beavers because of Dennis Erickson.
"I grew up with coach Erickson, watching the Hurricanes," he said. "I went to as many camps as I could and I was real good friends with his son Bryce. He's a good coach. It's a pleasure getting ready to play for him. I see how he interacts with the players, so it's going to be real fun."
Playing at OSU is an opportunity that Johnson had nearly given up on after struggling for so many years with school-related problems.
"I never thought I'd make it this far," he said. "This will be last chance. It's like a blessing being here. It's God letting me know that this is your last chance to straighten up and do what you need to do.
"My time clock, it keeps ticking. It doesn't stop. So now I have one for one, and I'm going to do what I have to do."
Current Gazette-Times/Democrat-Herald sports reporter Kevin Hampton covered the Beavers throughout the 2000 campaign.