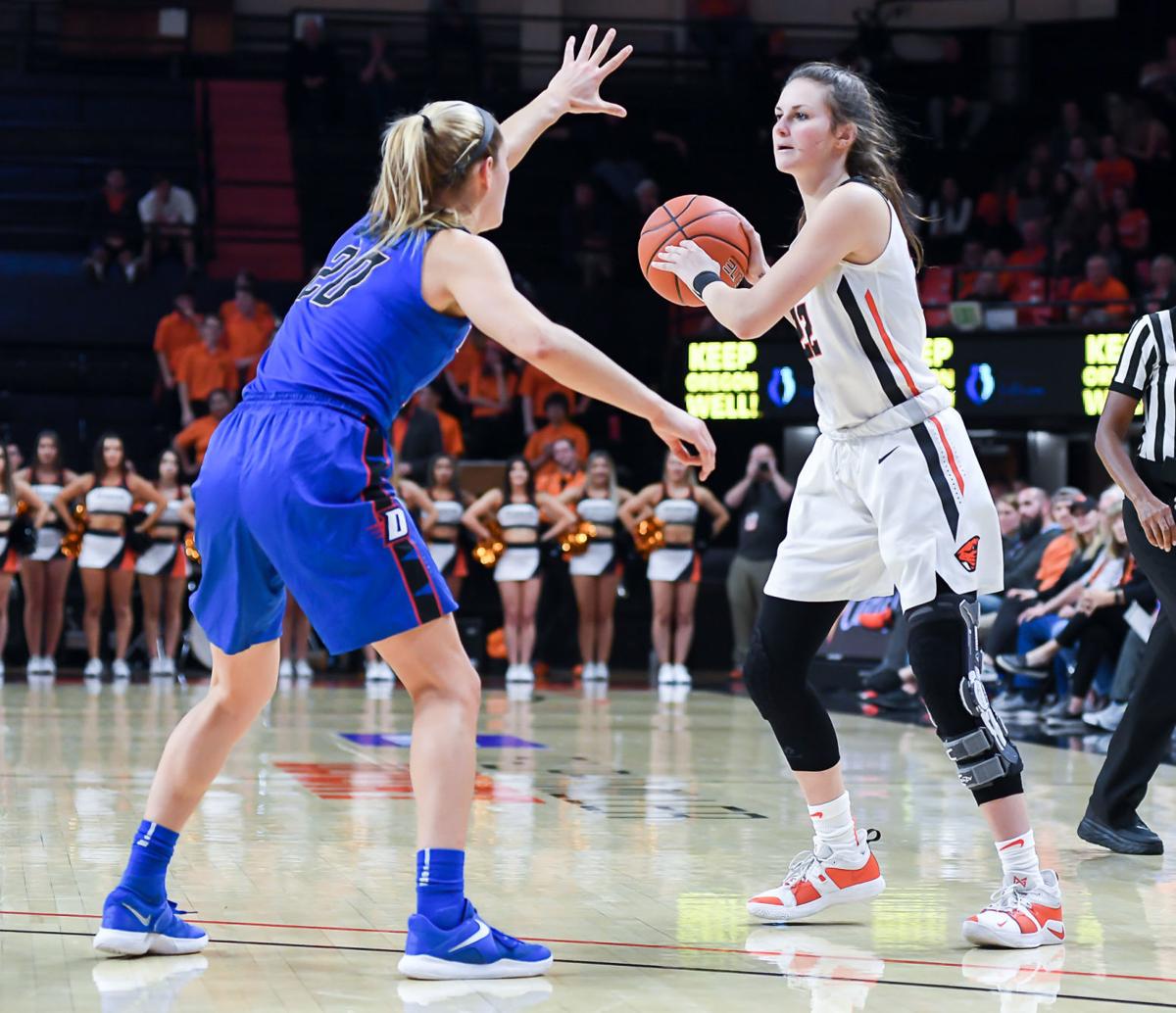 Last week, Kat Tudor set a goal to get back on the basketball court and play in her first game since tearing her left ACL against Washington State on Jan. 4.
The target date happened to be Thursday night, when No. 7 Oregon State was to take on No. 18 DePaul in the semifinals of the preseason WNIT.
Tudor went through warmups with her team and waited for the moment coach Scott Rueck called for her to sub into the game.
It took a little longer than Rueck had hoped because he didn't want to do it during a timeout.
So with 3 minutes, 17 seconds left in the first quarter, Tudor finally made her return as she subbed in with Destiny Slocum and Taylor Jones.
Once her name was announced, the Gill Coliseum crowd showed its joy as Tudor received a standing ovation.
This part of the long road to recovery was finally over.
"It was good, a little rusty but the crowd, Beaver Nation was awesome, just so appreciative of that," Tudor said after the game Thursday.
Aleah Goodman said the crowd's reaction was "amazing."
"I was so happy for her, I was happy for the crowd to be able to see her go out there," she said. "It was honestly just pure joy."
Rueck described it as an emotional moment.
You have free articles remaining.
"You know what the grind has been and how hard she has worked and how she's had to realize life without basketball for a year now almost," Rueck said. "For her, for somebody that loves the game the way she does, and their identity is on the court in many ways, it has been quite a journey to watch her from the outside just deal with it and how hard it's been."
Goodman echoed those thoughts on the recovery process.
"I was so happy for her," she said. "Just to watch her over this past however long it's been, it's been hard. Obviously that's your teammate, one of my closest friends so to watch someone who I know loves the game of basketball not be able to play (was hard)."
Tudor said she wasn't 100 percent sure she would get on the court Thursday.
"Honestly in practice I haven't gone up and down yet," she said. "We haven't had a legit practice of up and down hard yet. So this is my first day of that."
Tudor played just under 11 minutes and missed all three of her shots but did grab three rebounds and was able to shake off some of the rust that was expected after missing so much time.
"I wish one of those shots would have gone down for her," Rueck said. "We've been watching her light it up every day in practice. That's coming."
Goodman called Tudor a "scout team All-American" by the way she has shot the ball in practice.
Tudor said she is a lot more confident after getting into a game.
"A little rusty but I'll get that back," she said.
What Tudor won't get back, however, are the 21 games she missed last season. Her recent petition for a redshirt season was denied.
"I'm mad about the 21 games that she doesn't get to play," Rueck said Thursday night. "I'm so upset about the rule, I think it's an archaic rule. Kat Tudor deserves 21 games and she still has a year that she should get to play those 21 games next year.
"So I'm still upset about that, I don't understand it. It seems like there needs to be an avenue for those games, not just her but anyone that is in her situation."
Be the first to know
Get local news delivered to your inbox!