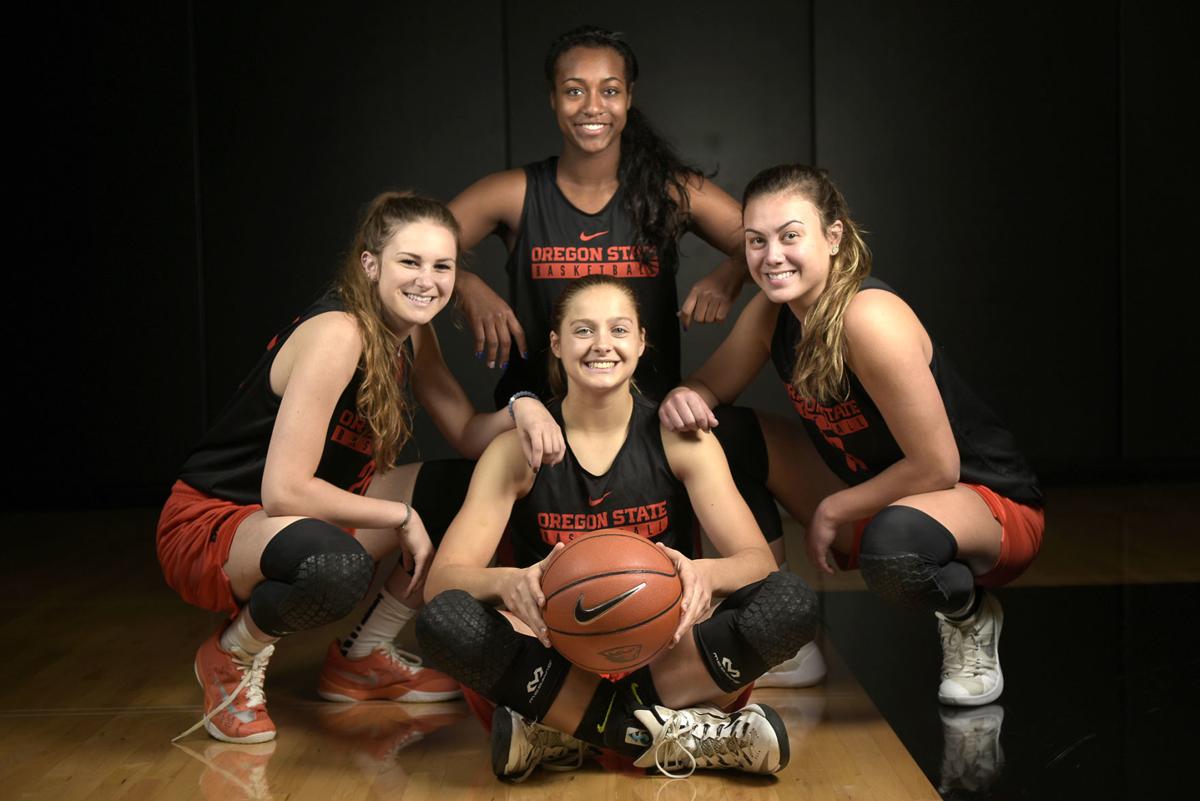 The class of Jamie Weisner, Ruth Hamblin, Deven Hunter and Samantha Siegner left an indelible mark on the Oregon State women's basketball program.
That foursome was instrumental in the rebirth of a program that was left for dead two years before they arrived.
Thanks in large part to their contributions, the Beavers rose to new heights, advancing to the Final Four in 2016 before losing to Connecticut in the national semifinals.
But upon their departure, the questions became what happens next and could the Beavers stay at the top of the women's college basketball landscape?
Four years later, the Beavers remain one of the best programs in the country and would most likely have been ranked No. 1 in the AP poll if not for a road loss to Arizona State back in early January.
The Beavers have been to the Sweet 16 the three years since that class left and made an Elite Eight appearance, thanks in large part to the class that came in the next year.
Those players — this year's seniors — were Mikayla Pivec, Kat Tudor, Maddie Washington and Janessa Thropay.
That foursome will play its final regular-season home game at noon on Sunday against Washington State. They hope, however, it won't be the last time playing in Gill Coliseum. But to do that they have some work left in an effort to become a top-4 seed in the NCAA tournament and a chance to host the first and second rounds.
"It is really hard to believe," Pivec said earlier this week. "I remember my freshman year seeing Syd (Weise) and then Bre (Brown) and Kolbie (Orum) and Gabby (Hanson) walk and I was like, that's never going to be me. And here I am four years later kind of in disbelief."
There have been plenty of ups and downs for the foursome over the past three-plus seasons, when they have posted a 104-29 overall record and have gone 53-18 in Pac-12 play.
They were part of a Pac-12 regular-season title their freshman year before bowing out in the Sweet 16.
The next year they were a No. 6 seed in the NCAA tournament and went to Tennessee and handed the Lady Vols their first ever home loss in the postseason. OSU then knocked off Baylor to reach the Elite Eight before falling to Louisville with a berth to the Final Four on the line.
Last season was promising until Tudor tore her ACL and missed the rest of the season. The Beavers stumbled a bit down the stretch and lost in the quarterfinals of the Pac-12 tournament for the second straight season. But they regrouped and pulled out two close games at home in the NCAA tournament to reach the Sweet 16 before once again having the season come to an end against Louisville.
This season they have dealt with tragedies away from the court as well as three-game and four-game losing streaks that has put hosting in the NCAA tournament in jeopardy.
That makes Sunday's finale, which will obviously be emotional for the group, and the Pac-12 tournament even more important.
"I definitely have a lot of memories of being with my teammates, great wins that we've had as a program while I've been here," Pivec said. "But as a competitor you always look for what's next. And you take into consideration what you've done and how you can learn from it to get better from it but you also look on to what's the next opportunity ahead. It's the next day to compete, next day to get better so that's what our minds are focused on right now."
Pivec will leave as one of the most decorated players in program history. She will leave with more than 1,600 points, 1,000 rebounds and likely 500 assists. She needs just 17 more rebounds to surpass Hamblin for most in program history.
Tudor has been one of the deadliest 3-point shooters to put on a Beavers' uniform. She is fourth with 222 career 3-pointers made and is fourth in 3-point percentage at .400. And she missed half of last season.
Washington has played many roles over her four years — she has stepped in as a starter after the loss of Kennedy Brown and Taya Corosdale this season — while Thropay has not seen as much court time but has also been key to the team's success. She had several key rebounds in the fourth quarter Friday night to hep the Beavers knock off Washington.
"They're proud. What you saw from Maddie Washington Sunday when she stepped up in that third quarter at Cal when she needed to ... They've really put their stamp on this program," coach Scott Rueck said. 
"Mik's records go on and on forever it seems. She's leaving a crazy legacy. Kat's one of the most beloved players ever to play in Gill. I mean she gets ovations like nobody else it seems, and for good reason.
"And then Janessa is a fan favorite, too, and has such a dynamic impact on our program that's not as obvious, but everybody knows how important she is. Just her presence is so key to everything that we're doing. Every video that we put out has a big Janessa presence. She sets the tone in this gym every day.
"And so they've done their job. They've continued the legacy and I'm excited to help them finish this whole thing and style."
Be the first to know
Get local news delivered to your inbox!