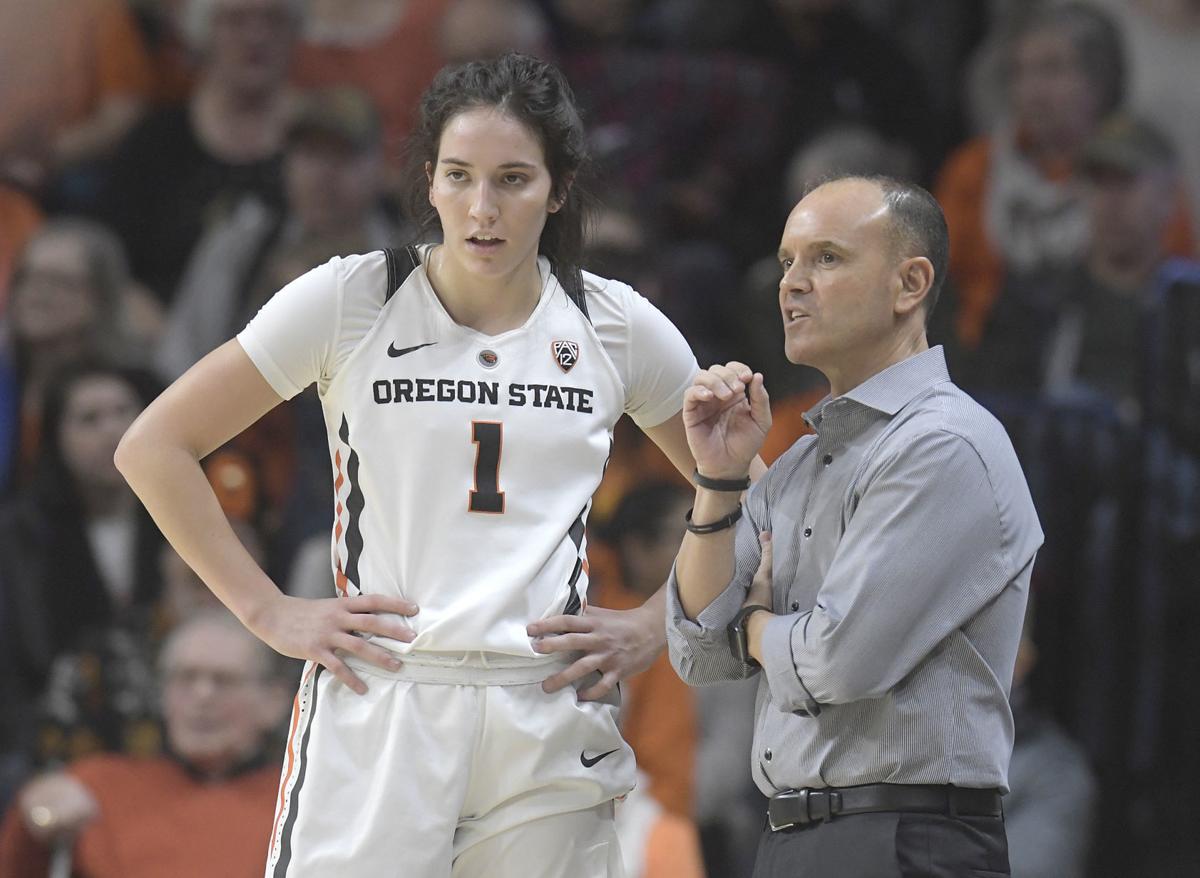 Having never been a part of USA Basketball, Aleah Goodman didn't know quite what to expect when she was invited to take part at the USA Basketball 3X3 Nationals back in April in Las Vegas.
She talked it over with her dad and the conclusion they came to was for Goodman to "go have fun" and take advantage of the opportunity and see where it might take her.
Turns out trips to China, Italy, Russia and France were in her future, all in the past couple months.
Fortunately, she has a page or two left in her passport because Goodman, who will be a junior for the Oregon State women's basketball team this season, has at least one more overseas trip on the horizon – when the Beavers head to Italy for three exhibition games later this month.
College teams are allowed to take a trip like this one once every four years. The Beavers also went to Italy in the summer of 2015.
Having never played 3 on 3 basketball, Goodman was excited for the opportunity to try something new. She and OSU teammate Destiny Slocum made the trip to Las Vegas as two of eight individuals that would form two teams to compete against other top college teams.
Goodman felt like she had played well and showed what she is capable of on the court, but didn't really expect much to come of it even though she was told they would call her if they wanted her to play in some tournaments.
A couple weeks later, she got the call asking if she was interested.
"I was like, wow, yeah. Of course," she said Thursday afternoon just before the Beavers took the court for their second practice in preparation for Italy. "Then it was like OK we're going to China next week. That's when the shock kind of hit. I was like oh my gosh this is crazy."
She played in four tournaments over the next couple months. Following the trip to Chengdu, China for the tournament which was held May 31-June 1, she went to Turin, Italy (June 14-15), Ekaterinburg, Russia (July 9-10) and finally Voiron, France (Aug. 1-2).
Goodman said it was a "surreal moment when she realized she was representing her country.
"I took a picture of my jersey and I sent it to my parents and that was crazy," she said. "First game I took it off and it says USA across the chest. It's definitely kind of a surreal moment. … To be in that moment was like, wow, it was just an awesome experience."
Goodman was one of a group of six players that were asked to be in the pool. She played with Connecticut's Christyn Williams in all four events, Princeton's Bella Alarie in all but France, Texas' Charli Collier in all but Russia, UCLA's Michaela Onyenwere in Russia and Oregon's Sabrina Ionescu in France.
Her teams placed third (Italy), fourth (Russia), fifth (France) and sixth (China).
You have free articles remaining.
"It's difficult because we don't play together, we all come from very different teams who play different styles and we don't have a coach with us," Goodman said, noting they just had a chaperone and played teams that had professionals.
She said they typically spent the three pool play games learning and finding "little tricks" to take that into tournament play.
Goodman made sure to take advantage of the opportunity to play with different players and soak in their approach to the game.
"I was definitely able to learn something from every player and it helped me a lot kind of getting thrown in with new people I've never played with because it made me have to figure out how to play with them quicker," she said.
One thing she realized was that even as a point guard – there aren't really set positions in 3 on 3 she said – that she must stay involved in each play.
"I learned how important it is to move off the ball and I need to be moving constantly and that's something that I think is one of my weaknesses is often I will give it up and catch myself kind of watching," Goodman said. "I need to move, I need to cut so that's something I really learned."
While Goodman has known Ionescu for many years, it was the first time they had played together. Putting the college rivalry aside, Goodman said she enjoyed playing with the reigning Pac-12 player of the year.
"She sees the floor amazing and just brings a level of mind and coaching and just being able to play with her, I probably learned the most from playing with her just in the way she sees the game and sees the floor and just kind of being able to bounce ideas off her was really fun for me," Goodman said.
For someone who had only visited Mexico and Canada outside of the United States, all the travel was quite new for Goodman. The travel was long and exhausting at times.
And as someone who is a bit picky about what she eats, it was a bit of an adventure in that regard at times.
"There were definitely some places where I was like I don't know what to eat," she said. "So it was good for me because I had to branch out and try new things."
In the end, it was an experience she wouldn't change.
And she may have another tournament or two in September, if the U.S. is invited and she is wanted or needed.
But for now, Goodman is happy to be back in Corvallis and playing with her old teammates and getting accustomed to the newcomers.
Although, she admits that she wasn't really looking forward to the trip to Italy until she got a pick-me-up from Ionescu.
"She was like be excited for this because this 10 days with your team is a blast," Goodman said of the advice Ionescu gave her. "You get to see so much more. She was like yeah the traveling does kind of suck but you are with your teammates so it makes it a lot more fun and easier. She said definitely look forward to it. She changed my whole mindset."