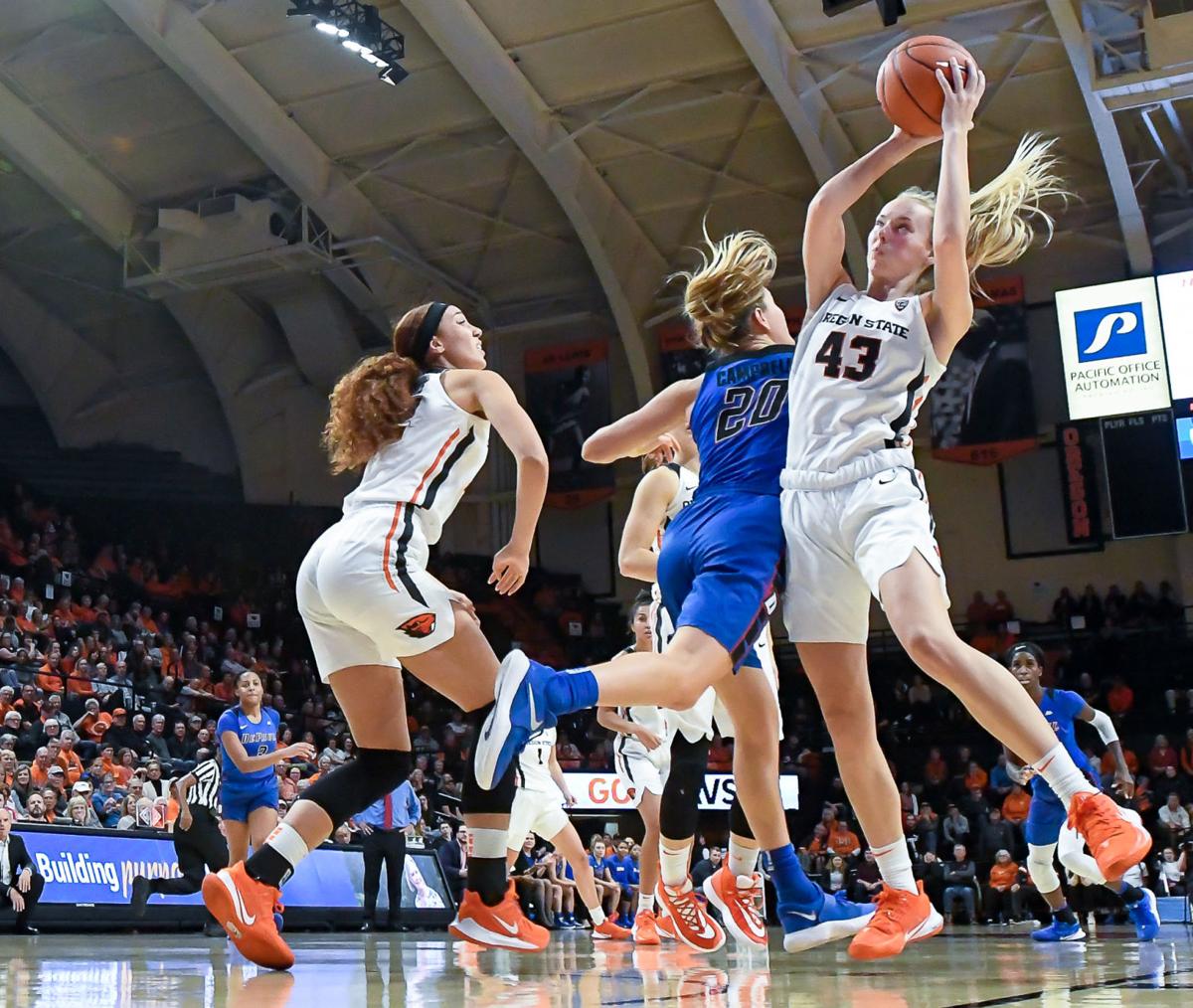 Despite a double-digit win over University of the Pacific on Monday, the message was clear heading into a showdown with No. 18 DePaul on Thursday night.
The No. 7 Beavers had to play better.
They certainly did and showcased a plethora of offensive weapons in a 98-77 dismantling of a Blue Demons program that has been to the NCAA tournament the past 17 seasons.
Next up is a home game against Missouri State in the finals of the preseason WNIT. Tipoff is set for 1:30 p.m. Sunday. The Bears reached the Sweet 16 last year with upsets of DePaul and Iowa State.
"I'm really proud of this team how we turned it around from last game and to this game and just stepped up huge," junior guard Aleah Goodman said after scoring 16 points on Thursday. "Everyone stepped up."
Taylor Jones, a 6-foot-4 freshman center, led the way with 24 points and nine rebounds after fouling out with only six points and two rebounds in 13 minutes on Monday.
Destiny Slocum added 17 points, Goodman 16, freshman Kennedy Brown 13 and Jasmine Simmons and Mikayla Pivec 10 each as six players reached double figures.
"I challenged Taylor and Kennedy before the game and said, hey, they kind of took it to you last game, like let's go, let's make a statement tonight," Goodman said of the freshmen who combined for only 15 points and seven rebounds against the Tigers.
"Look at (the stat sheet) and Taylor's got 24 points and zero fouls. I'm so proud of her. Kennedy the same thing. She played huge minutes for us, 13 points. They really accepted the challenge and rose to it."
You have free articles remaining.
Jones and Brown combined for 37 points and 17 rebounds and shot an impressive 15 for 24 from the field.
Their performances helped the Beavers showcase just how deep they are this season. OSU was 34 for 61 from the field and hit 12 of 27 3-pointers while out-rebounding DePaul 56-34.
The Beavers also got Kat Tudor and Taya Corosdale back on Thursday. Tudor has been out recovering from a torn ACL suffered on Jan. 4 while Corosdale had missed several weeks with a hamstring.
Through three games, the Beavers are shooting 54.8 percent from the floor (92 for 168), 43.3 percent from beyond the 3-point line (29 for 67) and are averaging 84.3 points per game.
Pivec leads the way at 17.7 points and 12.3 rebounds while Jones is scoring 16.7 per game in only 19 minutes on the floor.
Goodman and Slocum are also averaging 15 per game while Brown is nearly in double figures at 9.3.
"(There are) so many things that are relatively new that we're going to grow and I think grow quickly and I think we've seen even progress from the other night to tonight," coach Scott Rueck said.
"Massive progress in the way we approached the game mentally and the way we competed as a group. The ball moved just so well (Thursday). The language we're speaking is becoming more clear to more people and I think our depth is going to be one of the absolute strengths of this team as we go forward."
Missouri State will be another challenge for the Beavers. The Bears are 4-0, including a win at Minnesota, and trailed 37-20 at Oklahoma on Thursday night before storming back for a 96-90 win.
Guards Alexa Willard (27) and Mya Bhinhar (21) both went for over 20 points while Brice Calip (16) and Jasmine Franklin (15) were in double figures as the Bears shot 37 for 69 from the field (53.6 percent).