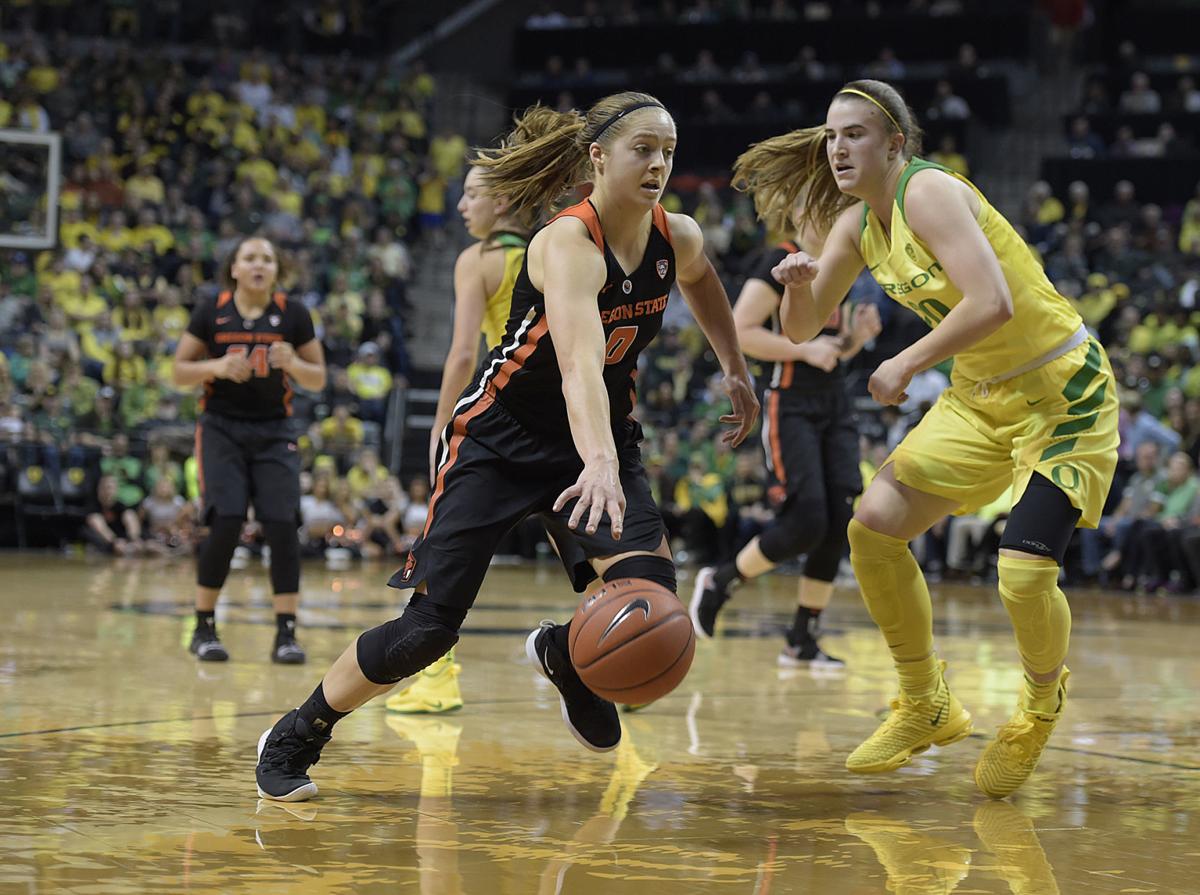 Scott Rueck describes the last four weeks of the Pac-12 season as "the most intense stretch" he has been a part of in his nine seasons leading the Oregon State women's basketball program.
It was a grueling eight-game test that saw the Beavers travel to the Bay Area to take on Stanford and California, then return home for back-to-back games against Oregon in the Civil War, before hosting the Los Angeles schools on a short week for senior weekend, then finally heading to the desert to face Arizona State and Arizona.
That's eight games against five NCAA tournament teams, including four that are top 5 seeds in the tourney.
The quote unquote worst team in the group was Arizona, which is in the Women's National Invitation Tournament.
"It was such a grind going into the Pac-12 tournament and I don't think anybody could know what toll that took but I know I was tired, and this is what I live for, I don't get tired this time of year," Rueck said. "So if I'm tired, they're tired."
The Beavers went 5-3 in the stretch with home wins over Oregon and UCLA, a No. 2 seed and No. 4 seed, respectively, in the NCAA tournament.
It ended, however, with a disappointing loss to Washington in the Pac-12 tournament quarterfinals and an early return home from Las Vegas.
It's safe to say that setback was not an easy one to accept. It was the only one of the Beavers' seven losses that came against a team not in the NCAA tournament.
"Any time you lose there's a healing process that has to happen," Rueck said. "It's almost like there's a counseling session you have to go through to get your minds corrected and right and back on the same page and remember who you are and get rid of the stuff that doesn't matter."
While the coaching staff got away on recruiting visits, the players returned to school and led their own practices last week.
"We had a great time to just kind of reflect with each other and just kind of get better together," point guard Destiny Slocum said. "Our coaches do a lot of work for us and they're on the road recruiting for us, doing everything they can to make this team the best, so it was an opportunity for us to kind of see ourselves and plan what we wanted to do."
By all accounts, it was the therapy the Beavers needed.
"I feel like this last week we were able to regroup," senior Katie McWilliams said. "We were able to just get in the gym as a team and focus on what we thought we needed to get better at and talk about those little things that mean a lot in terms of how we play and the mindset that we have."
Rueck said those practices were important so the players could hear their own and their teammates' voices without the coaching staff around.
"I think this time of the year it's the players' voices that are most important," Rueck said. "Certainly we can push buttons and we can direct and we need to, it's our job as coaches to put them in position to be successful. But every great team I've coached, the most powerful voices this time of the year come from inside the locker room. That interior leadership is the most vital this time of the year."
That loss to Washington surely still stings and the players can't wait to get a chance at a redemption of sorts when they host Boise State on Saturday in the first round of the NCAA tournament.
The fourth-seeded Beavers (24-7) and No. 13 Boise State (28-4) will square off around 2:30 p.m. after No. 5 Gonzaga and No. 12 Arkansas Little Rock play at 12:30 p.m.
"I think you have to take and learn from it," Slocum said of the UW loss. "Obviously it's a lesson we've learned a couple times this season. We hate to lose but we have to learn from it. There has to be a time where we actually grow and put our words into action. We've had plenty of talks about it as a team and we're excited.
"Last week, I think we flipped to that page where we have to motivate ourselves to get past this. Our coaches came back and we had a great practice (Monday). I think we're just excited for what's coming."
Last season, the Beavers also lost in the quarterfinals of the conference tournament and were a No. 6 seed in the NCAA tournament. They parlayed that loss to a run to the Elite Eight, their second appearance in three seasons.
"I think that's silly to need that again but every team is different, every journey is different and so for this team, one last reminder going into this tournament what matters the most," Rueck said. "On any given night anybody can get you so you better be on your best."
Be the first to know
Get local news delivered to your inbox!