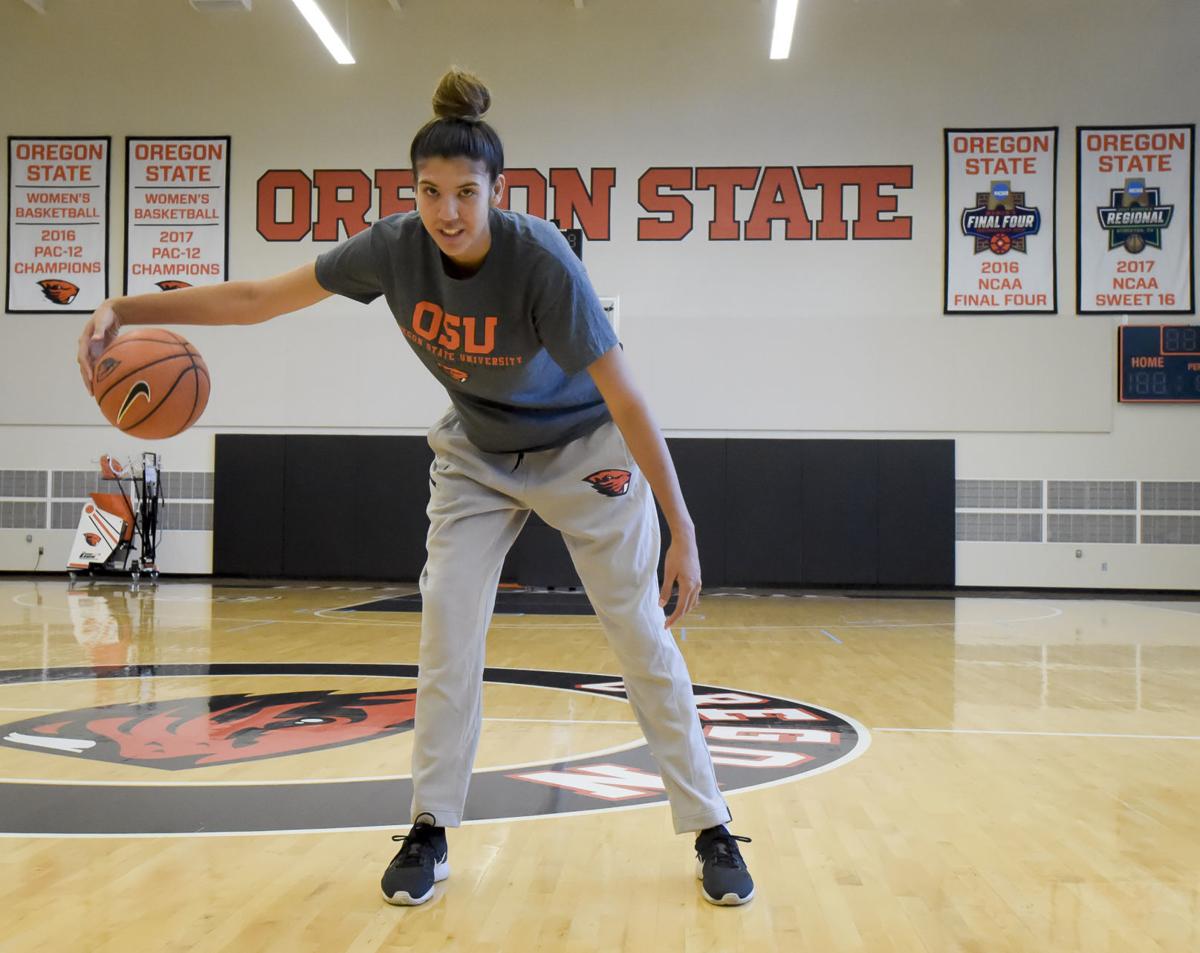 Andrea Aquino did a little research when Oregon State became interested in recruiting her.
She learned that in just a few short years, coach Scott Rueck had helped transform a program that was struggling to fill out a roster to one that advanced to the Final Four.
That caught her attention.
She verbally committed in March 2017 when the Beavers were in Stockton, California, competing in the Sweet 16 for the second straight season.
"I really felt like this was the right place for me," said Aquino, who was the No. 2 post and No. 7 national recruit, according to espnW, heading into her senior season of high school basketball.
"After I talked to my mom and some other friends, I decided to come here because I love the coaches. They're not only (about) basketball, they're more like family. That's the thing that truly brought me here."
It's been a whirlwind of a ride as Aquino has gone from Caacupe, Paraguay to New Jersey, to Los Angeles and finally to Corvallis, which she hopes becomes a stable home. 
She has been on campus a few weeks and had her first workouts — along with fellow freshmen Patricia Morris and Jasmine Simmons — with the rest of the team on Monday.
"It feels great because after all the things I have been through, I can finally say I feel like home," Aquino said. "All the experience we are having right now in summer camp it's so awesome. I could never imagine I could experience this.
"To me it's an honor to be here."
Aquino admits the constant change has been difficult.
"It's been tough but I always have people that have supported me and I learned a lot not only on the court but off the court so I guess it's just been tough for me," she said. "Maybe it will prepare me for future things that are coming I guess."
At 6-foot-9, Aquino is accustomed to playing in the post. But she wants to be more than the typical back-to-the basket type of player.
"That's another reason why I chose Oregon State is because coach Scott saw that I can do more than only just stay under the basket and get rebounds," she said. "I can shoot and grab rebounds and also step outside."
Like Morris, a fellow post player at 6-7, Aquino knows the history of success posts have had under Rueck at Oregon State. Both Ruth Hamblin (2016) and Marie Gulich (2018) have recently been drafted by WNBA teams.
"Being in the WNBA is one of my dreams and I know coach Scott can help me, and the whole staff," she said. "I'm really excited and looking forward to that."
While she has the height and touch to play inside, Aquino wants to develop her ball handling to help the Beavers play uptempo when they want.
Aquino also knows she needs to get stronger both physically and mentally to achieve those goals.
That may be part of the reason Aquino, who is undeclared on a major, may focus on psychology.
"I like to motivate people," she said. "I think a lot of toughness not only comes because you're physical but it's more mental so I really like that area."
Be the first to know
Get local news delivered to your inbox!