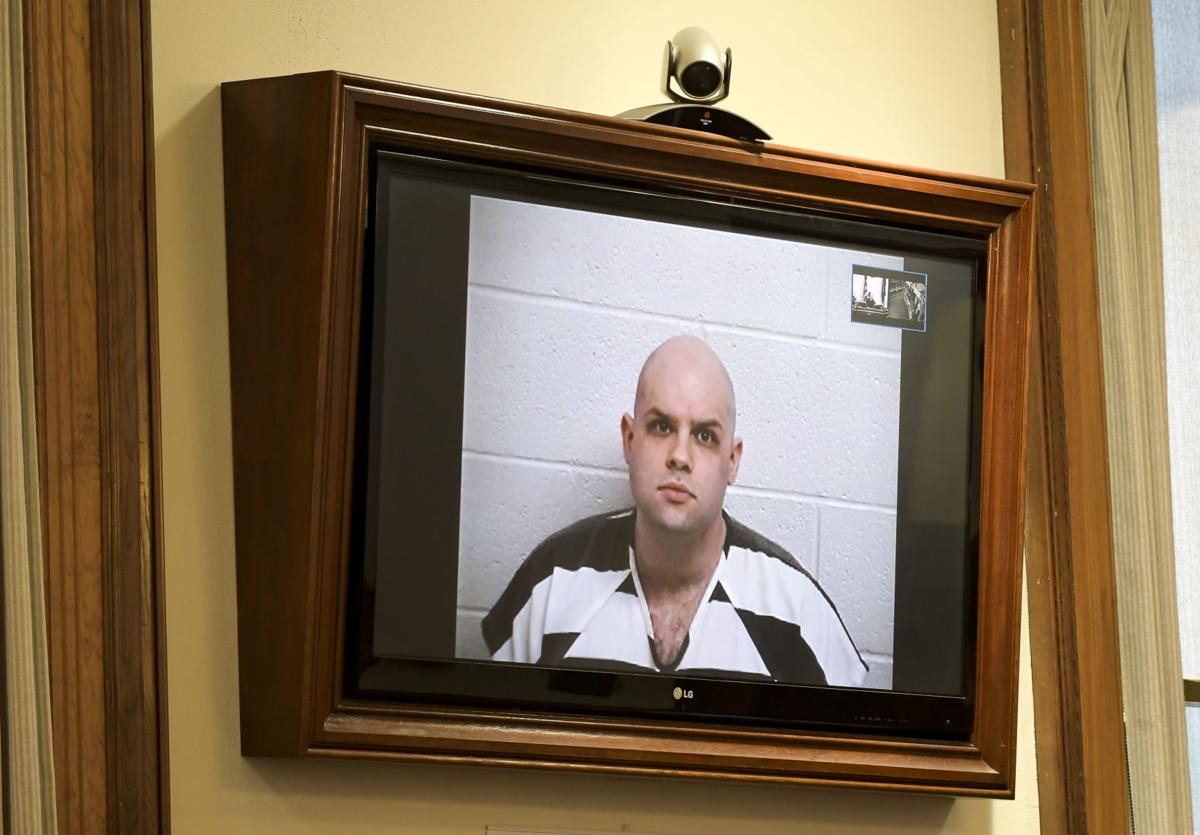 Prosecutors filed an indictment Wednesday in the case of a Corvallis man charged in the murder of his Russian girlfriend, Benton County Circuit Court documents show.
William Chase Hargrove, 28, faces one count of murder for the death of Anna Repkina, according to the indictment, which was handed down by a grand jury on Tuesday. Hargrove also faces one count of identity theft, a felony, for allegedly using the personal identification of Repkina. Additionally, Hargrove is charged with two counts of second-degree theft for stealing about $800 in total.
All of the crimes are alleged to have occurred on April 16, 2017. 
When asked by a reporter about the theft charges, Senior Deputy District Attorney Ryan Joslin said he could not elaborate.
Hargrove appeared in court on Wednesday afternoon via video conferencing from the county jail. He wore a black-and-white-striped jail shirt and did not speak during the hearing. Hargrove's attorney, Mike Flinn, entered not guilty pleas to the charges on his client's behalf.
The defendant was booked into the jail on April 20, 2017, three days after Repkina's body was discovered on a remote logging road outside Alsea. Hargrove is being held without bail. His four-week trial is set to begin April 1, 2019.
Repkina, who was 27 years old, died from a gunshot wound on the back of her head, according to a probable cause affidavit filed in the case. Her body was found in a wooded area at a dead-end spur off a logging road several miles from Alsea. The medical examiner who autopsied the body placed Repkina's time of death at sometime between the evening of April 16 and the following afternoon, the affidavit states.
According to the Benton County Sheriff's Office, which investigated the case, Repkina had arrived in Corvallis just one month prior to her death. She had been admitted through the Los Angeles International Airport with a valid passport issued by the government of Russia, the Sheriff's Office has stated. Repkina had no known relatives in the United States.
According to the affidavit, detectives connected Hargrove to the case using a receipt found at the scene. The receipt indicated that Hargrove and another man, Kevin Thomas, had made a purchase at a local fast-food restaurant. Detectives questioned Thomas, who told them that he had left the trash from the meal, including the receipt, in Hargrove's vehicle, the affidavit states.
Thomas told detectives that Hargrove was dating both Repkina and a married woman, according to the affidavit. He also told detectives he had lent Hargrove a shotgun about three weeks before Repkina's body was discovered and that the weapon had not yet been returned, the affidavit states.
When he spoke with detectives, Hargrove denied having a shotgun and denied driving past Alsea the prior weekend, according to the affidavit. He later admitted to being in a relationship with a woman named Michelle Chavez and to picking her up in Alsea on April 16, but he denied having driven up the logging road where Repkina's body was found, the affidavit states. He also said he had borrowed a shotgun from Thomas but had given it back. Further, he admitted to knowing Repkina but said he thought she had moved away, according to the affidavit.
Detectives interviewed Chavez and her husband, Rawley Greene, who told detectives Hargrove was romantically involved with Repkina and that they were living together and engaged to be married, the affidavit states. Chavez admitted to giving Hargrove an ultimatum that he choose between her and Repkina, according to the affidavit. Chavez said Hargrove had told her that he put Repkina on a train and that she was gone, the affidavit states
According to the affidavit, Chavez told detectives she and Hargrove had previously camped at the location where Repkina's body was found.
Detectives served search warrants at two residences associated with Hargrove. At 794 Montclair Drive NE in Albany, investigators found a backpack containing shotgun shells in his bedroom, and at 2021 NW Garfield Ave. in Corvallis they found evidence that Hargrove and Repkina were on the lease together and had been sharing the home since March 8, 2017, according to the affidavit.
Lillian Schrock covers public safety for the Gazette-Times. She may be reached at 541-758-9548 or lillian.schrock@lee.net. Follow her on Twitter at @LillieSchrock.
Be the first to know
Get local news delivered to your inbox!