Four people are dead and a baby injured after a car reportedly traveling faster than 100 mph crashed head-on with another vehicle Monday night, Jan. 30 near Scio.
Police say a westbound silver Hyundai Elantra crossed into eastbound traffic when the driver, 20-year-old Travis Longo of Albany took a corner at a high rate of speed.
The car collided with an eastbound Kia Sorrento at milepost 4 on Highway 226, just east of Crabtree and rolled before coming to rest on its roof, according to an Oregon State Police news release.
Longo and his passengers, two 18-year-old Lebanon women, died at the scene.
Skye Huskey and Chloe Parker-Richmond, a Lebanon High School student, were among the dead.
"We love all of our Warrior community and to lose any of them is hard," said Craig Swanson, high school principal.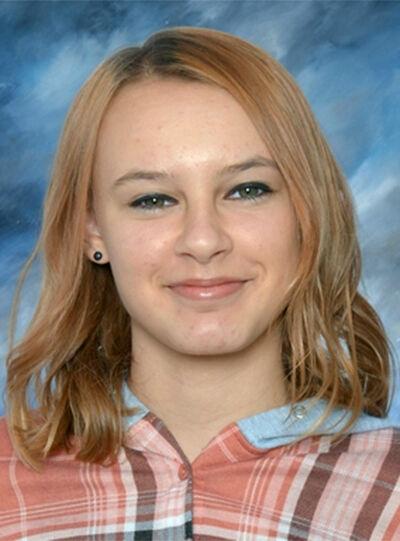 Swanson said the high school canceled a staff meeting and someone read a statement to students about Parker-Richmond's death on Wednesday morning, Feb. 1.
Lebanon Community School District mobilized a crisis team that offered drop-in counseling for students and staff at the school.
The school population's "thoughts and hearts" were with the four people killed in Monday's wreck, Swanson said.
"For us, the loss of one of our students is devastating for our school community," he said.
Swanson said he would leave it to Parker-Richmond's parents to talk about who the young woman was.
"That's their story to tell," he said.
In its statement, a school district staff member described Chloe "as a 'sweet, sweet girl.'"
'Be a foster parent'
Allen Huskey on Facebook said he was out of town when he found out his daughter Skye had died.
He and his family adopted her last year after fostering her for four years, according to a public post on his Facebook account Wednesday.
"I am not angry at whoever was driving, or even the situation that led to her death," Huskey wrote. "I am angry that despite Skye's many challenges, she was not given the opportunity to figure out life to an old age."
According to Allen Huskey's post, he had minimal contact with Skye Huskey ever since she turned 18 over the summer. She ran away from home, he said, and he did not allow her to come home.
"It was my opinion that she needed to realize the consequences of her choices," he wrote. "That is a decision that I will have to live with my entire life."
He wrote that he had been meaning to meet up with his daughter for dinner some time after Christmas but never got around to it. Now he will never get that chance.
But Allen Huskey hopes the community will show support for him by donating time and money to foster care.
"If you want to really help, do me a favor and donate money to Every Child Linn County in the memory of Skye Huskey," he wrote. "They are an amazing organization that's sole purpose is to help the foster children in the area. Or better yet, volunteer in person to be a foster parent and be better at it than I was. Keep other children from having to live the hardships that Skye and so many other children like her endure."
A mother and daughter
Police said 29-year-old Jessica Petrime was the fourth person killed at the scene. She was traveling home to Scio when the Sorrento she was driving was struck by the silver car, according to family.
Husband Zach Petrime said he received a call that his baby was in the hospital, and on his way, he happened upon the wreck. He wouldn't describe the scene.
What he wanted to talk about was his wife.
Zach Petrime said he always got out of bed to intercept Jessie Petrime as she left for work at a veterinary clinic in Salem.
"I would say bye. I'd tell her I loved her. And that's what we did that morning," Zach Petrime said. "We never separated on a bad note."
Medics transported Petrime's 8-month-old daughter to Samaritan Lebanon Community Hospital with non-life-threatening injuries.
The girl's right femur was broken in the crash, and posted photos show the baby in a cast from the waist down.
Petrime said the baby was transferred to Legacy Emmanuel Medical Center in Portland.
The baby was just starting to walk, Petrime said. They're staying with family, he said, after Petrime's daughter was released from the hospital Tuesday.
At home, Petrime said, simple objects, like plants, remind him of Jessie Petrime.
"You'll be OK for a while, and then something brings it back," he said.
Petrime said the crash is something he thought only happens in books or in films.
But he's grateful, he said, that the pair separated on a positive note.
"If I can give any advice to anybody, it would be that," Zach Petrime said.
Donors had raised more than $10,000 for the Petrime family by late-afternoon Wednesday, Feb. 1, about a day after a fundraiser posted at GoFundMe.
A Samaritan Health Services spokesperson confirmed the baby was transferred to another hospital that can provide a higher level of care.
The highway was closed for six hours while police investigated. The Linn County Sheriff's Office, Scio Fire Department and Oregon Department of Transportation assisted.
Support local news coverage and the people who report it by subscribing to the Albany Democrat-Herald.
A fatal Monday
Monday was a particularly harrowing day on Linn County roadways.
There was also a serious crash in Albany, where a 52-year-old man ran off the road near Southwest Queen Avenue and crashed into a canal. He is expected to make a full recovery, according to Albany police.
"Law enforcement agencies throughout Linn County responded to multiple fatal crashes (Monday) impacting a significant amount of family, friends and community members," LCSO said in a news release about the crash near Lyons.
"Our thoughts are with all those who suffer in the loss of those close to them. The Linn County Sheriff's Office wants to remind everyone to drive with care. Any reckless behavior will be investigated fully and those committing criminal acts will be held accountable."
Editor's note: This story has been updated with the correct spelling of Jessica Petrime's last name and Chloe Parker-Richmond's preferred last name. This is a developing story. Check here for updates.
Maddie Pfeifer covers public safety for Mid-Valley Media. She can be contacted at 541-812-6091 or Madison.Pfeifer@lee.net. Follow her on Twitter via @maddiepfeifer_