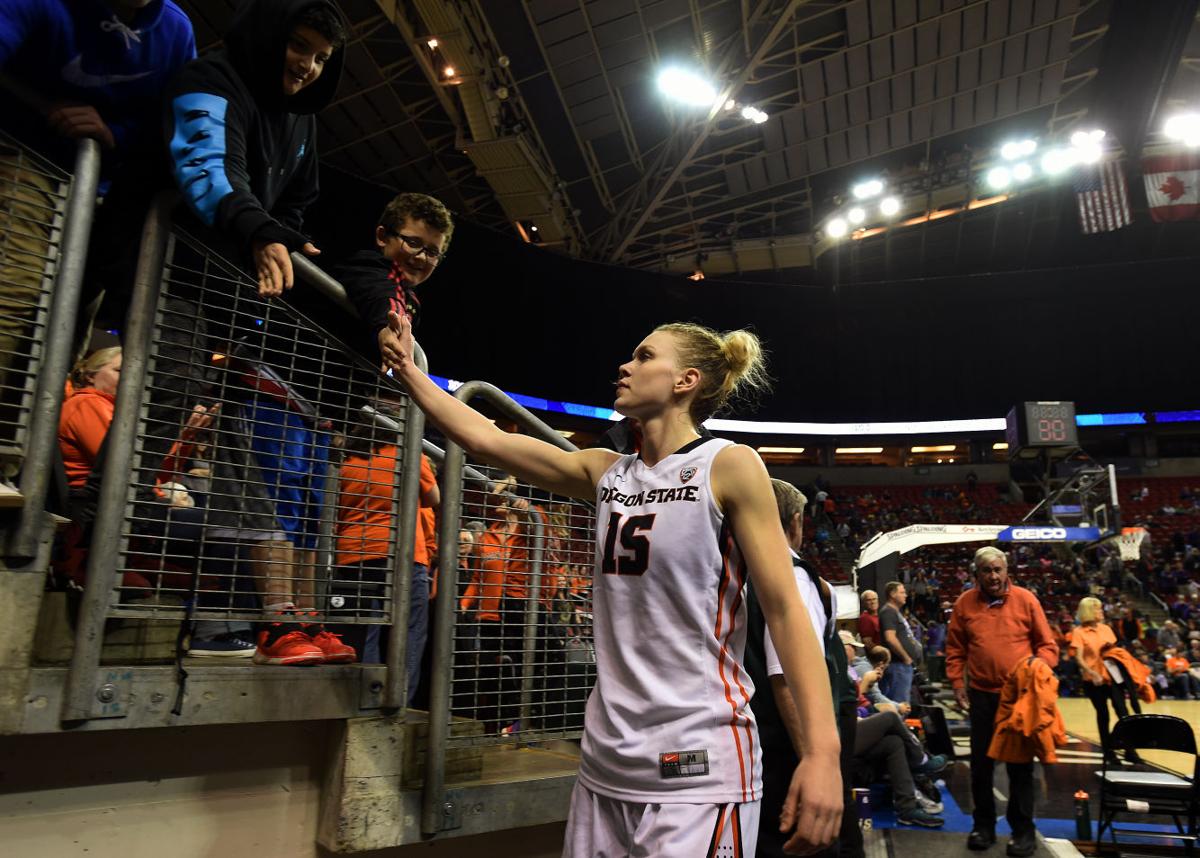 SEATTLE — A Pacific Northwest rivalry will be renewed with high stakes on Saturday night when Oregon State and Washington square off in the semifinals of the Pac-12 women's basketball tournament at KeyArena.
The top-seeded Beavers (26-4) will meet the No. 5 Huskies (22-9) at 8:30 p.m. in the second of two semifinals. The upstart No. 10 California Golden Bears will look to make a return trip to the title game when they take on No. 3 seed UCLA at 6 p.m.
Oregon State advanced to the semifinals with a 63-53 win over No. 8 seed USC while Washington shocked reigning champion and No. 4 seed Stanford, 73-65, in the final quarterfinal on Friday night.
The Huskies, the de facto home team, got 29 points from Kelsey Plum, who broke the school record for career scoring.
"We've kind of felt like all year long like the fifth Beatle a little bit," UW coach Mike Neighbors said Friday night. "There's been four teams talked about by everybody across the country, the teams that get ranked and we kind of popped in and out. … So it means a lot in that. And I think it just really, for these guys, it's just a great way to celebrate what's been a tremendous year."
The Huskies will be playing their third game in three nights and Neighbors joked after Friday's game he wanted to petition a later start on Saturday so his players could have a little extra rest after four played all 40 minutes against Stanford and a fifth starter played 36.
"I have this feeling that our group is so tied together right now and locked in, and I wasn't going to get in their way tonight," Neighbors said of his reasoning for not subbing until midway through the fourth quarter. "They know what to do. These guys, there's a lot of coaches on that floor, and I was not going to get in their way. And if I sub, I get in their way, and I wasn't about to do that to this team because they have come together.
"They rally around each other. They pick each other up like no team I've ever been a part of. So I was not about to get in their way. When Chantel (Osahor) got four fouls, I had to get in her way a little bit just because we needed the offense-defense. We used our timeouts to rest. We didn't use them — fortunately, we just kept the lead. They made a huge run at us. We got tired. I'm not sure."
You have free articles remaining.
The Beavers and Huskies met just once this season with Oregon State methodically pulling out a 61-53 win at Alaska Airlines Arena four weeks ago.
Neighbors said he expects to take Oregon State's best shot.
"After watching them (Friday), they're really clicking," he said. "I know that that group has a lot to play for, and they are playing at a very, very high level. It is going to take a lot of rest, a lot of us being very cerebral tomorrow in our walk through or our walk.
"It's a real challenge. But we said it before the (Friday's) game, if you win this one on energy and effort, you'll play on adrenaline (Saturday). So we're going to have to count on that, and we're going to have to play equally as well, if not better."
The teams have played some tight games over the last few seasons with the Huskies handing Oregon State one of its two conference losses last season.
"We all have a really healthy respect for those guys, and when that happens, our kids tend to lock in," Neighbors said. "I hope we fill this place up, and I'm going to — I don't usually get on social media very much, but I think Seattle needs to come out here and really fill this bowl up tomorrow night and make this place — because Oregon State's traveling with a bunch of people. I've seen them up-and-down the street and in the gym tonight. So it's going to take our UW fans to come out and give us a homecourt advantage."
Oregon State coach Scott Rueck knows Beaver Nation will be up to the challenge.
"Love Beaver Nation, what an incredible crowd," he said Friday. "The people that come to support us, it's such a special thing that we don't take for granted. So they created a great atmosphere for women's basketball tonight and especially for our team.
"We take great pride in representing them well and putting smiles on their faces. That's what this is about. So the way this team carries themselves, the way they play, they've earned that support. It's fun for us to play in a way that gives it back to them."