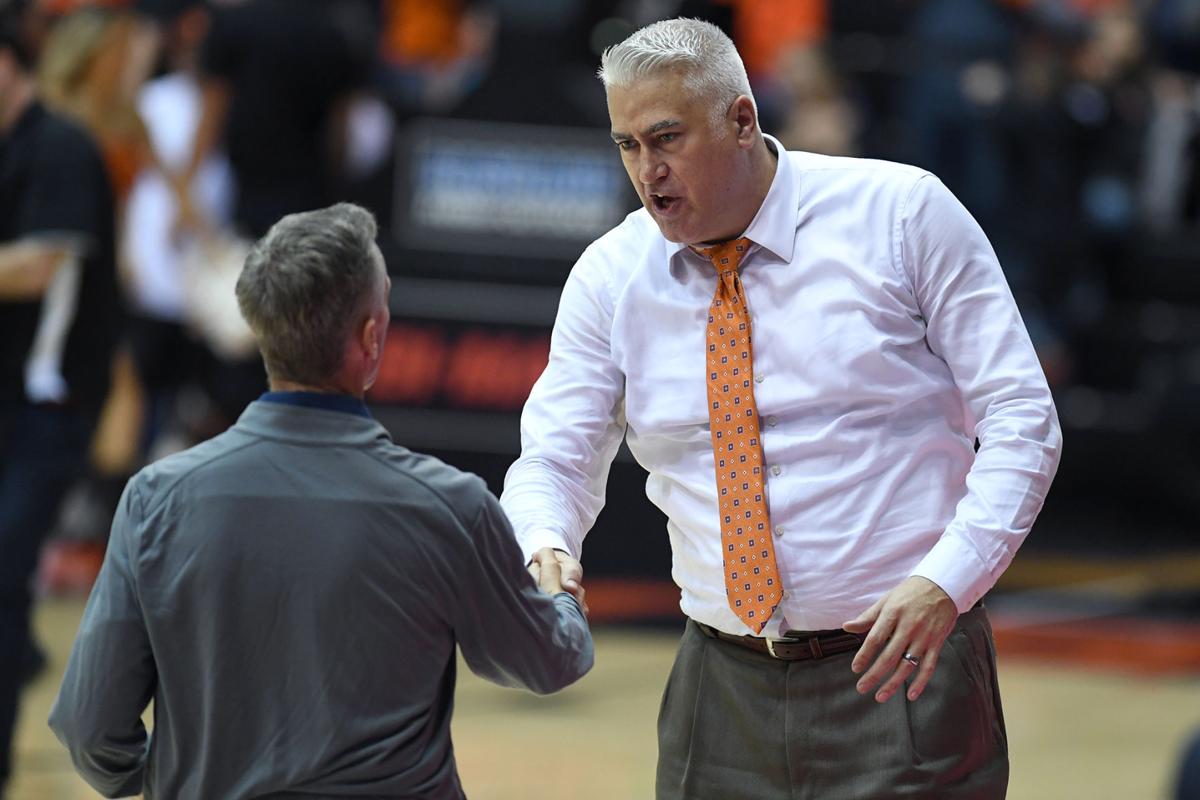 Here's the full transcript from coach Wayne Tinkle's Pac-12 teleconference Wednesday leading up to the Beavers' conference-opening home games against Colorado and Utah this weekend.
Tinkle was asked about leadership from his junior class, including redshirt sophomore Tres Tinkle, and any progress he's seen there
"I think we're starting to show signs of getting to where it needs to be. We said last spring, it was going to be a key to this year's team, that the older group welcome these freshmen, like they were welcomed by Daniel (Gomis) and Gary (Payton II) and Langston (Morris-Walker) and that crew, Olaf (Schaftenaar), Jarmal (Reid). It's taken a little bit of time, but I think we're starting to show some signs. We definitely need that to develop as we move forward, especially now that we're entering conference play. Obviously, I think that will definitely be a big boost to our chemistry as we move down the road here."
Tinkle was asked about losing point guard JaQuori McLaughlin earlier this month and how far the team has come on both sides of the ball
"I thought we really came along offensively after that happened. We had a nice, little win streak there and we were getting some of our better assist-to-turnover ratios after that point until our last couple of games. I think we had nine assists, was all, against St. Louis and seven against Kent. Part of that is we haven't been shooting great beyond 3 anyway.
"Defensively, it's been a tale of two halves. We'll play some really good defense for 20, 25 minutes then we'll have a half where it's not so great. I think continuing to develop our bench to where we can play some more guys and keep guys fresh. And if that doesn't seem to help then we've got to find a way to shorten our bench and get guys better, because we know in conference play we know we've got to play 40 minutes of defense to give ourselves a chance and that's going to be a good focus here."
Tinkle was asked about the Beavers' 3-point shooting and whether they're getting the shots they want
"We do a lot of shooting, we've got good shooters, we're getting the shots we want. We're not really having to talk to anyone about poor shot selection. Guys just have to step up. You know, we've got guys now that we know are our go-to guys and they've got to step up for 40 minutes and then they've got to pull some guys with them. We've got to get two or three guys off the bench that can give us a boost night in and night out and then when that all comes together we'll be in good shape.
"And I'll say this, I think we have a little bit of tension from us still from what we've gone through and I think guys are pressing a little bit, not wanting to fall back to where we were. We need to get guys to relax offensively. If we really put our focus on the defensive side of the ball and then making good decisions offensively, sharing the thing, cutting hard, screening hard, I think we'll get the looks that will maybe allow us to settle in a little bit more instead of … we're trying to guide the ball in like we have to make these. Shooters can't think that way. As we clean some things up, we'll continue to get the looks that we want, maybe a little bit better and they'll start to go in for us."
Tinkle said he's impressed with Colorado
You have free articles remaining.
"They've had some injuries a little bit but they are really playing an aggressive style defensively and a lot of times into the full court. Offensively they attack you. Coach (Tad) Boyle always does a great job of putting his guys in position to succeed offensively and get them to play hard. At times they can be small but it's not slowing them down. That seems to be the trend in our game right now. People aren't afraid to go small. They're a good, competitive, hard-nosed team and it's going to be a real challenge on Friday.
"Utah, the same thing, they've had some guys that have been out of their lineup, but Larry (Utes coach Larry Krystkowiak) is such a disciplined coach, those guys are really good at what he wants them to do. We're glad were at home obviously and excited to get Pac-12 play underway, but we've got to get ready to go because we know we've got two great opponents coming in here."
Tinkle was asked about junior center Gligorije Rakocevic, currently out with a right calf muscle injury
"He was just with Dr. (Doug) Aukerman, and it's going to be day-to-day here. Probably unlikely for this weekend, but I've not gotten a timeline as to how long it might be. We're just calling it day by day right now."
On figuring out the point guard position without McLaughlin and what to expect in Pac-12 play
"We've kind of got to do it by committee unfortunately. What we're hoping to develop is a little bit more vocal leadership out of that position. If we can't force it out of any couple of guys then we've got to get creative. We might have to play somebody else there that we feel … because you've got to have a guy that can put the ball under his arm and direct and lead and we're working to get that out of a couple of guys.
"Is it a concern? You see teams have success that don't have a true point guard. At Montana we used to play multiple point guards together. So we'll be OK as far as being able to get some sort of leadership as far as getting us into stuff. But it's a key position. You're hitting it right on the head. You've got to have somebody there that can be your spearhead, your vocal leader on both ends. That's what we're working on. Now, since we lost JaQuori, I think since we took him out of the starting lineup that last game I think we're 5-1 have done some decent things but it was a curveball thrown at us and something that we've got to continue to work on for sure.
"But we feel like we've got guys that are capable in Stevie Thompson, Ethan Thompson. We might play Tres there against certain teams in some of the packages. So we're working on developing some packages that will allow us to get into our offense and have some organization there, for sure."
On concerns with Tres Tinkle as a facilitator, that the offense might lose some scoring
"That's something our staff has discussed here is, are we going to have to change our tempo a little bit, are we going to have to shorten our bench, if we're going to have to put the ball in somebody else's hands? Are we going to have to get back to where we slow the pace down a little bit? And we haven't made our minds up yet. We still think we're going to be OK but certainly those are some of the factors we're considering.
"Tres is a guy, where if his point production goes down a little bit but he's getting assists for his teammates when we start shooting the ball better, then that's OK. The big thing is handling pressure, getting into offense. We've got to make sure we've got the ability to do that. We feel like with Stevie and Ethan and some other guys that might come emerge off the bench that we're going to be OK there."