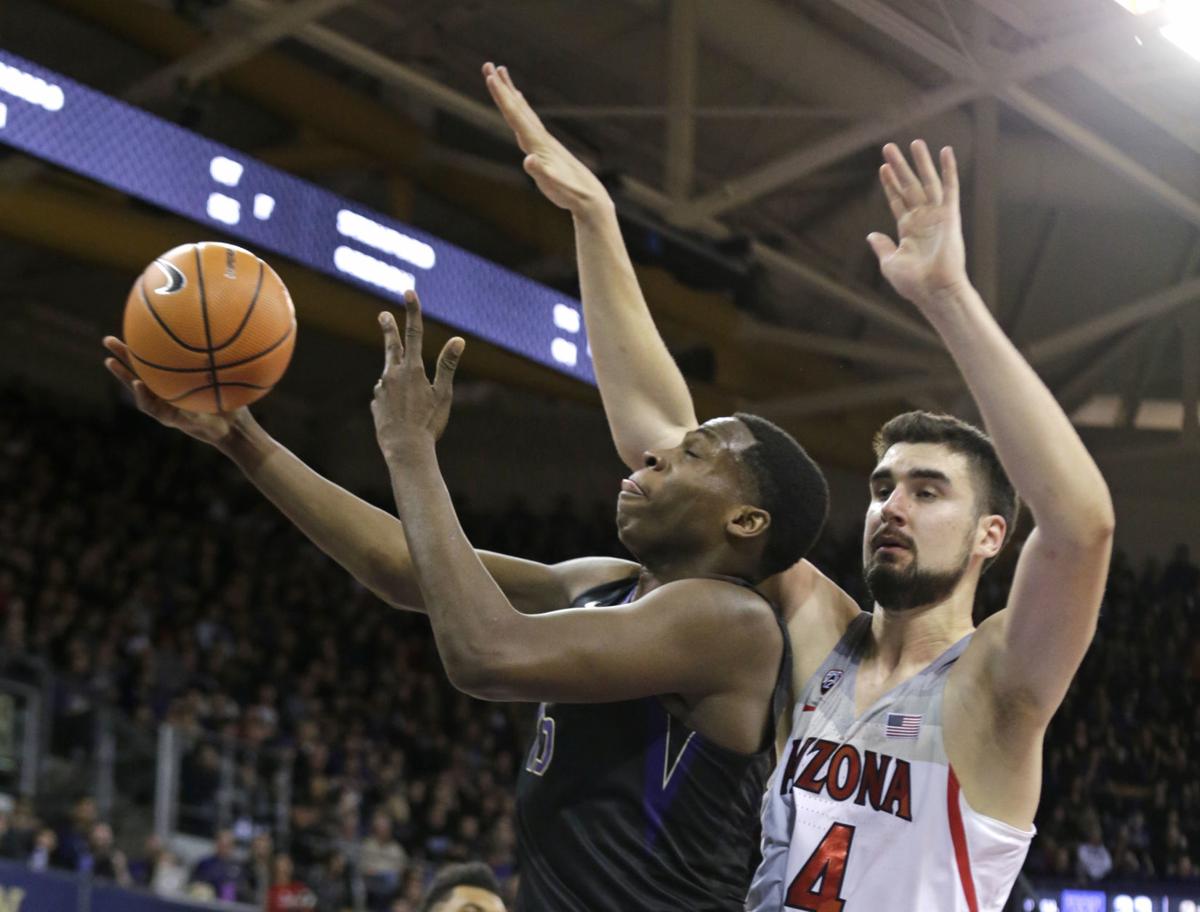 Oregon State goes for a weekend sweep when it hosts Washington at 7 p.m. Saturday. Here's a look at the Huskies.
Washington (17-7, 7-4 Pac-12) is coming off a 65-40 loss at Oregon on Thursday. The Huskies had their worst shooting game of the season (27.8 percent), including 3 of 17 on 3-pointers
It was the Huskies' fourth loss by more than 20 points this season. The others came against Virginia Tech, Gonzaga and UCLA. It was also the fewest points Washington has scored in a game since 1991.
Noah Dickerson had 14 points and 11 rebounds for the Huskies. Jaylen Nowell, the team's leading scorer, was held to nine points on 4-of-15 shooting. He had scored in double figures in 15 straight games.
Nowell, a freshman guard, averages 16.2 points, 4.0 rebounds and 2.6 assists. Dickerson, a junior forward, averages 15.0 points and 8.2 rebounds; junior guard David Crisp 11.7 points and 3.0 assists; and junior guard Matisse Thybulle 10.5 points, 3.0 rebounds and 2.7 assists.
For the season, the Huskies shoot 45.8 percent overall, 34.0 on 3-pointers and 68.1 at the free-throw line. The team's conference numbers are all below those marks: 43.6 overall (10th in the Pac-12), 30.6 on 3s (11th) and 66.7 at the line (10th).
Washington is 11th in conference games in scoring (67.4) and second in points allowed (67.9). Oregon State remains the conference's leading team in scoring defense at 67.7.
You have free articles remaining.
In Pac-12 games, the Huskies are first in 3-point percentage defense (26.6), fourth in field goal percentage defense (43.2), second in blocks (4.4) and steals (7.2) and ninth in rebounding (33.0).
Dickerson is tied for third in rebounding (8.5) and fourth in defensive rebounds (6.1), Thybulle is first in steals (2.7) and junior guard Dominic Green, whose buzzer-beater 3-pointer last Saturday gave Washington a home win against Arizona, is third in 3-point percentage (51.3).
Mike Hopkins is in his first year as Washington's head coach after 22 years as a Syracuse assistant under Jim Boeheim. Hopkins has helped turn around a Husky team that went 9-22 (2-16 in Pac-12) last year.
In 2015, Hopkins was named the head coach designate with Boeheim's expected retirement after the 2017-18 season.
In Hopkins' time at Syracuse, the Orange made 16 NCAA tournament appearances, including the 2003 national title and four trips to the Final Four.
Hopkins has been on nine Team USA staffs and coached on teams involved in six world championships.
Washington won its only matchup with Oregon State last season, 87-61 in Seattle. The Huskies have won two of the last three after the Beavers won four in a row.
This is the 300th game between the two programs. Washington leads the all-time series 159-140.