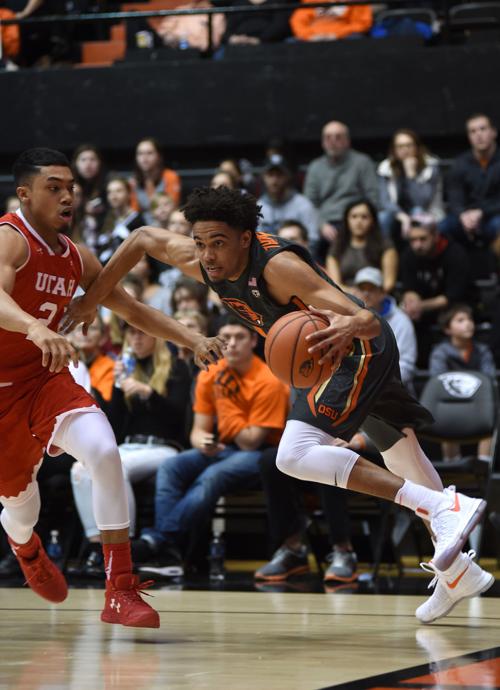 Utah comes to Gill Coliseum on Sunday afternoon for a matchup of teams that won their Pac-12 openers Friday. Here's a look at the Utes.
Utah (9-3, 1-0) defeated Oregon in Eugene behind 19 points by Justin Bibbins. The 5-foot-8 senior guard was 7 of 11 overall from the floor and 5 of 8 on 3-pointers.
Sedrick Barefield added 16 points, David Collette 11 points and seven rebounds and Tyler Rawson 10 points, nine rebounds and seven assists.
Collette, a 6-10 senior forward, is averaging a team-best 13.3 points and 5.3 rebounds. Bibbins averages 12.7 points, 3.3 rebounds and 4.3 assists. He's shot 50 percent or better in each of the last six games and is a combined 12 of 18 on 3-pointers in the last two.
Rawson, a 6-10 senior forward, averages 11.5 points, 6.7 rebounds, 4.0 assists and 1.5 blocks. The Utes have five players in all who average double figures in scoring. They've had six different players score at least 20 points this season.
You have free articles remaining.
The Utes are in the top half of the Pac-12 in most statistical categories. They're first in free-throw percentage (77.7) and 3-point percentage defense (29.9) and second in field goal percentage defense (40.3).
Barefield is second in free-throw percentage (92.9) and Bibbins is third in 3-point percentage (48.3).
Larry Krystkowiak is in his seven year as Utah's head coach. His tenure includes three NCAA tournaments. The Utes' season win total improved in each of his first four seasons, from six in 2011-12 to 26 in 2014-15.
Krystkowiak played with and later coached with Oregon State's Wayne Tinkle at Montana. Krystkowiak was the Grizzlies' head coach for two years (and reached the NCAA tournament both times) before Tinkle took over as head coach in 2006.
Oregon State has won two of the last three against Utah, with Stevie Thompson providing the heroics in Beaver home games each of the last two seasons.
On Feb. 4, 2016, Thompson made three free throws after being fouled on a desperation heave near midcourt at the end of regulation for a 71-69 win.
Last year, on Feb. 19, Thompson's layin with 10.3 seconds left proved to be the game-winner in a 68-67 victory in the Beavers' only conference triumph.