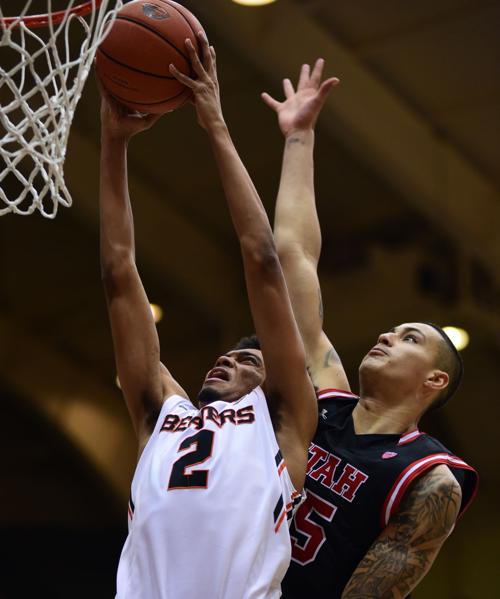 Here's a look at Utah, Oregon State's opponent in a Pac-12 game Sunday afternoon at Gill Coliseum.
The Utes are 17-9 overall and 8-6 in Pac-12 play after a 79-61 loss at Oregon on Thursday.
Freshman post Jayce Johnson led Utah with a season-high 14 points and 12 rebounds. The Utes were without leading scorer and junior forward Kyle Kuzma, who sat out with an ankle injury. Kuzma is expected to play against the Beavers on Sunday.
Kuzma averages 15.7 points and 10.2 rebounds. He led the team in rebounding for 11 straight games before Thursday. Kuzma is second in rebounding in Pac-12 games, also with a 10.2 average.
Utah has had a different leading scorer each of the past five games.
You have free articles remaining.
The Utes also get contributions from junior forward David Collette (14.4 point, 4.9 rebounds), senior guard Lorenzo Bonam (12.7 points) and freshman forward Devon Daniels (10.5 points, 4.8 rebounds). All three are shooting better than 55 percent for the season, led by Collette at 61.5 percent.
Collette has scored in double digits in all 16 games he's played this season. He's also shot 50 percent or better in all but one game.
In conference games, Utah is second in field goal percentage (51.0) and rebounds allowed (31.6), third in scoring (78.1) and rebounds (46,7), fourth in points allowed (70.9) and 11th in free throw percentage (62.9).
The Utes defeated the Beavers in the teams' first meeting this season, 86-78 on Jan. 28 in Salt Lake City.
Utah led by 12 at halftime and by 28 with 8:55 left in the game. Oregon State then mounted a 28-7 run, primarily against Utes reserves, that closed the gap to seven with 1:36 to go. The Beavers got as close as six in the final minute.
OSU's Stevie Thompson had a career-high 30 points, including 11 of 13 on free throws. JaQuori McLaughlin added 22 points (his best in a Pac-12 game) and six assists.
Kuzma had 18 points and 12 rebounds.