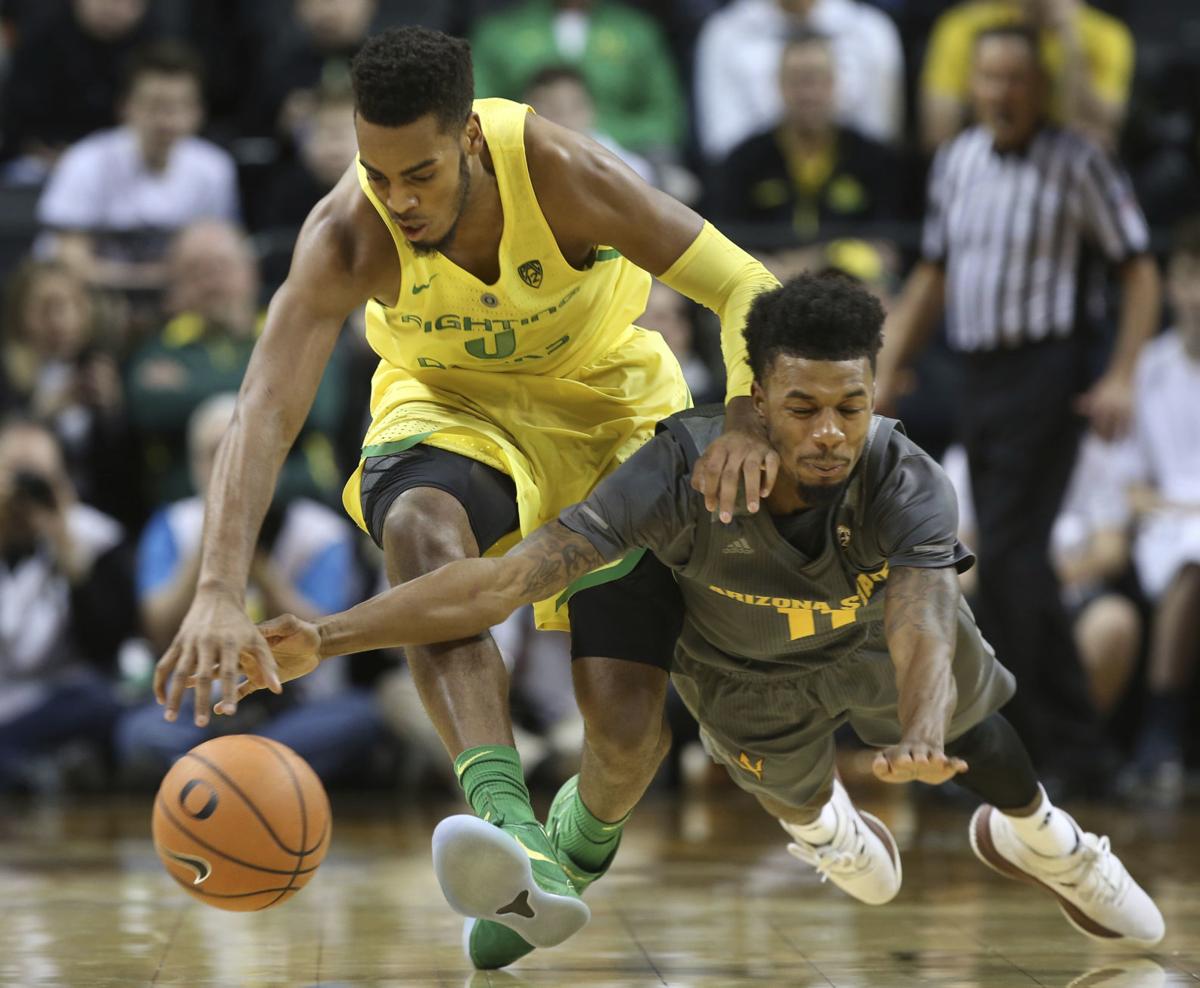 Oregon State finishes its regular-season home schedule with a game against Arizona State on Saturday. Here's a look at the Sun Devils.
ASU (19-8, 7-8 Pac-12) has lost two straight games in its pursuit of an NCAA tournament berth. The Sun Devils were a No. 6 seed in Joe Lunardi's latest ESPN Bracketology released early Thursday.
They started the season 12-0 including big wins against Xavier and Kansas, but have won as many as two games in a row just once in Pac-12 play. Earlier this month, ASU won at Washington State then took down USC and UCLA at home.
Arizona State is coming off a 75-68 loss at Oregon on Thursday in which Sun Devils leading scorer Tra Holder, averaging 19.3 points coming in, was held scoreless on 0-of-6 shooting. Senior guard Shannon Evans II led ASU with 25 points and Remy Martin added 15 points, five rebounds and five assists.
The Sun Devils were held to 38.6 percent shooting (22 of 57), their second-lowest percent in Pac-12 play and worst in the last 13 games.
You have free articles remaining.
Holder, a senior guard, is now averaging 18.6 points, 4.5 rebounds and 3.7 assists. Evans is at 17.1 points, 3.4 rebounds and 3.8 assists; senior guard Kodi Justice 12.8 points and 2.8 rebounds; and freshman forward Romello White 11.2 points and 7.2 rebounds.
In Pac-12 games, Evans is third in 3-pointers (2.9) and fourth in free-throw percentage (88.2). Evans and Holder and tied for seventh in scoring (16.5).
For the season, ASU is shooting 46.4 percent overall (tied for fourth among Pac-12 teams), 36.4 on 3-pointers (seventh) and 74.2 at the free-throw line (fourth). In conference games, those numbers are 42.9 (11th), 33.6 (ninth) and 75.8 (third).
The Sun Devils are scoring a conference-best 83.8 points and allowing 74.9 (ninth) this season. In Pac-12 games, they're scoring 77.4 (fourth) and giving up 77.5 (11). 
Arizona State defeated visiting Oregon State 77-75 on Jan. 13. The Beavers had a 13-point lead with 11:32 to go and lost the lead for good on Martin's layup with 1:57 left. OSU's Tres Tinkle missed a potential game-winning 3-pointer just before the buzzer.
Stevie Thompson had 21 points and Tinkle 18 points and 10 rebounds. Evans led the Sun Devils with 22 points, six rebounds and seven assists. 
ASU has won four of five against OSU after the Beavers won two straight. The Sun Devils lead the all-time series 45-42.