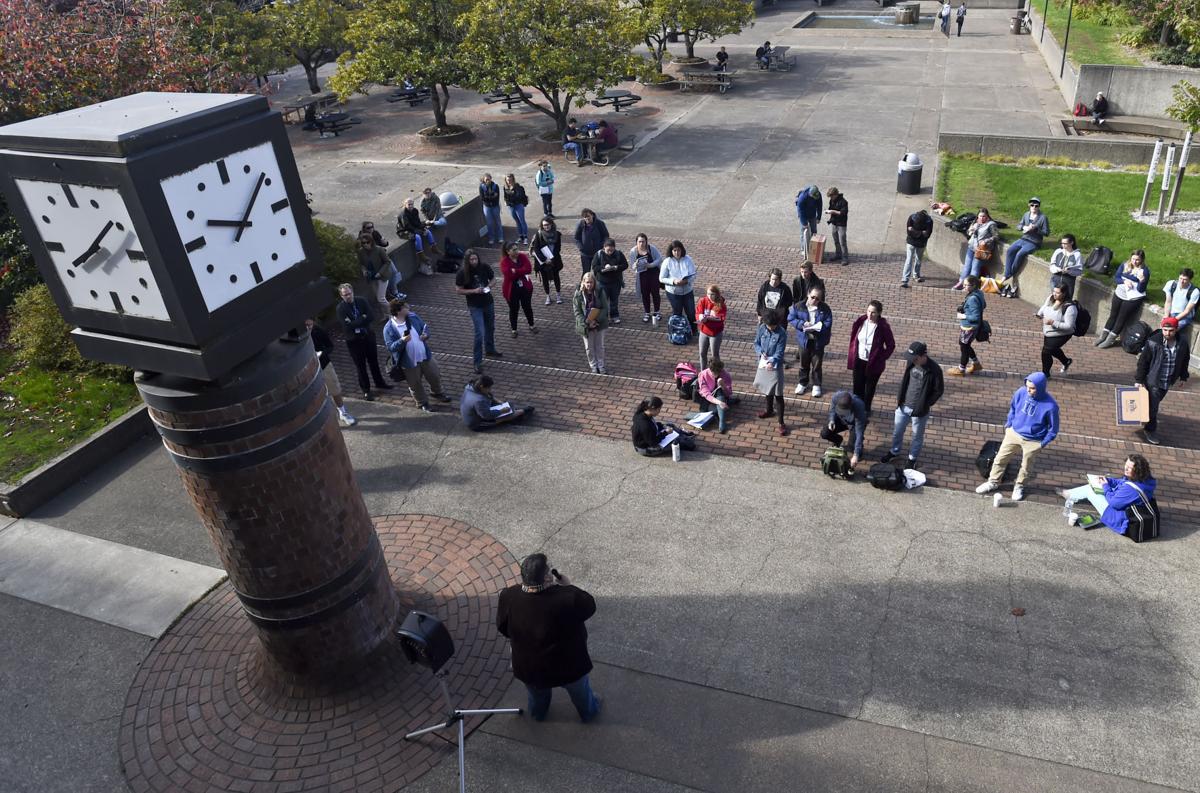 A new club at Linn-Benton Community College is trying to change debating as a means of winning toward a new goal: debating as a means to understand.
Mark Urista, department chairman for the college's communications department, is the faculty adviser for the new Civil Discourse Club, which formed last month. Its mission: "to promote dialogue that enhances understanding among individuals with diverse viewpoints in an open and respectful environment."
"Clearly, we are in a polarized environment right now," Urista said. "Students who have joined the club all come from different backgrounds, different political affiliations, different ideologies, but they truly want to understand why different people think the way they do."
Urista said he asked the students why they didn't simply ask people with different viewpoints to explain their perspectives.
"The dominant theme I found is that people are scared," he said: of being attacked, persecuted, or "having some ugly stereotype applied to them."
Instead, he said, people find themselves self-censoring their discussions.
"Our club wants to find a way to break through that," he said, "and find a way to get people talking with one another."
The club's founding comes at a time when LBCC is taking a critical look at its free expression policies and reformatting them in a manner that administrators hope will make them more accessible and understandable. 
Urista is part of the task force working on updating the rules for time, place and manner of free expression and said he believes the college is on the right track with what it's done so far.
"We easily can cite the law on free speech, but what we want to focus on is the value that (speech) brings to the learning process on a college campus," he said. "We honestly believe that by protecting freedom of expression, that allows people to not only hear ideas that they may not be comfortable with, but also will help them find a way to properly respond to those ideas."
In November, the college's Board of Education unanimously approved updated language for the overall freedom of expression policy, affirming the college's "deep commitment to free expression."
Through the policy, the board directed the president to establish "content-neutral administrative rules, codes of conduct and procedures and practices to establish allowable time, place and manner of free expression that supports the mission and the learning activities of the college."
Work on those rules is ongoing through the free expression team, of which Urista is a part, said Bruce Clemetsen, vice president of student affairs. Once it's complete, the college council, a representative group that includes employees and students, will consider it for recommendation to President Greg Hamann at its next meeting, Jan. 10.
The updated rules will mean old practices will be absorbed or eliminated, Clemetsen said, but those won't be final until the new rules are decided.
Urista's club likely will be working under those rules when it gets going as more of a formal entity. The group came together so fast last month it didn't have time to hammer out some specific details, Urista said, such as when and where and how often it will meet.
Half a dozen active members did manage to put together the first Civil Discourse Debate, however. On Nov. 21, four students debated whether it was appropriate for the college to display sexually explicit artwork in its North Santiam gallery earlier this fall. 
Two students took one side and two students the other, Urista said. True to the club's mission, they did not debate to win, but to share and explore differing perspectives.
"Here's the cool part: The students clearly had different perspective about the artwork, but in the process of preparing this debate, they became genuine friends," Urista said.
The club is looking for many more members to join: as many different backgrounds, ages, ethnicities and perspectives as possible, Urista said. Both introverts and extroverts are sought.
Information is available on the club section of the college's website, www.linnbenton.edu, and on a Facebook page called LBCC Civil Discourse.
During winter term, which starts in January, Urista said the club wants to create a "Democracy Wall," something his communications colleague Hailey Goplen did while teaching at North Dakota State University.
The idea is to set up a wall of some sort — white board, bulletin board, or the like — where questions can be posed and people can answer them. The questions could include, what does civil discourse mean to you? What are some of the opportunities and challenges we face when we engage in it? What topics would you like to have civil discourse about?
"I think it would be fascinating to see what fellow students at LBCC would write in response to the questions on this wall," Urista said.
He also hopes to set up more debates, at least one per term.
In fact, he said, that's how the club came about: students in his fall term Argument and Critical Discourse class asked to form a speech and debate club. But when Urista asked them about what they wanted, and shared his own contrasting college experiences about debating to understand versus debating to win, the students overwhelmingly opted for the former.
Urista said the club's mission makes him think of an incident a few years ago in which a young Philomath soldier, Cody Patterson, was killed while on a mission in Afghanistan. Rumor had it members of the Westboro Baptist Church, a controversial ultraconservative organization, planned to protest at his memorial service. Although it never materialized, hundreds of people turned out to counter that expected protest.
"I saw how our entire community came together in order to respond to that ugliness. That gave me a lot of hope," Urista said. "And I have confidence that our community would be able to come together if anything like that were to ever happen again.
"This is exactly what people should be doing in college," he went on. "We live in a world where people say things we don't like, but freedom of expression is a fundamental principle in a pluralistic democracy. So we need to see how to respond while respecting that fundamental principle."