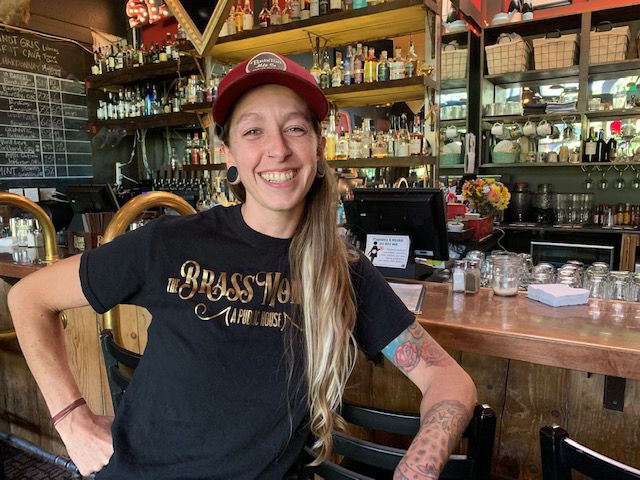 For years, Morgan Orr was Corvallis restaurateur Cloud Davidson's right-hand person, helping to oversee payroll and other administrative tasks at several establishments.
She never wanted to be the boss, but having a child tends to change a person's perspective on things. Sometimes with greater responsibility comes greater rewards.
Orr is now the owner of The Brass Monkey: A Public House, which is operating out of Davidson's former downtown Downward Dog space in Corvallis.
"The whole public house vibe has always spoken to me," Orr said. "The community living room, that is what I want it to be."
Many of the aspects of the Downward Dog remain, such as the old school hip-hop feel, area microbrews on tap, a whiskey-forward bar and handcrafted libations. The food remains locally sourced, often from the Corvallis Saturday and Wednesday markets just outside the door of the business.
Late-night happy hour specials such as chicken and waffles, tuna tacos and more are still on the menu, as well.
The name of the restaurant and bar is taken from an early Beastie Boys song about an alcoholic drink, but it's also a nickname for Orr's 2-year-old son James Marshall Orr, nicknamed Jimi, who has strawberry blonde hair (and is named after a guitar god).
Orr didn't take a traditional route to becoming an entrepreneur. She graduated with an apparel design degree from Oregon State University in 2005, "gallivanted around" and bartended for a few years, lived in Kenya and bartended for a few more years, then came back to Corvallis in 2012.
She didn't want to work for Nike or Columbia or another sportswear apparel company in Oregon, and didn't want to move out of state. So she thought about going to graduate school at OSU and took a job as a bartender at the Downward Dog.
Then she became the weekend manager at Cloud & Kelly's Public House, another Davidson business. Then she became the co-manager at Cloud & Kelly's. Then she became the only manager. And then Davidson made her a sort of general manager for his restaurants, and she got to learn along his side.
You have free articles remaining.
Orr realized that she actually was good at operating restaurants and bars, and she began to consider opening her own business.
"A year ago, you couldn't have told me this is where I wanted to be," Orr said.
She looked at buying another restaurant and property with a high price tag and lamented to Davidson that she probably shouldn't take the risk.
He convinced her that she should open up her own business by purchasing the downtown Downward Dog.
Orr became owner of the bar in March, and reopened as The Brass Monkey in May.
"The learning curve is high. I am overwhelmingly grateful for the opportunity to try," Orr said.
Davidson has divested himself of a few of his businesses recently. He sold the Cloud & Kelly's space next door to The Brass Monkey to his former head chef Ko Atteberry, who opened up Ronin Café and Ramen. Davidson also sold Bombs Away Café in Corvallis, which continues to operate under the same moniker.
Orr said she has added decorations from several Davidson businesses to the Brass Monkey.
The Brass Monkey: A Public House is open from 11:30 a.m. to midnight Sunday through Wednesday and from 11:30 a.m. to 2 a.m. Thursday through Saturday.
Happy hour runs from 3 p.m. to 6 p.m. and 10 p.m. to midnight.
Minors are allowed until 10 p.m.
For more information, go to The Brass Monkey's Facebook page.