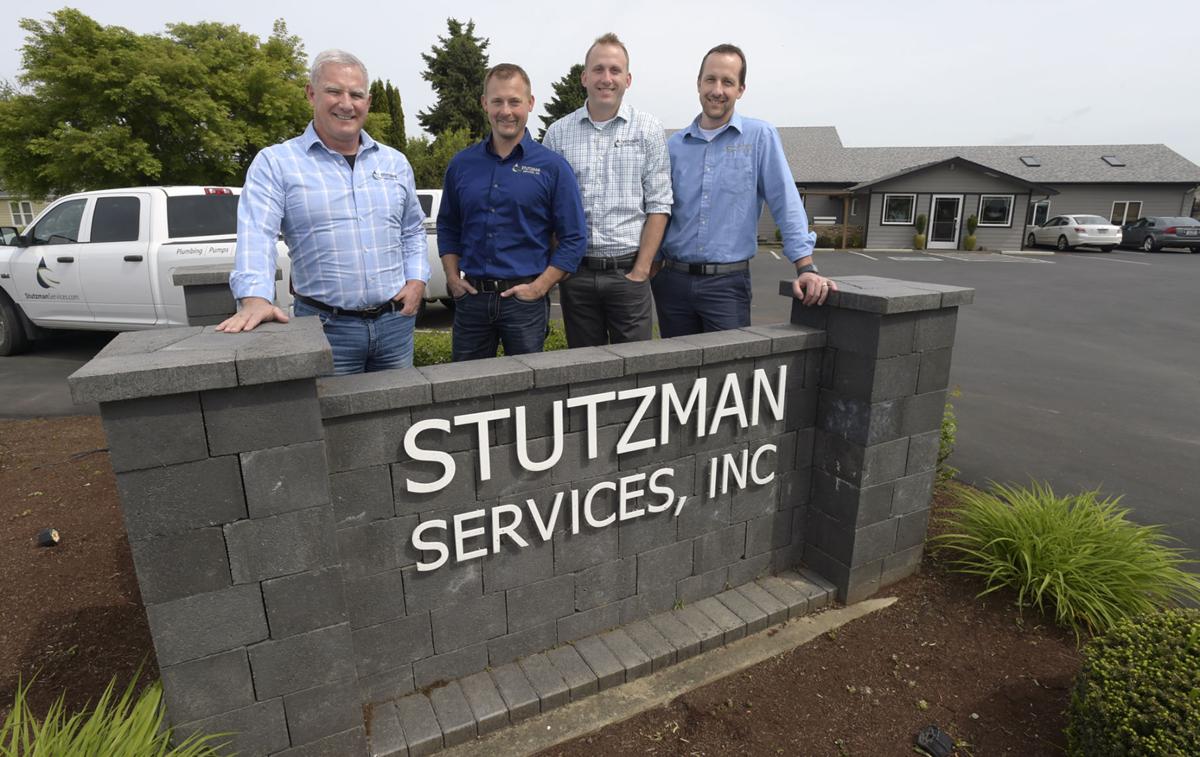 Stutzman Pump Services started in 1966, and in the old days, the Albany-area company provided rural customers with water from wells and associated products.
"Over the years, we have added complimentary services connected to water," said CFO and former owner Kevin Rediger.
In the 1990s, managing irrigation projects led to landscaping work. And in 2009, the business merged with a local plumbing firm.
In essence, the business, now known as Stutzman Services, currently oversees not only the source of the water, but how it's used inside and outside homes, from the well to the sink or sprinklers.
Plenty has changed over the years, such as technology that's used to monitor wells, low-flow toilets or sprinklers that know when to turn off when it's raining outside.
But the success of Stutzman Services can be traced back to the values of company founder Art Stutzman.
"He was definitely old school. He was a man of faith who had total integrity and honesty," said Rediger, one of Stutzman's earliest hires.
"The focus in the beginning was really on service. That's what we built our company around. … We would always try to do what we could to make the customer happy," added Rediger, who purchased the business in 1980.
He said that having a family-friendly workplace with a focus on keeping employees happy and giving back to the community also enabled the company to grow.
"People come here and they stay a long time," said Chris Nafzinger, the company's communications director.
In 2014, lifelong mid-Willamette Valley residents Dale Aerni, Kevin Konzelman and Brent Stutzman purchased the company.
You have free articles remaining.
Aerni is in charge of the well water section, Konzelman is president of the company, and Brent Stutzman, whose plumbing company merged with Stutzman Services, is naturally in charge of plumbing.
A big part of Aerni's job is teaching clients how to use water efficiently to extend the life of their wells.
"People can run out if they're not careful," Aerni said.
Groundwater is a finite resource, as many Californians have learned the hard way. Even in Oregon, where H2O seems ample, access to groundwater isn't always easy, Aerni said.
When residents suck a well dry, that also can have impacts on the water available for neighbors, since nearby wells generally tap into the same aquifer.
"We manage water, life's most valuable resource," Konzelman said.
Putting in efficient plumbing fixtures also can help conserve water for homes, as can a well-managed landscape. The latter includes plants that grow well locally in Oregon's dry summers, as well as making sure sprinklers aren't watering the sidewalks, Konzelman said.
Brent Stutzman said that his workers often find leaks that homeowners aren't aware of. Besides wasting water, those leaks, or a running toilet, can damage homes.
"I would say one out of 10 customers, we find something," Brent Stutzman said.
All three owners said the company only offers premium solutions and products. "The only way to make it work right for years to come is to make it the best," Konzelman said.
As part of its 50-year celebration, Stutzman Services also is hosting an Albany Area Chamber of Commerce Business After Hours event that starts at 5:15 p.m. on Tuesday, May 17.
Stutzman Services, 4185 Spicer Drive S.E., is open from 8 a.m. to 5 p.m. Monday through Friday.