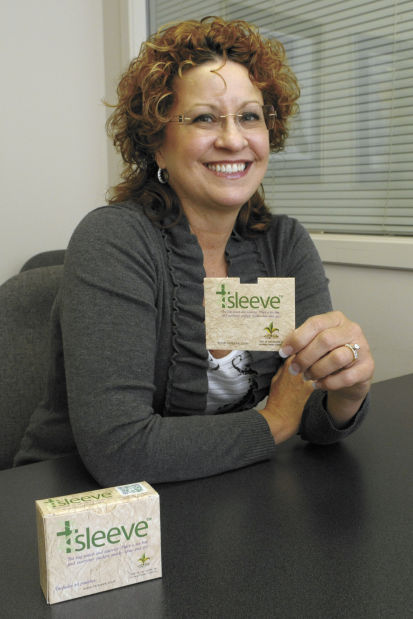 Lebanon woman invents a multi-purpose aid for tea lovers
Julie Forrest seldom drinks tea. She's a coffee drinker.
Nonetheless, the Lebanon woman has come up with a simple, patent-pending product that she believes will make life easier for tea drinkers on the go.
T-Sleeve is a multi-tool for tea drinkers who find themselves yearning for a mess-free cup of tea when they are at home or more likely, traveling.
The small 3-inch by 3¾-inch packet is like a tea drinker's Swiss Army knife. It's a carrying pouch for tea bags and sweeteners, a tea bag squeezer when your tea is steeped, and a receptacle for discarding your bag cleanly, drip-free and in an eco-friendly manner.
"It works great for people who are on the go," said Forrest, 54, who markets the product through Trinity Global LLC which she created. "It eliminates messy bags and sticky fingers."
Forrest says her idea came to her as a vision about a year ago. She said she awoke and it was all laid out in her head.
"I'm just following where God leads me. I credit the idea to Him," Forrest said. "I hardly ever drink tea myself. I'm a coffee-drinker."
Forrest immediately contacted her brother Jay in San Diego. He told her that he could see the product being used everywhere.
Forrest was so inspired she left her job to dedicate all her resources to creating the product. She began researching the perfect paper for the pouch, the right design for the sleeve and different manufacturers.
According to Forrest, there are some similar metal and silicon items that are used in homes but nothing like what she has come up with.
"I got input from lots of people," said Forrest, who had worked for years in retail. "When I began, I knew what I was looking for but not how to find it."
She worked hard to get the product just the way she envisioned it. She made sure she had the natural look and color of the package just the way she wanted it. And she improved it right to the finish, adding slits at the top to provide tabs which allow the bags to catch and hold so they won't fall out.
One of the things about T-Sleeve that she is most proud of is the fact it is made of recyclable material and is totally compostable.
"I wanted it to disappear when people were done with it," she said. "It was important that it be eco-friendly."
Forrest is also using her product to give back. She is donating 10 percent of all net profits to help foster children.
Her first batch of 12,500 boxes is now on the market selling at $5.99 for a box of 20 through her website at www.tsleeve.com. She's looking for additional outlets to stores. Other markets could include airlines, hotels, coffee shops and tea houses.
Forrest earned a degree in marketing management and international business at Oregon State in 2004. She has her eye on the international market with an international patent. Her sites are set on the three largest tea-drinking nations of China, India and England.
Instructions to use the bags are printed on the outside of each pouch and there is a QR code on the flap that can be scanned by smart phones to lead buyers to a video demonstration of how to use the T-Sleeve.
She got help from her brother and her husband Brad.
"God has been the most help," she said. "He takes me in the direction I'm going."
Steve Lathrop is the business reporter for the Albany Democrat-Herald. He can be reached at 541-812-6076 or by email at steve.lathrop@lee.net.
The business news you need
With a weekly newsletter looking back at local history.