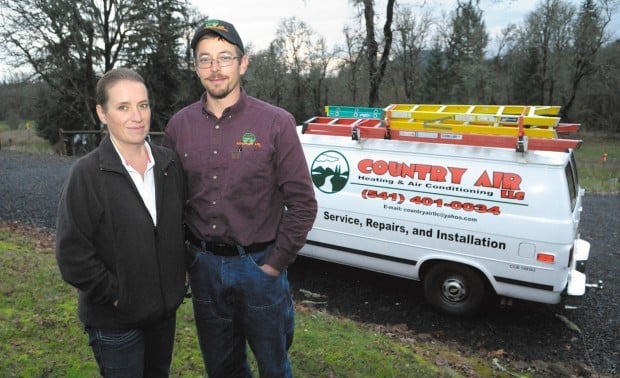 Jamie Schurr has found that he's almost always busy.
"Every day I have at least a couple of jobs," said the 36-year-old who started his own business from his home in Sodaville.
Schurr and his wife, Denise, opened Country Air to provide maintenance and repair work for heating and air conditioning systems throughout the Willamette Valley. Open since October, Schurr said his days are almost always full.
"Work has been good. There really hasn't been much of a letup," he said.
Schurr worked in the business for 16 years before deciding to give it a try on his own. He admitted that the move was a gamble, but now he's glad he did it.
"It was a little scary to start from scratch but I needed to make a change," Schurr said.
His wife was a little more leery of the move, but she couldn't deny his enthusiasm.
"I wasn't sure at first in this economy, but Jamie was gung-ho for it so it didn't take long for me to come on board. I figured it was a good thing," Denise said.
She is involved as well, handling all the bookwork for the business. She also helps with dispatch and shares time with her husband maintaining the company website.
Working from his van, Schurr travels throughout the mid-valley for jobs. He got his van and most of his equipment by selling his old pickup and a Jeep.
"We didn't take out any loans," Schurr said. "We used the money we got from the sales to build our inventory so we didn't start out in debt."
Schurr also subcontracts out his services to pick up any slack in his work schedule. Mostly he is doing the job on his own.
"It's just me out there," he said. "At least at this point. Hopefully I will be able to grow to the point where I can expand and add another person."
When the business started, the Schurrs sent out introductory letters to potential customers outlining what services Country Air would offer. Schurr said the response was surprising and the business ballooned from that point.
Working from their home in Sodaville, Schurr makes sure that most everything he will need is housed in his truck but he also maintains a shop on the property to store parts and tools.
"The great thing about being in business for ourselves is that we can do it the way we want. The way we think is right," Schurr said.
Schurr is available on call only and works strictly by appointment. He provides free estimates for potential customers, and discounts are offered to seniors, military customers and churches.
Country Air can be reached by calling 541-401-0034. Information is also available on the company website at www.countryairllc.net.
"I don't focus on one particular area as a specialty," Schurr said. "My speciality is whatever people need in heating and air conditioning."
The Schurrs both graduated from Lebanon High School and have lived in the area most of their lives.
"I've been working in the area for a long time and a lot of people know me and my work and that has helped get us established," Schurr said.  "So far it's been great. I've kept busy and have also been able to spend more time at home."
Steve Lathrop is the business reporter for the Albany Democrat-Herald. He can be reached at 541-812-6076 or by email at steve.lathrop@lee.net.