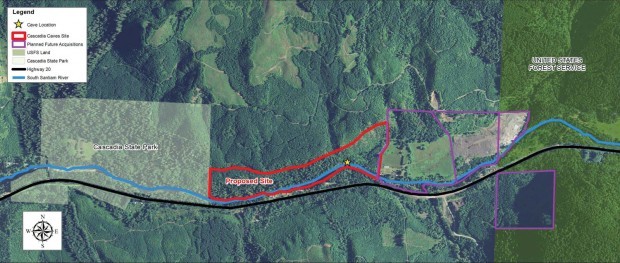 CASCADIA — A coalition of public and private organizations — including the Linn County Parks Department and the Sweet Home Ranger District — wants to purchase the historical Cascadia Cave, an 8,000-year-old heritage site, as the first link in a planned 12-mile-long community forest.
Linn County Parks director Brian Carroll told the Board of Commissioners on Tuesday that a grant application is under review by the Oregon Department of Forestry that would assist in the purchase of the 55-acre property. It is currently owned by the Hill family, based in Minneapolis, and managed by Cascade Timber Consulting Inc.
The cave is about one-quarter mile east of Cascadia State Park and features a large collection of Native American rock art. The cave sits at what was a trades crossroad for native Americans, as well as a shaman ceremonial site.
Currently, trespassers frequent the property and are causing damage.
According to Carroll, the property is valued at about $800,000, but the owners are willing to sell it for $400,000 and donate the remainder.
"We would like to see the cave protected," said Dave Furtwangler, Cascade Timber president. "We don't feel like we're the best entity to do that. If there's a way to see a long-term plan, an opportunity to protect this site and to make it available to the public, that would be a plus for everybody."
Carroll said the plan has come together rapidly, since about February, as part of an all lands management concept initiated by the Sweet Home Ranger District.
The long-term goal would be to create the Cascadia Cave Community Forest that would encompass about 7,500 acres and run from Foster Reservoir to Cascadia Cave, about 12 miles along the edge of the South Santiam River. The forest would link to the historical Santiam Wagon Road and would take hikers all the way to the top of the Santiam Pass.
Currently, property ownership is checker-boarded between public and private groups.
"This is an important move forward," said Commissioner Will Tucker. "We hope to learn a lot more over the next five or six months."
Although protecting the area's cultural and ecological traits is critical, Tucker said logging would also be an important factor in terms of providing jobs in the area, improving the health of the timber stands and offsetting the loss of tax dollars from the conversion of private lands into government ownership.
Annual timber harvest is estimated at about 5 million board feet.
The opportunity to have a working forest within a destination recreation area would also provide educational opportunities for area school children.