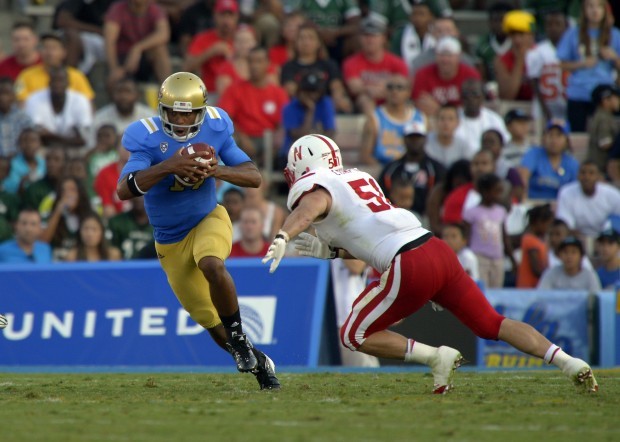 Football coaches always say that you make big improvements from the first week to the second. If that is the case, several Pac-12 teams should be pretty excited about the progress they made. Others, not so much.
It was an up-and-down week for the conference with three teams posting home upsets over ranked teams. There were also a couple dismal performances.
Here's a quick look back.
USC (42-29 over Syracuse in New Jersey) and Oregon (42-25 over Fresno State at home) kept on rolling, as they are likely to do until their monumental meeting on Nov. 3.
Now the good: Oregon State didn't need a game to get ready for No. 13 Wisconsin, apparently, and stunned the Badgers 10-7 for one of the biggest wins in Reser Stadium history; UCLA knocked off No. 17 Nebraska, 36-30, in the Rose Bowl; and Arizona came up big in the second half of a 59-38 win over No. 18 Oklahoma State.
Now for the bad: For the second straight year, a conference team has lost at home to Sacramento State as the Hornets, who stung the Beavers last year, did it to Colorado on Saturday (30-28); Utah lost at Utah State, 27-20, in OT; Washington State had to hold off Eastern Washington at home, 24-20; and Washington basically didn't show up at LSU, dropping a 41-3 decision.
In other action, Arizona State crushed Illinois, 45-14, at home; Cal rebounded with a 50-31 win over Southern Utah; and Stanford found its offense in a 50-13 win over Duke.
So, that leads to some changes in this week's power rankings.
1. USC (2-0): The Trojans overcame a slow start and some weather delays to cruise. Matt Barkley had six TD's, three to Marqise Lee.
2. Oregon (2-0): The Ducks again jumped out big, then struggled a bit on offense. Kenjon Barner and De'Anthony Thomas are an impressive 1-2 punch.
3. UCLA (2-0): Bruins looked good on offense with Johnathan Franklin rushing for 217 yards and Brett Hundley throwing for 305 yards and four scores.
4. Arizona State (2-0): Sun Devils still going strong on offense with 510 yards total offense. They led 28-7 at the half.
5. Arizona (2-0): Wildcats spotted Cowboys a 14-0 lead, then exploded and scored 59 points. Looks like Rich Rod has the Wildcats going in the right direction.
6. Oregon State (1-0): Beavers probably should have won by more than the 10-7 score, but the defense came up big time after time. Much better start than last year. UCLA is next.
7. Stanford (2-0): Cardinal's offense certainly improved from Week 1, but this Duke football team is nothing like the basketball program.
8. Utah (1-1): The Utes did rally after losing starting QB Jordan Wynn, but showed they have a long way to go to challenge the likes of USC. among others.
9. Washington (1-1): It could be a long few weeks for the Huskies, who were scheduled to play three teams in the preseason top 5 in the country.
10: California (1-1): Bears rebounded from a tough opener, but needed a 30-point fourth quarter to overcome a battle with Southern Utah.
11: Washington State (1-1): Cougars move out of the cellar despite not being overly impressive against an FCS team. But hey, they won.
12: Colorado (0-2): Will Colorado win a game this year? Yikes.