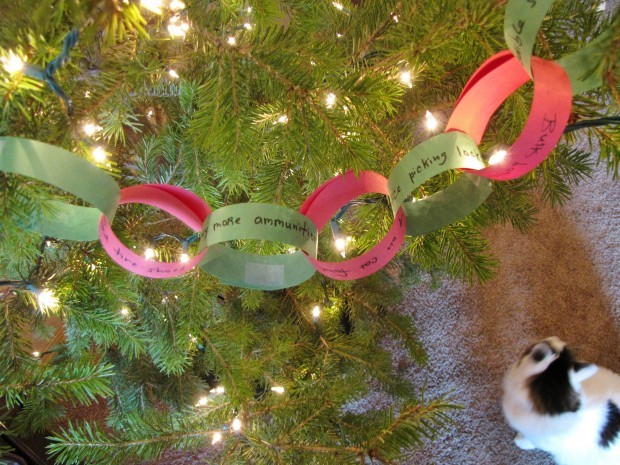 It's the beginning of the end.
December is here, and soon, so soon, the 21st will be upon us.
Over the past 11 months, we've talked about water, food, shelter, fire, navigation, preparations and Godzilla. There's always more to learn about survival and living off the grid (like how to make your own soap, how to properly slaughter and dress an animal, how to hotwire a car …), but with so little time left in this life we've grown accustomed to, maybe we should take a break from rush ordering MREs and packing our bug out bags to just celebrate these last days and reflect on the coming season.
As the apocalypse is happening concurrent with Christmas, one way to get into the spirit of doomsday while also fitting in some final holiday kitsch is to make a countdown to the end.
Remember when you were a kid and you made those construction paper chains, or when your mom brought out the advent calendar with the piece of candy and Bible verse inside each window? Remember how exciting that was? The anticipation, the joy as each day passed!
Then you got older and started panicking as each paper loop was torn off because you still had gifts to wrap and parties to plan and in-laws to avoid and Christmas is only three days away and my Amazon order still hasn't arrived and it probably never will because of the fiscal cliff and war in Gaza and the dismal progression of adulthood.
This year, there's no reason to waste all that emotion on a holiday that isn't even going to happen! (Practicing Jews really have the last laugh this year, since Hanukkah finishes Dec. 16. They'll be contentedly spinning their new dreidels while those of us who celebrate Christmas, Kwanzaa and/or Boxing Day pine for the holidays that could have been.) So reroute your construction paper and creativity toward the real darling of the season: TEOTWAWKI! Here are a few ideas:
You have free articles remaining.
Paper chain. This is boring, sure, but if you have small children and want to keep them in a state of ignorant bliss, you can lie and say the chain is for the holidays! If they're old enough to count and wonder why the chain is four links too short, just make something up.
Don't act offended; you've done this a million times, like "Mommy and daddy aren't fighting, we're just rehearsing for a really angry play!" or "Eat your crust, it makes you stronger!" or "This roadtrip will be so much fun!"
Bucket list. Sit down right now and write out "Nineteen Things To Do Before The World Ends." Cross off one item each day, and meet the end times knowing you've accomplished good things in your life. (I recommend foregoing any long-term dreams, like writing a Great American Novel, finding the cure to cancer or starting a cult; instead, stick with short-term projects, simple acts of kindness and one-time thrills.)
There's no excuse to procrastinate anymore. Go skydiving (it's worth it), elope, visit your grandma, take a pie to the new neighbors who moved in seven years ago and you just keep forgetting to meet. 'Tis the season.
Preppers' checklist. If you just can't take a breather from your SHTF preparedness, you can at least get organized. Put a task on each square of your calendar: buy beef jerky in bulk from Costco, sharpen knives, stock up on heirloom seeds, convert all assets to gold, say goodbye to friends and family, move into bunker, etc.
Then when you finish each day's to-do, eat a piece of candy and read a Bible verse! (It's the holidays – you can't be all business and no fun!) I recommend dark chocolate and Matthew 24:36.
Next week: Group dynamics.
The week after next: Party like it's 3372 B.C.
The week after that: The end.