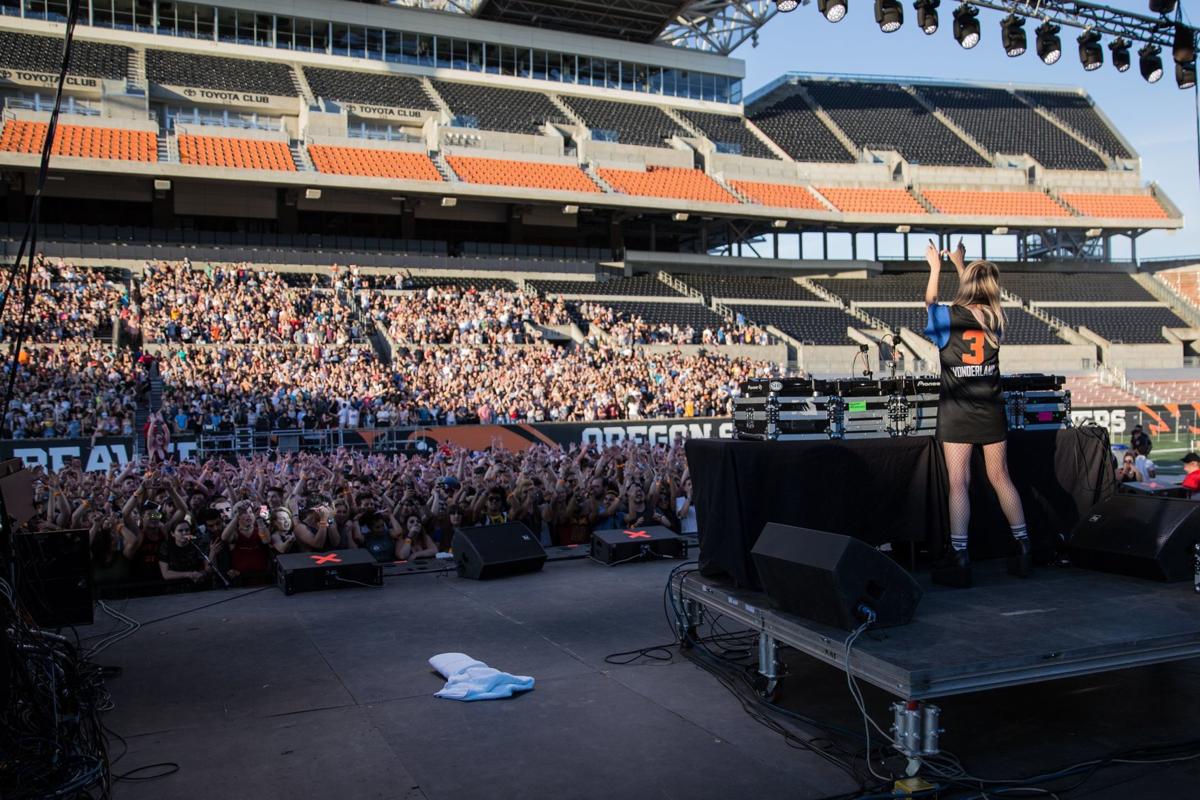 The mid-valley's arts and entertainment scene this week covers a lot of ground, from Reser Stadium all the way down to a photographic exhibit that offers a unique view at historic sites along the Rogue River. Here's what you need to know for planning your weekend:
It's been a wild ride for the Dam Jam, the end-of-the-school-year concert event at Oregon State University that started life in 2006 as a reggae festival on campus: Last year, the event's organizers (students do most of the work in putting it together) decided that the event had outgrown the Memorial Union Quad on campus and moved it to Reser Stadium, where it drew some 6,500 attendees.
This year's event is Friday night at Reser, and it features a bit of a throwback vibe: Rhythm-and-blues star Akon is the headliner, with pop singer and songwriter Jesse McCartney also on the bill. And the show opens with Arii Mas, the OSU student who won last October's Battle of the DJs event on campus. (If Friday's show leaves you wanting to see more of Arii Mas, you can frequently find him performing in downtown Corvallis at the Angry Beaver sports grill.)
If you've been to one of the Corvallis Comedy Night events at the Majestic Theatre, you know those usually draw packed houses of patrons, eager to catch a rising stand-up star. Saturday's show, featuring Joel Kim Booster, should be no exception — and chances are you'll be seeing a lot more of Booster, who will be featured in a new situation comedy from producer Michael Schur (the brains behind "The Office," "Parks and Recreation" and "The Good Place.")
Corvallis Comedy Night organizers hope Saturday's show by Booster and opening comedian Kirsten Kuppenbender of Portland sparks what becomes an annual tradition of openly gay comedians performing at the event in celebration of (LGBTQ+) Pride Month. Click here to read more about Booster and Saturday's show. 
Corvallis photographer Rich Bergeman likes to focus on subjects that have been nearly forgotten by Oregon history. His new show, "The Land Remembers," features landscape photographs he took in the Rogue River area — the location of one of the longest and bloodiest wars in Oregon history. The Rogue River wars of the 1850s, fought between Native American tribes and the U.S. military, resulted in the forced removal of the Rogue Valley and South Coast tribes to reservations at Siletz and Grand Ronde.
Using striking black-and-white infrared images, Bergeman captured landscapes in the region. The resulting show, "The Land Remembers," is on view at the Benton County Museum in Philomath, and Bergeman will be talking about the show Saturday at 2 p.m. Click here to read more about the show. 
If your errands take you to downtown Corvallis this weekend, be sure to peek in the artists' window at Footwise: The featured artist for June is Albany glassblower Lauren Wingert, who will be previewing some of the work she'll take to a show later this summer at The Oregon Garden. Wingert operates Sneak Peek Glass, a small studio in Albany. It's nice that Footwise devotes some of its window space each month to mid-valley artists. Click here to take a peek at one of Wingert's works. 
Need a fix of 1980s music, served up choral style? The Confluence LBGT Chorus has you covered: The ensemble is performing "Awesome 80s," an afternoon packed with 1980s favorites like Katrina and the Waves' "Walking on Sunshine" and "Under Pressure," the David Bowie-Queen hit. The show starts at 4:30 p.m. Sunday at the Unitarian Universalist Fellowship in Corvallis. You're invited to wear your favorite 1980s fashion while I ponder the unfairness of a universe that allowed Katrina and the Waves to have only one hit. Or you can click here to read more about the Sunday concert.  
Elton John, of course, has had considerably more than one hit: The new movie about his life, "Rocketman," is billed as more of a rock 'n' roll fantasy than a straightforward biopic. Our reviewer, Katie Walsh, loved the movie and gave it a four-star review. Click here to read more. 
If you'd rather spend 100 minutes in a darkened room with America's most beloved 90-year-old sex therapist, you'll want to check out "Ask Dr. Ruth," a new documentary about Ruth Westheimer. Reviewer Justin Chang had good things to say about the film, but wanted it to scratch a little deeper. Click here to read his review.  Other new releases this week include "Godzilla: King of the Monsters" and Octavia Spencer, chewing some scenery in the horror-comedy "Ma." Click here for a full listing of all the movies in town, and don't forget that "Booksmart" and "Amazing Grace" are still playing in the mid-valley.
That's it for this weekend. Have some fun, and we'll see you back here next Thursday. 
Be the first to know
Get local news delivered to your inbox!