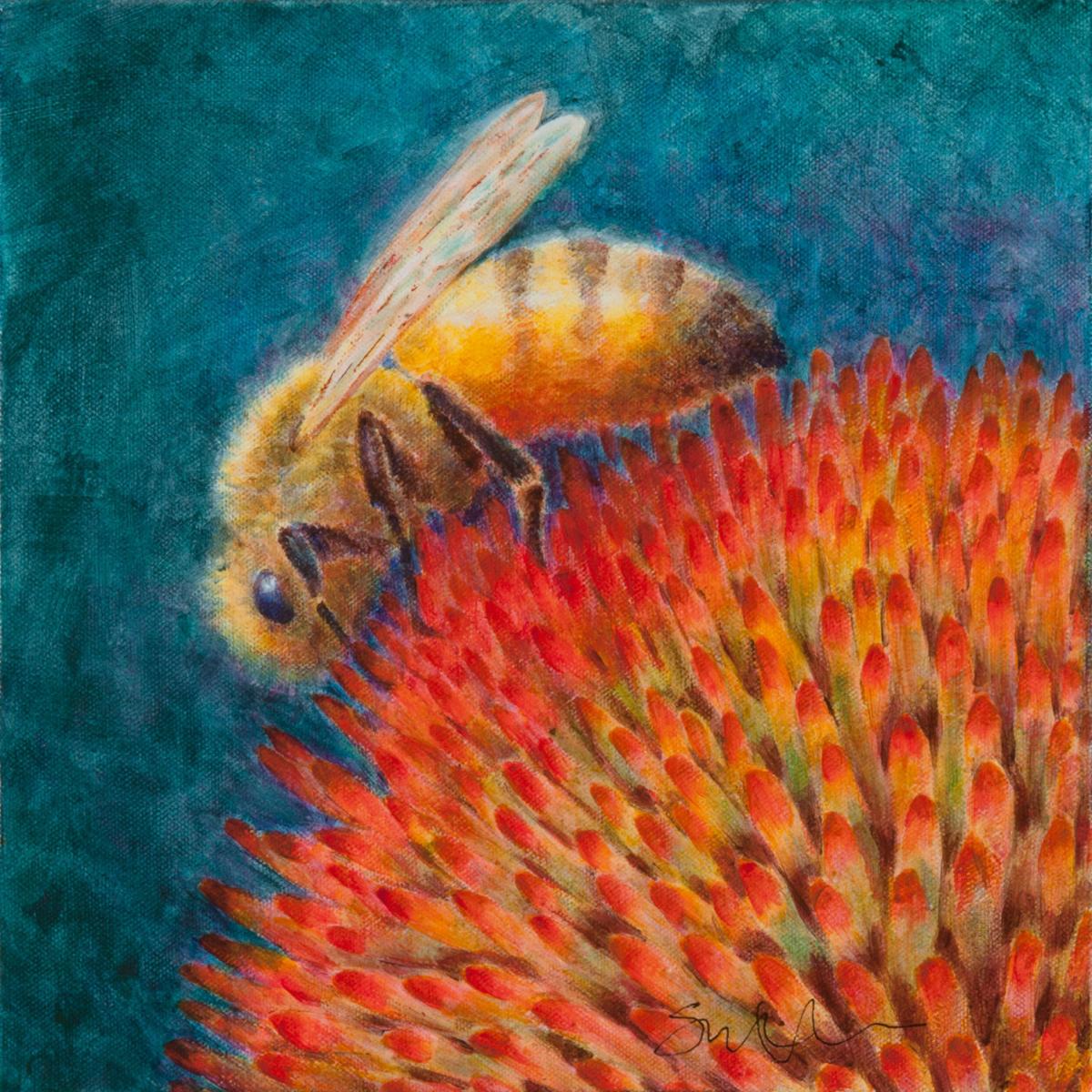 We're heading into the Labor Day weekend, the unofficial end of summer, so I suspect that many of your plans involve camping trips or backyard barbecues, or perhaps last-second shopping runs for back-to-school essentials.
But if you still have time for arts and entertainment events, you've got some options, from an intriguing new show of artwork at Oregon State University that's generating some buzz (sorry) to a concert by Albany's newest chamber music ensemble, not to mention a chance to check off a few more boxes on your summer movie checklist.
Artist Susan Curington has long been fascinated by nature and by questions of scale, so her new show of paintings, "As the Bee Sees," seems almost inevitable: It's a collection of 19 paintings (some of them a huge 4-by-6 feet) that aims to depict what flowers and vegetables look like from the viewpoint of a bee. 
When Curington, who lives in Gaston up in Washington County, pitched her paintings to Tina Green-Price, who runs the Giustina Gallery at the LaSells Stewart Center at OSU, Green-Price loved the paintings — but she knew 19 paintings were insufficient to fill the huge gallery space.
She hit on a happy solution: She issued a call to artists to contribute other works inspired by bees. The result of that call is another show, "Pre-Farm to Table: A Bee's Work," which is now showing alongside Curington's work at the gallery.
There's an ulterior motive at work here: Both Curington and Green-Price hope the shows increase awareness of the vital roles bees play in agriculture — and the threats bees face. 
You have free articles remaining.
If you're looking for a musical getaway to get into the holiday weekend spirit, Albany's new chamber music ensemble, the A Bene Placito Chamber Winds, may have just the ticket: The group is performing its "Landscapes and Locales" concert tonight at 7 p.m. at the United Presbyterian Church in Albany. It turns out that the selections chosen for this concert by Carrie French, the group's founder, all somehow evoke either a specific place or a specific time, from rural Connecticut to pre-World War I Brazil. The ensemble asks for a $10 donation from attendees, and that's considerably cheaper than actually flying to Brazil. Click here to read more about the concert. 
One of the missions of A Bene Placito, by the way, is to convert people who say they hate classical music by emphasizing music that's fun to perform and also fun to listen to. To that end, I asked French to compile a list of classical music selections that should appeal to those haters, and she came through with a crackerjack list of suggestions. Click here to start your tour of classical music with French as your guide.
If you're spending time in downtown Corvallis in September, be sure to stop by the window at the Footwise store, 301 SW Madison Ave. The Willamette Valley PhotoArts Guild has put together a show featuring some of the best photos by longtime guild member Dave McIntire, who died in January at the age of 86. The exhibit includes a selection of his black-and-white and color photographs and covers many of his favorite locations around the West, such as Mount Rainier and Yellowstone National Park. Plan on taking a close look — some of the prints on view are big. Click here to learn more about the show. 
It's the end of the summer movie season, so it says something that week's big new releases are director cut's of "Spider-Man: Far From Home" and Ari Aster's horror flick "Midsommar." "Midsommar" drew critical raves but didn't generate much box-office heat, but horror fans might want to take another look.
Otherwise, some smaller flicks might be worth a look this weekend: The suspenseful family drama "Luce," about a student at the center of a racially driven conflict between his adopted parents and his high school teacher, has drawn enthusiastic reviews, including this one from Katie Walsh. "The Peanut Butter Falcon," with Shia LaBeouf, also has drawn some warm notices from critics; click here to read Gary Thompson's take. 
But if you just wanted to relax on your back porch this weekend and soak in one or two lazy days, I couldn't blame you. Enjoy the holiday, and we'll see you back here next Thursday.