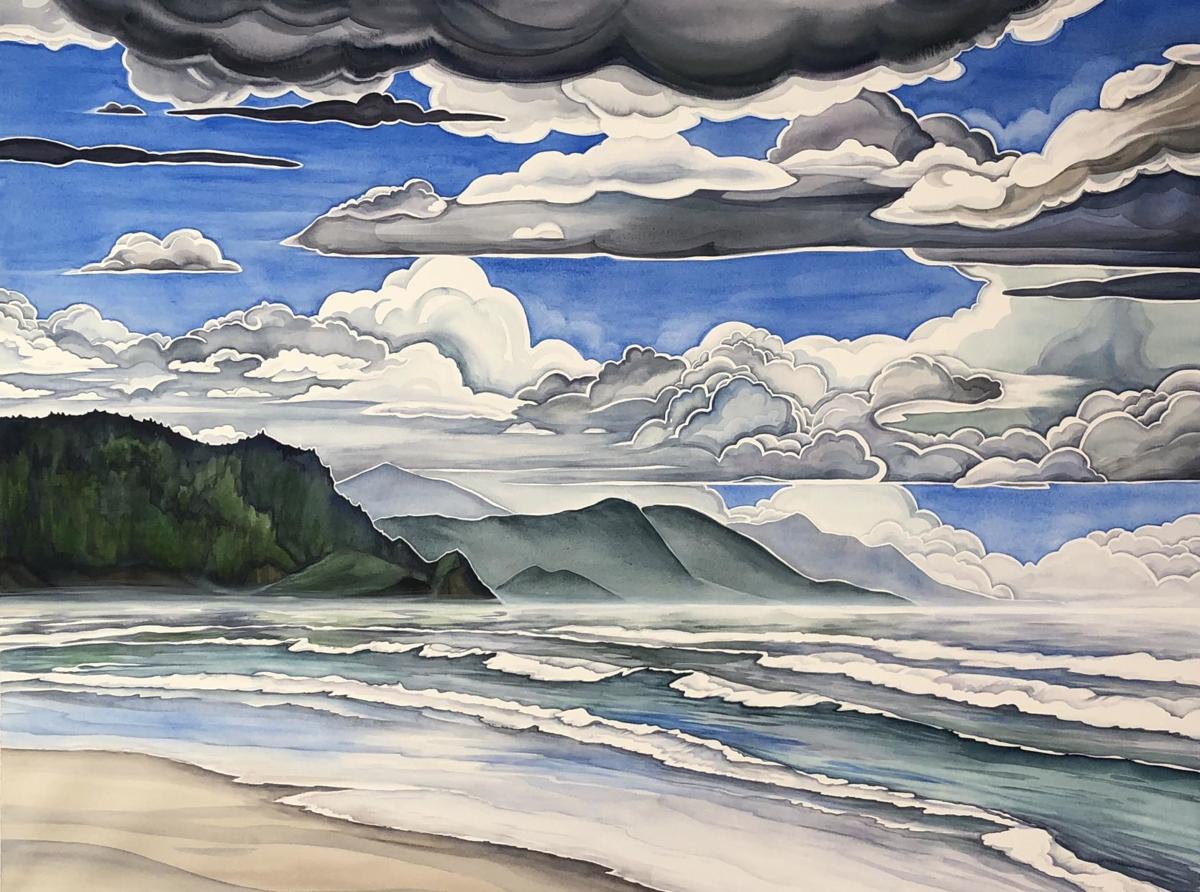 Let's start this week's cheat sheet by talking about art. And the conversation starts with a Lebanon-to-Corvallis connection:
Last winter, Lebanon resident Alisha Whitman was looking for a creative project for her two oldest daughters, Jenelle, 14, and Meredith, 12. So she pitched a project to The Arts Center in Corvallis, and the resulting show, "Alisha Whitman and Daughters," is now on view at The Arts Center's Corrine Woodman Gallery. Les Gehrett, who edits our weekly paper in Lebanon, checked in with Whitman, and you can read his story about the show by clicking here. 
On a personal note, I didn't know until I was editing the story that Alisha Whitman is married to Cooper Whitman, the former head of the Corvallis Chamber of Commerce, and a man I've shared the podium with three times at the annual Celebrate Corvallis event — and a first-class straight man. 
The festival itself features a variety of other musical acts, including DTW, Wild Hog in the Woods, The Deep Woods Band, The Regrettis, Michael Riley, Sick Monkey, Karyn Ann, Karl Smiley, Gumbo and Space Neighbors.
Cory Frye, our newly named city editor and longtime follower of the mid-valley music scene, checks in with a fascinating story about the local band Crash Rodeo, which is playing a show Saturday night at the Tangent Inn. The show is a fundraiser for a planned music festival next year in Albany, but in the meantime, you can read more about Crash Rodeo by clicking here.
You have free articles remaining.
The weekend also includes a couple of interesting theatrical productions: At the Albany Civic Theater, this year's crop of drama camp participants is ready to take the stage with a performance of the musicial "Seussical Jr." Click here to read more about that show.
And if you wander by the Majestic Theatre in Corvallis this weekend and seem to notice unusually stressed people, don't fret: It's just the participants in the Majestic's "Iron Thespian" contest, which gives teams of writers, directors and actors 24 hours to create a 10-minute production from scratch. That's hard enough, but there's a twist: The teams must also incorporate a "secret ingredient" into their plays, and the ingredient won't be unveiled until Friday night by the event's emcee, Priscilla Rufflebottom of the Tart of the Valley Burleseque Troupe. The results take the stage at the Majestic beginning at 7 p.m. Saturday. Rachel Kohler, who's coordinating the event, says it should be fun, and we think it's shaping up as a hoot. Click here to find out more.
It's a big week as well for new flicks opening in mid-valley theaters. "The Farewell," the comedy-drama in which a Chinese family gathers to celebrate their matriarch (but refuses to tell her she's dying) has generated plenty of good buzz. Richard Roeper says it's one of the best movies of the year. 
I've been looking forward for years to the release of "Where'd You Go, Bernadette," based on Maria Semple's wonderful novel. Richard Linklater directs. Alas, the reviews have been lukewarm — but I'm still planning to go.
Roeper had good things to say about three other new releases, including "Blinded By the Light," about a British high school student of Pakistani origin who finds salvation in the music of Bruce Springsteen; "Good Boys," a raunchy R-rated comedy about a trio of 12-year boys who find themselves in big trouble; and "Sword of Trust," the Marc Maron comedy in which in which the owner of a Civil War sword attempts to sell it to a pawnbroker and enters a world of conspiracy theorists.
Other new releases this week include "The Angry Bird Movie 2," the shark thriller "47 Meters Down: Uncaged," and "Hampstead," in which an American widow living in London (Diane Keaton) battles unscrupulous land developers.
And if you're still looking for things to do this weekend, The E's arts and entertainment calendar has dozens of suggestions: Click here to get started.
And we'll see you here next week. 
Mike McInally is editor of the Democrat-Herald and the Gazette-Times. You can contact him at mike.mcinally@lee.net.