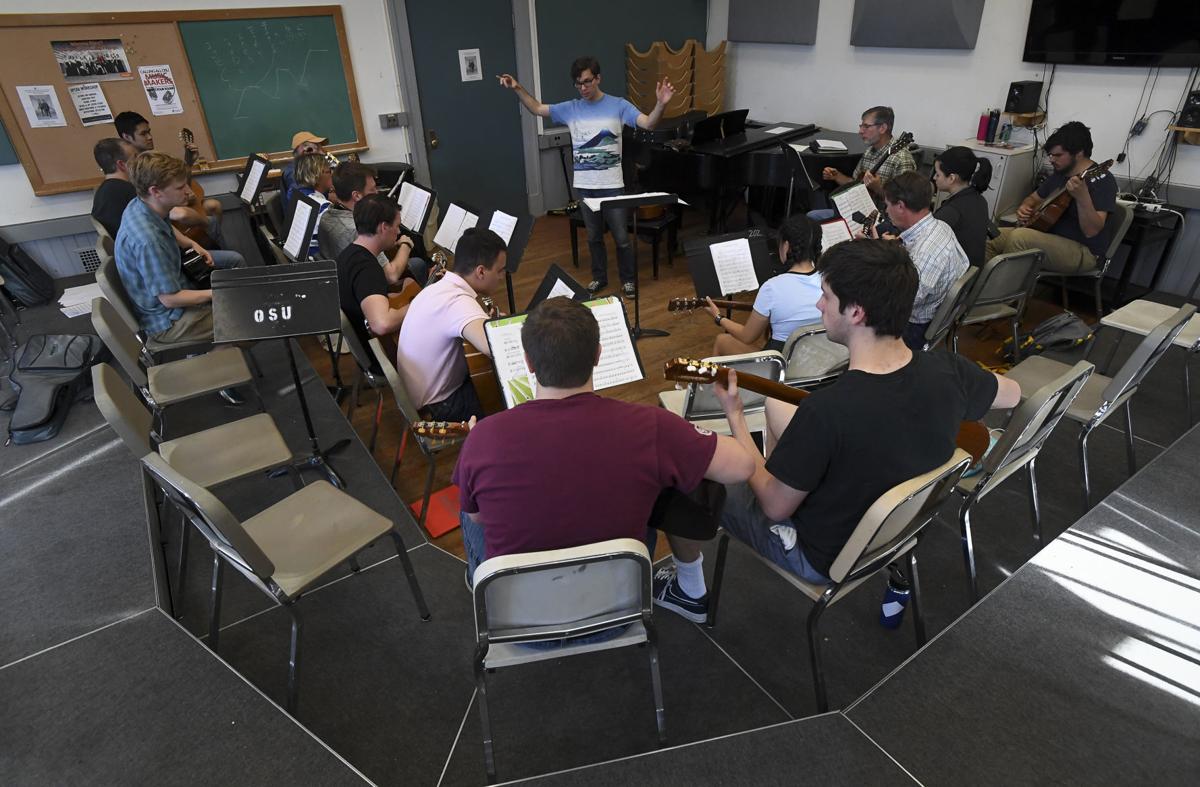 The Mother's Day weekend is another busy time for mid-valley arts and entertainment — but you still might want to reserve some time to circle back and check out some older options as well, such as the musicals on stage now at the Albany Civic Theater and the Majestic in Corvallis. I'll get back to those in a moment.
Oregon State University Theatre is wrapping up its "Literature Comes to Life" season with a brisk and lively adaptation of Jane Austen's "Sense and Sensibility." This is the same adaptation, by Kate Hamill, that recently played at the Oregon Shakespeare Festival. The OSU production, directed by Elizabeth Helman, focuses a little bit more on the comedic touches in the story, and it's fast-paced and light on its feet — it has to be, with some 44 scenes over a running time that clocks in at about two hours. DeMara Cabrera's costumes showcase her typical wit and ingenuity. The show plays Thursday, Friday and Saturday and has performances scheduled for next week as well. Click here to read my preview story about the show. 
As it turns out, the Hamill adaptation of "Sense and Sensibility" is on the schedule for this summer's Majestic Reader's Theatre. 
And Helman's about to dive into this summer's Bard in the Quad production. This year's show is "Romeo and Juliet," and Helman plans to set the story in the midst of the Jazz Age, which actually makes some sense. Performances are set for Aug. 1-4 and 8-11. I'll be writing about that show when it gets closer.
The coming week has a couple of options for music lovers: First, the Sinking City Pop Fest, a weekend-long celebration of DIY punk music and culture, has four shows spread out in the city on Saturday and Sunday. It's a good chance to hear some rising regional indie bands in relatively intimate settings. Last year's initial festival was a success, so it was good to see the event return for a sequel. Click here to read our preview story, which includes a full schedule.
You have free articles remaining.
Albany's newest classical music ensemble, the A Bene Placito Chamber Winds, has a concert scheduled for Monday night at the United Presbyterian Church in Albany. Carrie French, the group's oboeist, has put together a program of relatively modern pieces (the oldest is Saint-Saens' "Carnival of the Animals") that all tell a story through song. At least three of the pieces should be brand-new to mid-valley audiences, but French promises all three are fun to listen to. This should be a good opportunity to hear this nascent ensemble in concert. Click here to read my preview story. 
As for new movies in town, words cannot express my disappointment that "Pokemon Detective Pikachu" is not drawing rave reviews from critics. Reviewer Kate Walsh was somewhat kind to the new movie, which features the voice of Ryan Reynolds as Pikachu, but complained that the plot of the movie eventually bogs down into an incoherent muddle. But that made me think about the Pokemon movies I took the daughters to back when they were (much) younger, and the fact is that all of these movies have incoherent plots. So what's new? Apparently, my favorite Pokemon, Psyduck, the one who only gets powers when he gets a headache, makes a brief appearance in the movie, and that alone might be enough to separate me from my 10 bucks. 
The top new movie release in the mid-valley, however, likely is "Amazing Grace," the Sydney Pollack film that documented the making of Aretha Franklin's 1972 live gospel album. The album remains Franklin's best-selling disc, and the documentary (long held up for various reasons, including the fact that Pollack and his crew failed to slate the shots, leaving them with hours of unsynced picture and sound) is an "unmitigated joy," according to reviewer Justin Chang of the Los Angeles Times.
Other new flicks this week in the mid-valley include "The Hustle," a remake of "Dirty Rotten Scoundrels" with Anne Hathaway and Rebel Wilson; "Poms," in which Diane Keaton and her friends at a retirement community launch a cheerleading club, which might as well be a remake of Keaton's surprise hit from last year, "Book Club;" "Red Joan," in which Dame Judi Dench plays a British matron accused of spying for the Russians, "Sunset," a well-regarded foreign film from Hungarian director Laszlo Nemes, who won an Oscar for his previous film, "Son of Saul," and "Tolkien," a poorly reviewed biopic about the early days of the "Lord of the Rings" writer. 
That's it for this week. Have a happy Mother's Day weekend.