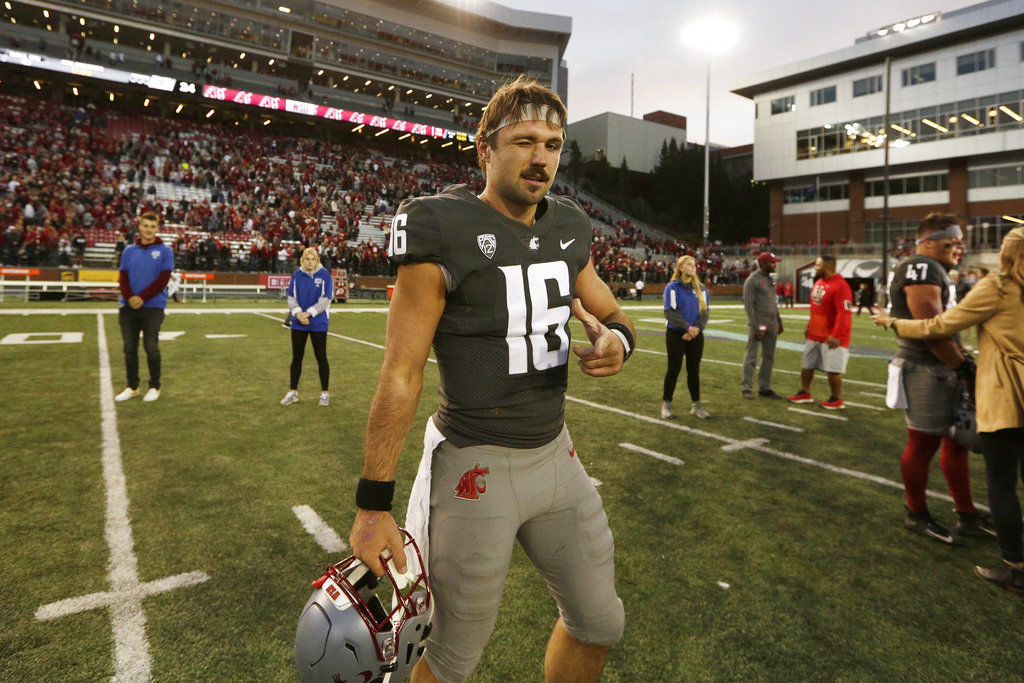 A few weeks ago noted Associated Press college football writer Ralph. D. Russo left the Pac-12 Conference bleeding and dying by the side of the road, claiming the beleaguered league was out of the running for the four-team playoff.
No so! What about my mighty Washington State Cougars?
The argument has been raging in the Gazette-Times newsroom, with my editor, Mike McInally, who has WSU ties, arguing vociferously with a sports staffer, Brenden Slaughter (no, really, that's his real last name), that the Cougs have no shot. McInally, like Ralph D. Russo, is wrong. The mighty Cougs, led by this season's Russell Wilson, Gardner Minshew II, have a clear shot at the playoff.
Here is how it might happen:
You have free articles remaining.
• First, WSU, 7-1, has to run the table the rest of the regular season and win the Pac-12 championship game. The Cougs close with Cal, Arizona and Washington, all at home, with a road game at Colorado. Utah is the likely opponent in the conference title game. WSU beat the Utes 28-24 on Sept. 29 in Pullman. Winning out would lift the Cougs to 12-1. That's the key, staying a one-loss team.
• No. 1 Alabama needs to win out and take a 13-0 record into the playoff. Should Bama lose to, say, LSU this Saturday, or a once-beaten Georgia team in the SEC title game, that might mean two strong SEC contenders for the playoff. That would be bad for the Cougs. No. 2 Clemson and No. 3 Notre Dame, both also undefeated, might as well win out, too. The goal here is for WSU to wind up as the lone one-loss team. If Clemson and Notre Dame lose down the stretch that would just gunk things up and amid a bucket of one-loss teams it might be harder for WSU, with no playoff pedigree, to stand out. One caveat: LSU might be tough for the Cougs to pass in the playoff rankings even if the Tigers lose to Bama. It also would help if LSU loses at Texas A&M in the regular-season finale.
• So the goal is to get everyone between that top three and the Cougs, who are currently 10th in the polls, to lose at least once. Please note that this is an easier task now than it was two weeks ago when WSU was No. 25. And, I must add, it's not that hard, as long as you have the vision. No. 4 LSU plays Alabama this week. Ka-Ching! That's loss No. 2 for the Tigers. No. 6, Georgia, needs to lose to Bama in the SEC title game or this weekend against No. 11 Kentucky. The two Big Ten teams, No. 5 Michigan and No. 8 Ohio State? Michigan still has Penn State, Ohio State and a possible berth in the conference title game. Plenty of chances for a loss. Ditto for Ohio State, with Michigan State, Michigan and a possible conference title game loss. No. 8 Oklahoma still has Oklahoma State, West Virginia and the Big 12 title game in which to lose. No. 9 Central Florida is undefeated but won't get into the playoff even if the Knights win out. That's life in American Athletic Conference.
• Could a one-loss team behind the mighty Cougs jump the train? Best bet would be No. 12 West Virginia, but the Mountaineers still have to play Texas, Oklahoma and Oklahoma State — and possibly one of those teams again in the Big 12 title game. Ain't happening. They are losing at least one game. Kentucky? The Wildcats haven't won 10 games in a season since 1977 — when they were on probation and couldn't play in a bowl game. They will fold like a lame thoroughbred in a claiming race down the stretch.
But not my mighty Cougs. WSU in the playoff, baby. Write it DOWN! Admit it … wouldn't you just love to see our hero Gardner Minshew air it out about 65 times against Alabama in the semis? Minshew was 40 for 50 for 438 yards, 3 TDs and no picks last Saturday night in the 41-38 win at Stanford. Ten receivers caught at least two passes for the Cougs, who somehow still punted 4 times. I want to watch Nick Saban wear a hole in the carpet pacing the sidelines trying to keep his defense off the field against the mighty Cougs. Heck, Saban doesn't have 10 guys on his roster who caught a pass in HIGH SCHOOL!!!
You heard it here first … Cougs in the playoff!