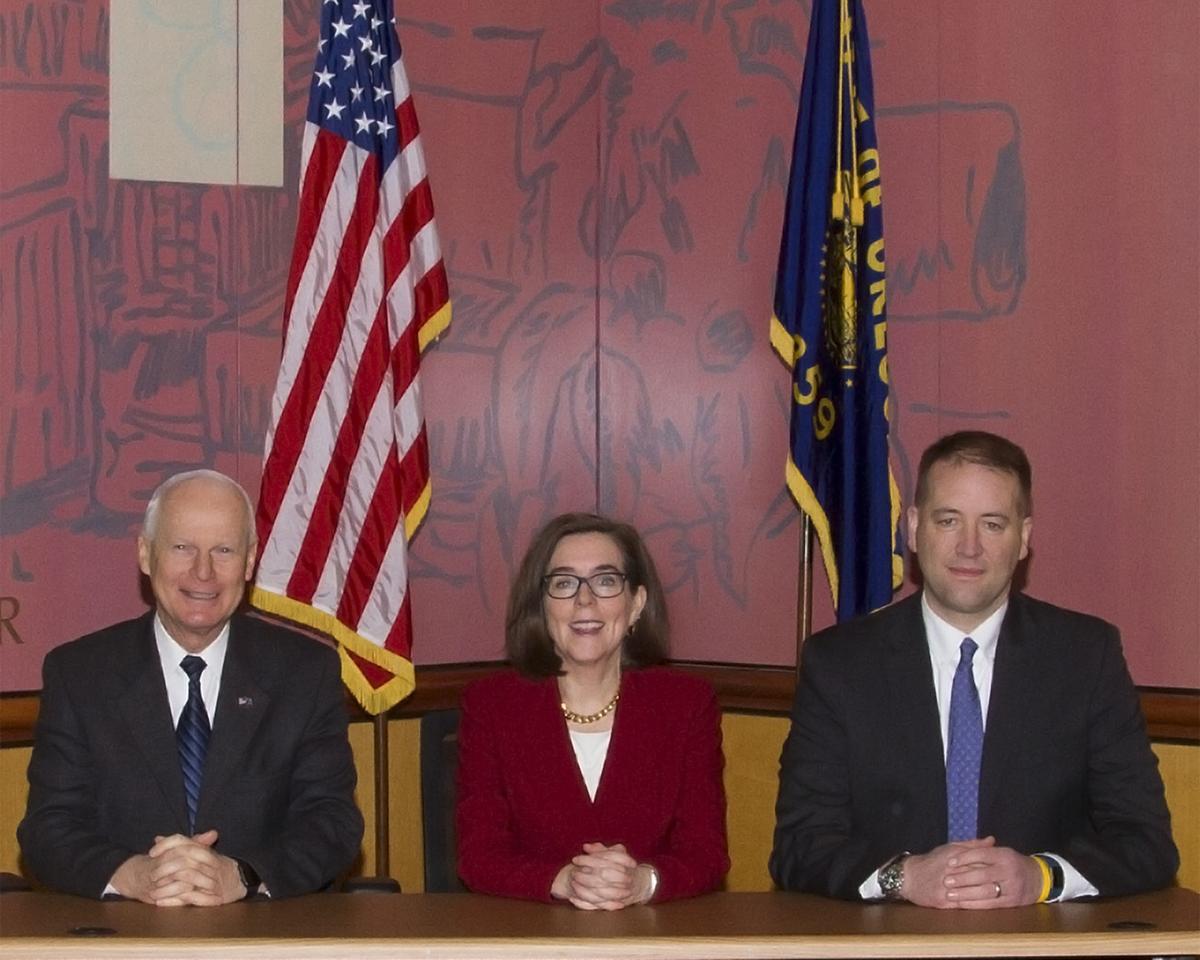 Got a chance to see a new group in action the other day. And as all of you know I LOVE meetings and am always intrigued when I get exposed to a new one.
This time it was the State Lands Board, which meets three to five times per year in Salem. The longest-serving board in state history, it was enshrined in the Oregon Constitution in 1859 and consists of the governor, secretary of state and treasurer.
That, at the outset, will give your board a bit more heft, as well as a greater police presence. Three or four state troopers were in the room as well as two officers in plain clothes because Gov. Kate Brown is on the board.
I was on hand to see what might happen with Oregon State University's bid to play a role in the future of the Elliott State Forest, which consists of more than 80,000 acres in Coos and Douglas counties. But the Elliott item was one of just 10 on the agenda.
You have free articles remaining.
Also to be discussed were two Oregon Department of Transportation bridge easements, one on Schooner Creek and one on the John Day River. As well as the sale of 0.4 acres of land in Coos County. For $3,515. So we were treated to the dramatic spectacle of the governor of Oregon calling for a motion and having the motion brought forward by Treasurer Tobias Read (although at one point in the meeting Brown called him Treasurer Wheeler, who is now the mayor of Portland) and seconded, via speaker phone, by Secretary Dennis Richardson.
How did all this happen? Why is the governor ringing down the gavel on a land sale of $3,500?  I had to go to the source on state capital matters, reporter Peter Wong, who, as always, did not let me down. Wong noted that the board goes back to statehood and that it would take a constitutional amendment to change its membership.
Wong also shared an anecdote about another state group, which consisted of the same three elected officials. The Board of Control managed state institutions such as prisons, the state hospital and the Fairview and MacLaren facilities until Gov. Tom McCall turned in into the Department of Human Resources (now Services) in 1971. And there remains a large conference room in the governor's office which is called the Board of Control Room, even the though the board in question has been defunct for 50 years. Ah, history.
One other thing on boards and commissions. They almost always take public testimony. In fact the biggest chunk of time at the State Lands Board meeting I attended was consumed by public testimony. I witness a LOT of public testimony, some good, some bad. And let me just say that just because you are speaking to the guv … doesn't mean your testimony is any good.
You have to understand what the shot is … what you are trying to achieve. The shot here was what should happen to the forest. And some of these guys just had no clue. They just told old logging stories. One guy bragged about how one of his ancestors was the first white child born in Tillamook County … after two tribal representatives already had spoken. Hmm. I'm thinking the families of the tribes MIGHT go back a bit further.
Anyway, another fun board to follow!