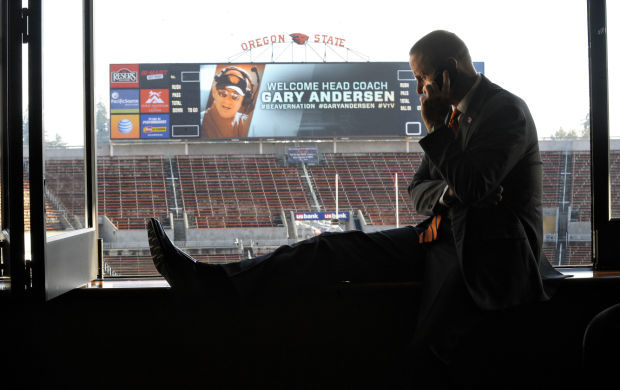 This Gary Andersen deal is one of the stranger stories I have come across.
The guy comes to Oregon State with good credentials, wins just 7 of his first 30 games … and then pulls the plug, leaving $12 million in large bills by the sink.
Let's look back a bit … and then look forward.
The past
Andersen was a national coach of the year at Utah State after leading the Aggies to an 11-2 mark in 2012 and a bowl win against Toledo. Utah State beat Utah that year, lost by two at Wisconsin and by three at BYU. But Utah State remains Utah State. And beating Toledo in a bowl game in Boise is ...well, I think I will just let that one rest.
Then, Andersen got the Wisconsin job, won 19 games in two years and quit. At the time I thought it was an off-the-charts hire for the Beavers, who just don't usually lure coaches from Big Ten powers.
But let's look a little bit closer. Yes, 19 wins is 19 wins, but for Wisconsin, 19 wins is a maintenance record, not a superlative one. From 1998 to 2012 Wisconsin won at least nine games 10 times, went to five Rose Bowls and finished in the top 10 five times. Andersen's successor, Paul Chryst, has upped the ante, winning 21 games in his first two years, and he has the Badgers 5-0 and ranked seventh this season.
Andersen was 6-18 in his first two years in Corvallis, 3-15 in the Pac-12 and 0-11 on the road. I wrote a blog about the Beavers' progress under Andersen in September of last year. The data I crunched showed that OSU had gotten almost no bump from Andersen's hire. The Beavers won three fewer games in Andersen's first year than in the final year under Mike Riley. No other current Pac-12 coach led his team to such a precipitous drop in their first year. Usually just some new energy and enthusiasm – both of which Andersen has in spades – helps give the team a boost. Didn't happen here.
Andersen ended last year 4-8 on a two-game winning streak. But the wins against cratering Arizona and Oregon (combined Pac-12 record 3-15) hardly warranted the contract extension he received.
The present
You have free articles remaining.
It all went south this season. Blowout nonconference losses to Colorado State and Minnesota sandwiched around a near-miss 35-32 win against lower-division Portland State. To have any chance of a bowl bid this season the Beavers had to go 3-0 in the nonleague campaign. Yet they barely beat a PSU team that is winless. Winless!
Looming ahead was a five-game stretch against the Pac-12's elite, starting with three games – two on the road – against top 15 teams Washiington State, Washington and USC . The Beavers got stomped by all three, but in a weird sort of way they at least played to form because a bad team should get stomped against teams playing for a possible spot in the College Football Playoff. Then Gary Andersen quit again.
Have you read the text exchanges he had with Oregonian columnist John Canzano? It's frightening stuff. The guy was going off the rails, firing off expletives, throwing his assistant coaches under the bus, one day saying he will fight to the bitter end and the next chucking it all and leaving the $12 million behind. And a mess. The Beavers have no quarterback, no offense (14 points or less in three of their last four contests), coordinators who are held in such low esteem that AD Scott Barnes put Cory Hall, a coach in his third year in a paying college position, in charge instead of the DC or OC, and declining attendance (which is sure to get worse in their final three home games).
Why couldn't Andersen find or develop a quarterback? Why did his assistant coaching hires blow up on him? What is wrong with this picture? And who is going to hire him again?
The future
Barnes is in a tough spot. Yes, Andersen's mid-season departure gives him more time to make a hire. But hire who? What full-time head coach or assistant is going to bail on his squad now to start putting the pieces back together in Corvallis? Usually you fire your coach at the end of the regular season and then look for someone hot who is involved in a bowl game and hope that he can multitask for a few weeks — but not three to four months. And there is an early signing day this year, in December.
The 1-5 Beavers are a bad team. Bad teams need an infusion of good players. Do you have any confidence that recruiting amid these handicaps is going to provide them? That means at least a couple more years of mediocre to bad football and maybe more if Barnes doesn't find his miracle worker.
Which brings me to my final question: Can anyone make the Beavers a winner? Sure. Dennis Erickson won 11 games and a major bowl in the 2000 season. Riley won 10, 9 and 9 games in a three-year span and twice played Civil Wars in which a Rose Bowl awaited the Beavs if they won.
But this is a changed college football landscape, particularly in Oregon. One could argue that there was relative parity between the Ducks and Beavers in the early 2000s. Beavs went to Fiesta Bowl after 2000 year, Ducks did so the next year.
After that it's been all Ducks. Oregon has had eight 10-win seasons since the Fiesta year, including a seven-year stretch when they had 80 wins, AVERAGING 11-plus wins per year. Five appearances in major bowls and two appearances in the national championship game, only two losing seasons. Beavers: one 10-win season, no major bowls, seven losing seasons.
It was difficult enough for the Beavers to climb that hill in 2000, given the 28 consecutive losing seasons from 1971 to 1998. I think it will be even more difficult to climb back up now.