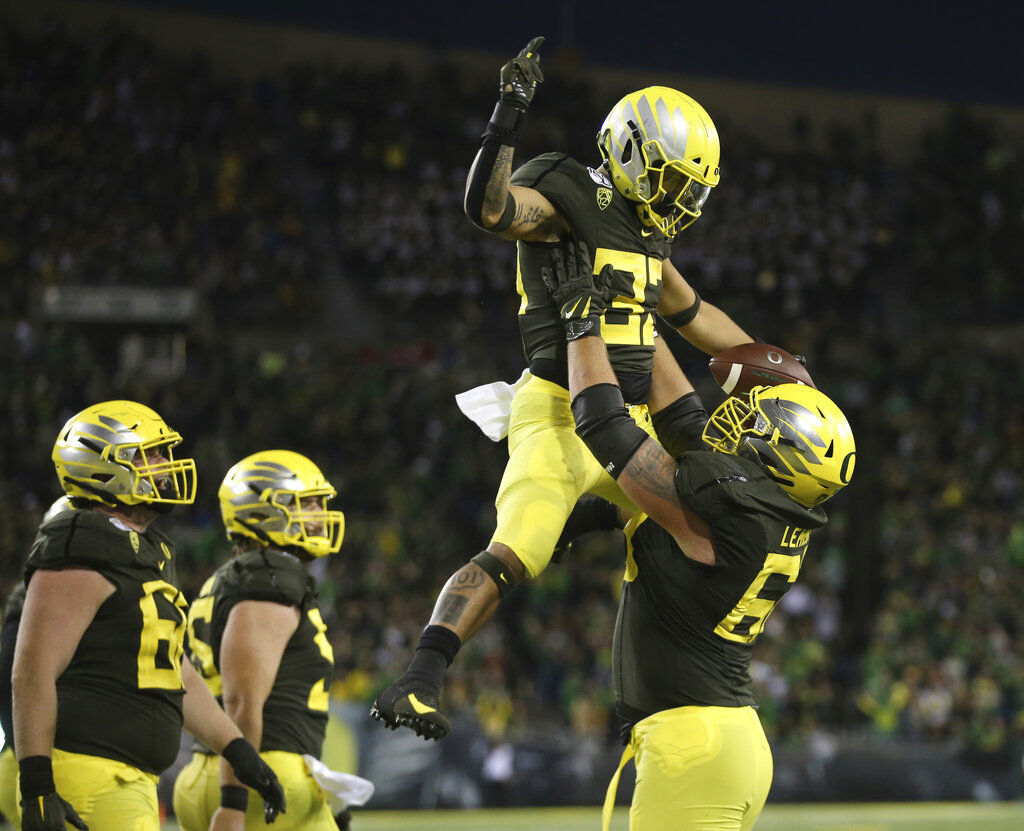 Last year at about this time I wrote a blog noting the path that could have thrust Washington State into the four-team college football playoff.
It didn't happen, of course, but it was fun to talk about it.
This year I'm having trouble finding a way to get a Pac-12 team into the mix. Just seems way too daunting. Only three teams are ranked, and of those three, only Oregon really begs to be taken seriously. For the record the other two are Utah and Arizona State. The Ducks skip Utah and get ASU on the road Nov. 23.
So let's see how we can get the Ducks there:
You have free articles remaining.
1. Oregon has to run the table in the regular season and win the Pac-12 title game. That means a 12-1 regular season.
2. Only one SEC team gets in. This might be a tall order because there are four unbeaten teams in the league and all of them are in the top 7. Also, there are two each in the league's two divisions (Bama and LSU in the West and Georgia and Florida in the East). Yes, those four teams will be clashing with each other down the stretch or in the SEC title game. The Ducks need to hope everyone beats up on each other and somehow only one team, say Bama, winds up in the playoff. Also, because Oregon's lone loss was to Auburn, the Ducks need the Tigers, who are ranked 12th, to finish at least 10-2. As I said, tall order.
3. Defending champion Clemson has perhaps the easiest path to the Final Four. The Tigers are undefeated, there are just two other ranked teams in the ACC (No. 19 Wake Forest and No. 20 Virginia) … well, it's hard for me to find a scenario in Clemson doesn't get in, even at 12-1.
4. So if you have the Ducks, Clemson and Bama in that means only one other team from among the Big 12, Big Ten and Notre Dame. Unfortunately there are 7 teams in that group currently ranked ahead of the Ducks. It helps that Notre Dame does not have the opportunity to play in a title game, but if the Irish finish 11-1 they probably would get the nod ahead of Oregon. So the Ducks need Texas and Oklahoma to split their two games (regular-season matchup Saturday and a likely Big 12 title game rematch) and for unbeatens Wisconsin, Ohio State and Penn State to beat each other up … up to and including the Big Ten title game. No. 15 Michigan, meanwhile, has games remaining with Ohio State and Notre Dame. A pair of Wolverines wins there would help the Ducks … unless Michigan winds up winning the Big Ten.
See … just too many things have to happen. That said, 12-1 would be a pretty good run for the Ducks.