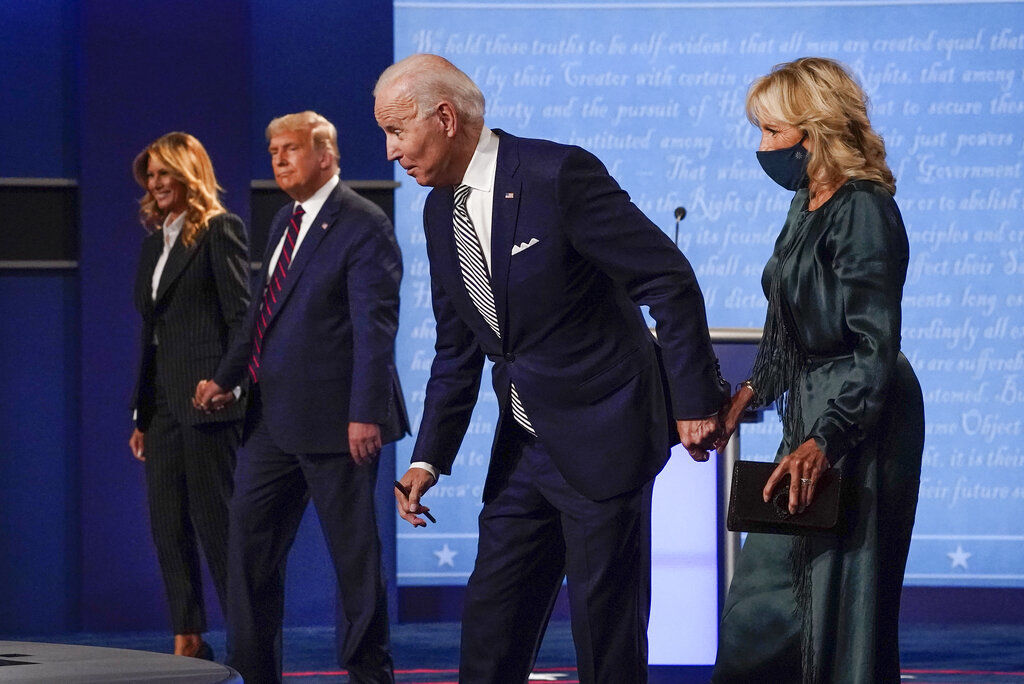 Let's hear it one more time from the Trump-Biden debate!
I have fresh news on the spectacle. Some smart folks out there at an outfit called VoiceVibes have done a deep dive on the debate by using artificial intelligence.
Pause. I'm sure there is a joke in there somewhere about intelligence … but I'll let that pass. End pause.
Anyway, VoiceVibes, which calls itself an AI-powered communication coaching platform designed by former employees of AT&T Bell Laboratories and JHU Applied Physics Lab, has come up with a scorecard of sorts for the Cleveland soiree.
It's kind of complicated so I will let them tell their own story:
"The results show graded performances on a scale of 1-10 (10 being best) based on dimensions of Vocal Delivery (meaning how professional and polished they sound, as following known best practices for speakers), Clarity, Strength of Opening (which is a prediction of how captivating and not boring the speaker sounded during the first thirty seconds of a clip), Confidence, Boring, and more.
"Joe Biden performed slightly better than Donald Trump in Vocal Delivery in every core response except for Healthcare because Biden's audio was unable to be isolated due to immediate and frequent interruptions from his opponent. Whereas, Donald Trump performed better in several dimensional categories of persuasiveness, including Confidence, in which he outperformed Biden in every topic except the Economy and Supreme Court.
"Trump's responses were graded as more Boring on the topics of Climate Change, the Supreme Court and the Economy; whereas Biden was graded more Boring on the topics of COVID-19, Race in America, and Debating the Candidate's Records.
"Keep in mind that our software does not attempt to evaluate the content or merit of their statements or politics, rather the persuasiveness of their tone and vocal delivery," said Debra Cancro, CEO of VoiceVibes. "And if Americans were left feeling confused by the interruptions and incomplete sentences, they weren't alone."
As an aside, the vocal performance of moderator Chris Wallace was also analyzed, and he was graded higher in overall vocal delivery compared to both candidates during all topics except for the Supreme Court. Yo, Chris, what's up with that? 
So, let me get this straight. VoiceVibes is telling us that their analysis does not delve into concepts such as who made the most sense or told the truth more. It was all in the delivery. At least that's what the computers say.
It's 2020 … that just makes sense.
Be the first to know
Get local news delivered to your inbox!