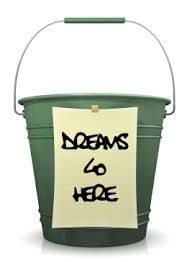 Ye Olde Facebook Bucket List is going around again, the one where you're given a series of experiences and asked to put an X next to the ones you can check off. 
It's an odd title for such a list, given that it's totally impersonal and made up of more or less random experiences (served on a jury, fell out of love, been in a car accident).  I'm hard pressed to imagine somebody, putting together a list of all the things he or she wants to accomplish before shuffling off this mortal coil, saying, "You know, life just won't be complete until I laugh so hard some beverage comes out my nose."
Back in 2011, I jotted down a bucket list for myself. Looking back on it, I'm happy to see I've crossed a couple of things off: I have now been to Washington, D.C. (and going back this summer, with Little Princess' eighth-grade class, yay!) and I've seen a play on Broadway. But I have seriously got to do something about the whole parasailing on a tropical vacation thing. 
For your Wayback Sunday Mini Blog Post, here is the bucket list I wrote about in October 2011:
A guy I know said to me the other day that he'd crossed one of the items off his bucket list: eating sushi off a naked woman.
Have to admit, that one made me blink a couple of times. I'm guessing he meant it was an interesting and story-worthy experience, not so much that he actually really had it on a mental list somewhere of things that, on his deathbed, he would be consumed with regret for never fulfilling.
This happened at a large group gathering where lots of other amazing things occurred. Everybody involved was a consenting adult, so, OK, whatever blows your skirt up (so to speak). But I do wonder a little bit about the woman involved. Is that truly your highest, best use of yourself, to be a seafood platter? In other words, did it make her bucket list?
I hope so. It wouldn't make mine.
All kinds of "bucket lists" are going around online at the moment. Most of them ask people to mark off the things they've done, such as visiting the Grand Canyon or seeing a sunrise or whatever. Earlier this year, I wrote a post about an all-American bucket list in Parade magazine. Jack Nicholson and Morgan Freeman even made a movie about them.
But after this conversation with my friend, I started thinking about what really would be on the list.
You have free articles remaining.
Presumably, we all want to leave this world feeling like we've made a difference, our existence mattered to people, we did a good job raising our kids if we had them, yadda yadda yadda. So pretend I said all that.
The real fun of a bucket list, though, is to think of all the things you might do that would really make you feel like, in the immortal words of Agnes Gooch, you lived.
Singing a duet with Paul McCartney, for instance. That'd be right up there. And going on a road trip with J.K. Rowling. And visiting the International Space Station.
It could happen! But all right, all you skeptical little killjoys, it probably won't. There! I said it. Happy to have done the Riverdance all over my dreams?
Fine. For the purposes of this post, we'll stick to the realistic stuff.
-- I love traveling. I'd put a lot of that on my list. In this country, I'd like to see Niagara Falls, Mt. Rushmore, Carlsbad Caverns, New Orleans and Denali National Park. I'd like to check out Tom Sawyer's cave in Missouri and go to a Broadway play in New York. And I've never seen Washington, D.C.
-- Elsewhere, I'd love to visit Australia, New Zealand, Egypt, Israel, Greece and the Swiss Alps. I'd like to visit Anne Frank's house in Amsterdam and Anne of Green Gables' home of Prince Edward Island. I've seen a very little of England, Scotland, Ireland and Italy, but I'd love to see more. Africa, Asia, India and South America don't have the same draw for me, but I wouldn't turn down a trip there.
-- As for experiences, I love the feeling of flight. I've been up in a hot air balloon, a paraglider and an ultralight, and for a time I held a very low-level hang gliding license. I'm not interested in skydiving, but I would like to try a parasail, preferably somewhere obscenely tropical.
-- Along those lines, I think a big zip line would be fun. From a treehouse. That I own, or can at least rent temporarily.
-- I love dolphins. Other people get to swim with them. I say it's my turn. I'm the 99 percent here, people. That's it. I'm going to Occupy Marine World.
That brings me back to sushi. A sensual experience, sushi, particularly, I'm sure, if you're eating it off a human plate. Personally, though, I think I'd rather meet the sushi in real life, preferably while doing some snorkeling near the Great Barrier Reef.
Ah, well. That's why it's MY bucket list and not yours.