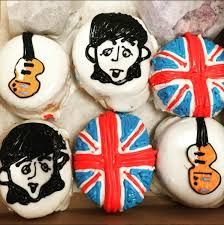 Cinderella, quit your whining. You have nothing on me. 
All you had to do to get to that ball you wanted to go to so desperately was to do all your chores, help your wicked stepmother and stepsisters get dressed and conjure up a fairy godmother for a dress and a pumpkin carriage.
Small potatoes, sez I. You didn't have to contend with bringing your children with you.
My dream date of the past decade-plus, my "ball," as it were, is coming to town next month, and I can't go. Or rather, I could, but just like last time, I'd end up there all by myself, and that kind of spoils the whole purpose for me. 
Sigh. This will be a very selfish post, full of poor-me and wallowing in suckage. 
I don't care. It's my blog and I'll cry if I want to. You'd cry too, if it happened to you.
Eleven years ago, when the princesses were 5 and 3, Sir Paul McCartney came to Portland. 
If you know me, you know what a giant enormous deal this was. I have been a raving Beatles fan since age 12. I've been to Liverpool. I've walked the crosswalk at Abbey Road. I can sing all the songs on Beatles: Rock Band without looking at the lyrics.
Therefore, I was terribly excited, not so much for myself as for the Princesses. I'd seen McCartney a couple of times, once in Paris (!) in 1989, when he was still performing with Linda, and once earlier in Portland, when Little Princess was still an infant. I didn't need to go again for my own sake.
However, as any good parent does, I was doing my utmost to turn the Princesses into Beatles fans like myself, and it was working. They knew the songs. They knew the individuals. When Paul played the halftime show at the Super Bowl that year, they happened to see it while visiting their grandparents. When I drove up to get them, they came tearing out to meet me. "Mommy! Mommy! We saw Paul, Paul of the Beatles! He sang get back, get back, get back to where you once belonged!"
So it was only natural when he came to Portland in 2005 that I would take them. Yes, they were very young. Yes, they had no place at a rock concert. Yes, I was making a ridiculous decision, spending obscene amounts of money to bring very small children to an event they might or might not even remember. 
All I could think of at the time, though, was that this might never happen again.
And Husband, bless him, understood. Of course we'll go, he said. Of course we'll take them.
You have free articles remaining.
So we got tickets. And we were very excited. And Husband and I piled everyone in the car on the night in question and drove to Portland.
And we saw all of maybe four songs together before Slightly Older Princess threw up. 
I don't know why. She had been fine all day. She hadn't seemed carsick. Maybe it was a latent bug. Maybe it was the Rose Garden pizza. Who knows why 5-year-olds throw up? All I know is Husband took her to the car, where she spent the entire rest of the concert puking in the parking garage, and Little Princess promptly fell asleep on my lap in the middle of "Hey, Jude." So essentially, I watched the show alone.
I might have cried a little.
Fast-forward to Wednesday, March 9. The first news of the morning was about the death of George Martin, the Beatles' record producer. In his honor, I listened to Beatles albums most of the day. And then — oh, thrilling news! Right in time with the music, posted on my Facebook page by two friends within minutes of one another, McCartney is COMING BACK TO PORTLAND! He'll be performing in the Moda Center! Tickets go on sale Monday! The concert date is ... A ... pril ... 15.
The Princesses are in Albany Civic Theater's production of "Shrek: The Musical." That's a show night. 
Quick, look again. Is he anywhere else close? Seattle! Good! On A ... pril ... 17. That's a show day, too.
I might have cried again.
I might be crying a little right now.
I could go to the show myself. But I'd be by myself again. Kinda what I was trying to avoid.
It's OK, really. Honest, it is. We've shared so many, many wonderful things, the Princesses and I; this is not the end of the world. And they have their interests, and theater is one of them, especially for SOP, and I'm so very, very proud to support them in all they do. They will be on that stage and I will be cheering for them.
Besides, it's not like this concert thing is their deal, it's mine. There is nowhere in the world SOP would rather be than on stage at ACT, regardless of the part she's playing. That's her concert dream, and she'll be living it. She doesn't have to share mine. 
Stupid lessons in parenting.
Anyway, I'm just a tad bitter right now, and it will pass. But if you happen to go to that concert, do me a favor and don't tell me about it. Just take your ticket to ride, enjoy the ball and leave me alone with my pumpkins.