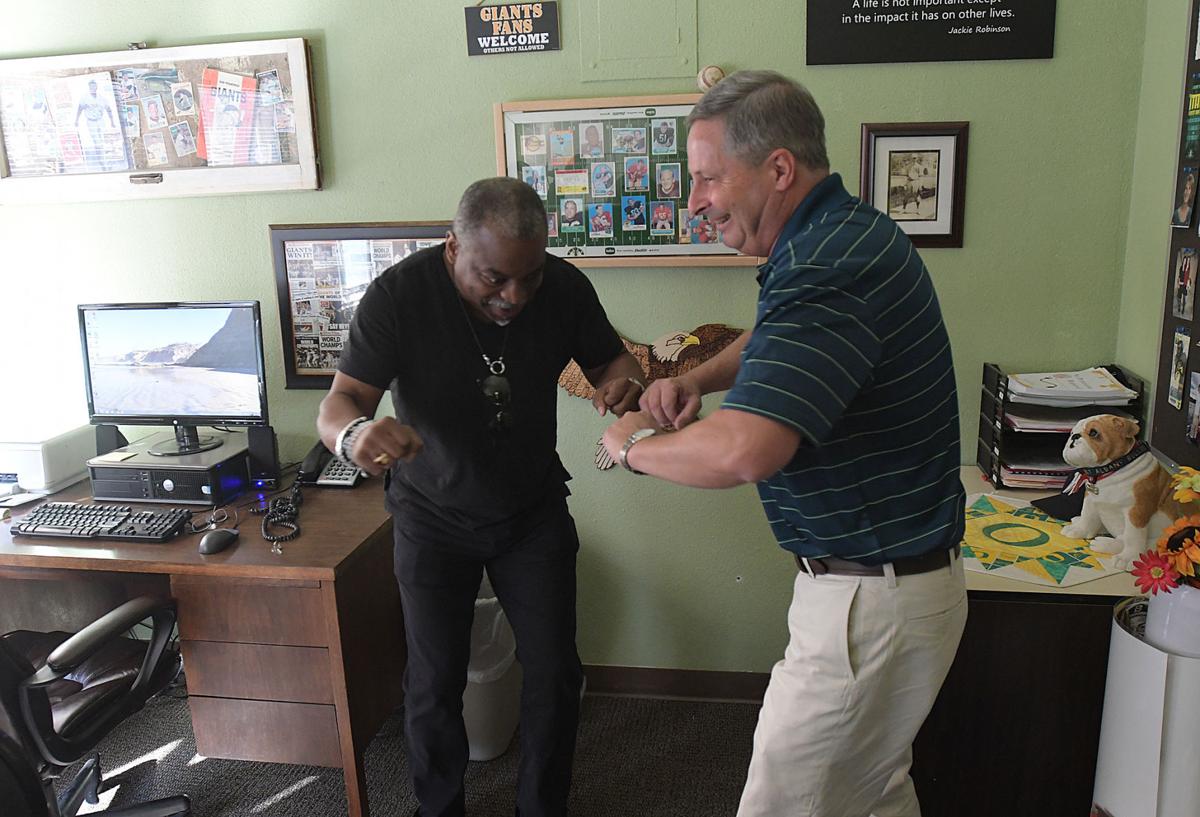 I got to meet LeVar Burton today. And if you say, "Who?", well, you won't be joining me at the next "Star Trek" premiere anytime soon.
I know, I know, Burton is far more than Chief Engineer Geordi La Forge on the Starship Enterprise. I know he made the nation's collective jaw drop as Kunta Kinte in "Roots" when he was just 19. I know he spent 23 years as the host of the PBS children's series "Reading Rainbow." But my fandom is what it is, and I have the ST:TNG Pez dispenser to prove it. 
So when I received an email from Principal Rich Sipe telling me Burton was going to be leading an assembly at Liberty Elementary School this month, I reacted like the calm professional that I am. I said — and I quote —
Reader, I said that in my email back to Sipe. And then I told all my colleagues I had dibs on this particular story and to back off before I had to find me some photon torpedoes.
I wish I could say I wrote a story worthy of my geeky fangirl self. I didn't. I went around in circles trying to find a way to break into the story, trying to talk about what he did and what he said and why he came to Liberty today in a way someone who wasn't me would find halfway interesting, and in the end, I failed utterly. It's a fine, serviceable story. Works OK. But it's pedestrian. Boring. Dull. Nothing about it would make you fly twice as high, as they say in "Reading Rainbow." 
That's not Burton's fault. He was great. The best part of the morning was seeing him meet Sipe. The two share a love of football, and they chatted happily about all the trading cards Sipe has framed on the wall of his office. Then they both discovered each of them had owned the same magnetic football game as kids, and they both immediately began imitating how the players moved, hunching over and making "vrrrrmmmmm" noises. (I attached the photo here to prove it.) 
You have free articles remaining.
I had only a brief chance to chat with Burton myself, which I actually hadn't been expecting to be able to do at all. I got him talking about why "Reading Rainbow" was so important to him that he began a $1 million Kickstarter campaign to ensure greater access to the RRKIDZ app he developed. He talked about his mom, an English teacher who let him know reading wasn't an option in her house. He talked about how blessed he felt to have been a part of three shows that have been more than just entertainment — they have become cultural touchstones for our various generations.
I wish we could have just gone out to lunch or something and talked some more. I would have loved to hear what he thought of Jimmy Fallon's take on the "Reading Rainbow" theme song as done by Jim Morrison (Google it on YouTube; it's worth it). I would have asked him to share his favorite episodes, and talk about what messages he thought "Star Trek" brought to our culture, and to tell me some of his most memorable offstage moments. I might have told him Husband and I chose the Next Gen theme as our exit music following our wedding vows. Maybe I would have even told him about my Pez dispenser.
But he was there to do a job and so was I, so I didn't. I asked polite job-related questions and wrote a polite job-related story that talked about why he came to Liberty. It just came over all flat and expressionless. Data at his most androidlike had more personality. 
Why? Who knows, really. I was coming off a miserable morning in which I'd missed contacting an important source I had really needed to reach, had already had to apologize to someone whose information I'd misunderstood for a separate story (resulting in a lengthy correction I'm still kicking myself for having to do) and had been told an important source for a third story wouldn't be keeping our appointment because her boss had instructed her not to speak with the press.
I was distracted, tired and grumpy. I was off my game. Maybe I never had a game. Maybe I have no business in this business. I've often wondered when someone's going to figure out I'm just winging it here and make me go get a real job. 
Anyway, I cobbled something together in time to make deadline, and even though I begged for another shot at it later in the evening, rather than dismantle the whole piece and try to reconstruct it with something approximating cleverness, I let it go. It is, as they say, what it is.
I will try again, because that's what writers do. To date, I haven't figured out how to be anything else.
Why would I? Even though I didn't do him justice, I got to meet LeVar Burton today.
— Jennifer Moody is a bigger fan of "Wars" than "Trek" when it comes to stars, but she's trying to raise her children to be more equal opportunity.