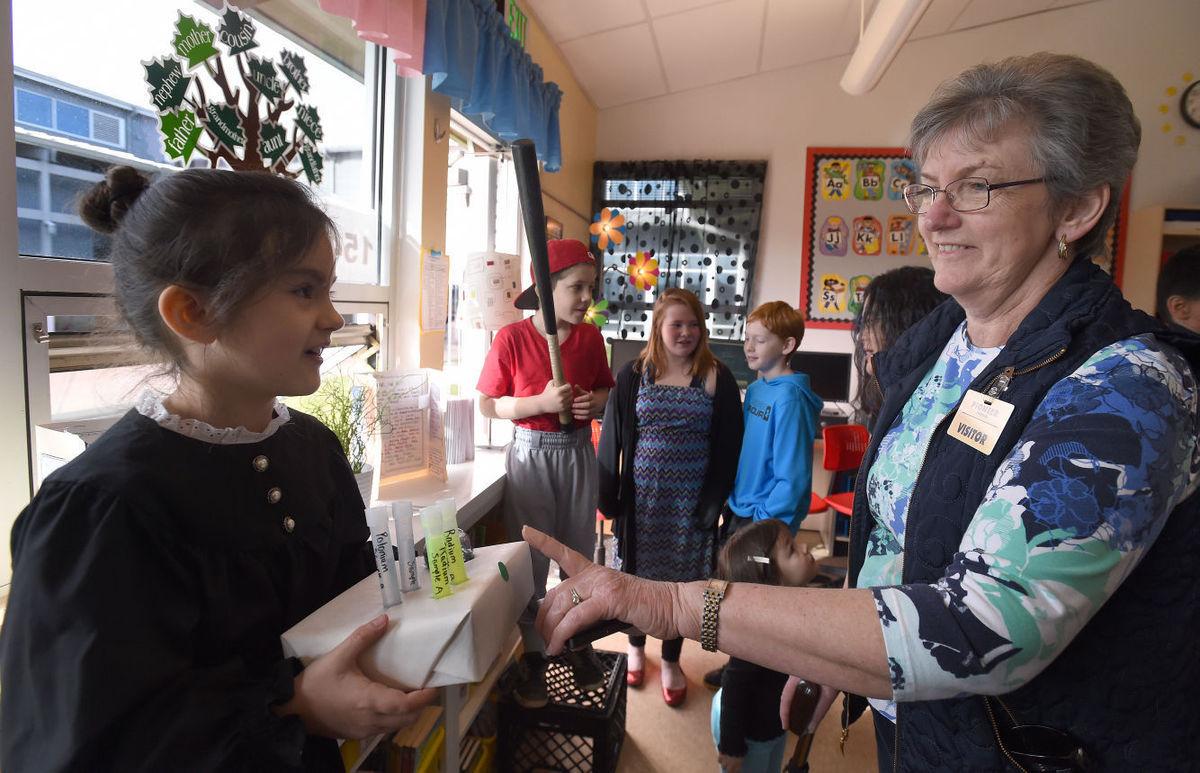 I wish today could have been shadow-a-reporter day for everyone in town. I would have liked to take every one of you with me to Pioneer School, where I went to one of the most fun assignments I think I've ever had in this business.
You can read all about it in the story I put together, which will run in Saturday's print edition and is online here: http://bit.ly/1WxpYql. But I can't stop telling people about it, so here's some extra information.
In case you don't get to the story, or see the photo gallery that should be posted online sometime Friday, here's the basics: Lisa Richard, who teaches second grade at Pioneer, was given a 51-book set of the "Who Was?" biography series. These are biographies written for children —"Who Was Thomas Jefferson?" "Who Was Helen Keller?" — etc. They're full of simple facts and small drawings and really bring history to life.
Richard decided to do a class project with the books. Each student chose a "Who Was?" book to research, wrote a five-paragraph essay about that person, memorized a series of facts and created an informational display.
Then, each kid put together a costume and found props to portray his or her historical figure. And today, the whole class spent the entire morning standing stock-still atop milk cartons. Each of them wore a brightly colored sticker as a "button" for visitors to press, and each time it was pressed, they'd recite a new fact. 
It was, quite simply, just about the coolest educational presentation I'd ever seen.
Here are some of the figures students portrayed today:
Steve Jobs. Jane Goodall. Sally Ride. Roberto Clemente, in full Pirates gear. Gandhi, wrapped in a bedsheet. Julius Caesar, in a toga and laurel wreath. Dr. Seuss, posing with a pile of his best-known books. Daniel Boone, who had a bedroll, a powder horn and a hat made from a real coonskin. Neil Armstrong, who made his own paper-mache astronaut helmet. Albert Einstein, who had an absolutely wonderful fuzzy white wig and an enormous mustache. Queen Victoria, who posed next to a table decorated with teacups and a tiara. Martin Luther King Jr., whose sport coat bore a button that read, "March on Washington for Jobs & Freedom." Teddy Roosevelt, complete with teddy bear. George Washington, with an enormous wig made of cotton balls. 
They knew their stuff, too. "I killed my first bear at age 15," Daniel Boone announced as someone pushed his "button."
You have free articles remaining.
"After my 13th birthday, I had to go into hiding for two years," Anne Frank explained.
I asked a visiting fourth-grader which was her favorite figure. "They're all so adorable, I don't know," she said, shrugging helplessly. I knew just how she felt.
The class went out to recess while we were visiting. It was really fun to see Amelia Earhart and Queen Victoria run around the playground together. And after we got back inside, Jackie Robinson, Babe Ruth and Teddy Roosevelt asked for a group picture. 
Can you imagine Teddy Roosevelt on a ball team? I bet he'd make a great catcher.
The parents who came said their kids haven't stopped talking about this for weeks. They learned about not only their own characters but what their classmates were researching, too. Bailey Sim, who played Anne Frank, talked with her family about what it meant to be Jewish. Hank Peltier got into his Davy Crockett character by watching old Disney movies. 
I learned some things, too. Did you know Michelle Obama skipped the second grade? Or that Neil Armstrong took his first plane ride at age 6? 
Think about all the learning areas this project covered: Research. Writing. Oral presentation. History and cultural studies. Depending on the character, they might have even squeezed a little math and science in there, too. Bryce Barber,  for instance, who played Marie Curie, learned about the polonium and radium she discovered. And the whole school got to learn right along with them.
I wish every school would do this. Heck, my Princesses will both be in high school next year and I wish they could do this.
"Obviously I think my teacher's a little crazy, though," Emily Tschida, who played Queen Victoria, confided in me. "She invited the whole school to come and see us and press our buttons. We get nervous about this stuff." 
Crazy like a fox, Mrs. Richard. Well played.