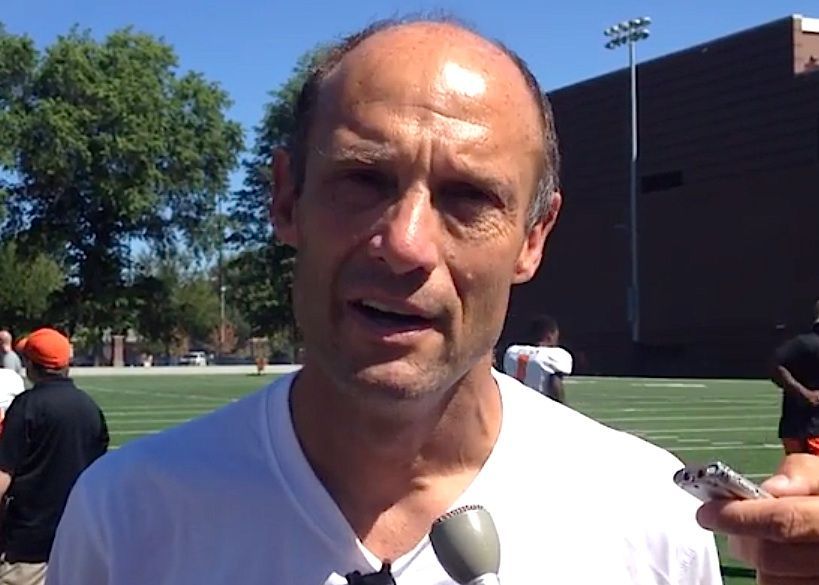 Oregon State coach Mike Riley believes his team is in a good place with Portland State coming up this weekend. The Beavers have been dealing with a few injuries through fall camp.
"It's about as good as it can be. I think we've got most everybody back in the position where they can get healthier and fresher as the week goes on," Riley said after practice Monday. "We're out of two-a-days, we're into game prep, they're going to be done at noon everyday. They can get off their feet; it should be a good time to get ready for the game and then get physically ready."
Riley said the team is ready to play a game.
"This team has been much more physical in camp and they've got great, great leadership all around them," Riley said. "Lots of good, older players that set god examples and are excellent workers. I think they're getting anxious to play."
It's a ranking based on level of playing experience and it showed "virtually no connection between playing greatness and coaching greatness."
Oregon State's Mike Riley ranked 57th out of the 128 coaches on the list.
Moss wrote: "Riley was a celebrated high school quarterback in Corvallis, but opted to play college ball all the way in Tuscaloosa (his uncle, Hayden, was the baseball coach at Bama), where he was a backup cornerback under Bear Bryant and played on the 1973 UPI national championship team."
Former OSU player Bronco Mendenhall of Brigham Young ranked 47th.
"After transferring from Snow Junior College, Mendenhall started for two years as a safety and linebacker at Oregon State, and was team captain as a senior in 1987."
Molinaro shared several examples of the lengths that schools have gone to in an effort to promote their candidates. Then, he shared a story about Oregon State's Terry Baker.
"To show how the hard-sell has changed over the years, there's a story told about 1962 winner Terry Baker of Oregon State," Molinaro wrote. "Baker was called out of an engineering class and informed that he had won the 25 pounds of bronze immortality. He turned around and went back to class."
Brad Fuqua is a sports copy editor and sports writer at the Corvallis Gazette-Times. He can be reached via email at brad.fuqua@lee.net.