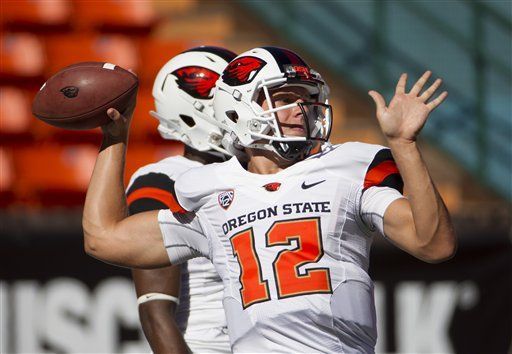 This week's depth chart released by Oregon State for the home game against San Diego State shows sophomore Brent Vanderveen in the No. 2 spot for quarterback behind starter Sean Mannion.
But if Mannion goes down, OSU coach Mike Riley said he would bring in redshirt freshman Luke Del Rio, the recent transfer from Alabama.
You have free articles remaining.
Asked during the Pac-12's weekly teleconference on Tuesday if Del Rio has emerged as the No. 2, Riley said, "Yeah, I think that would be the case if we had to go right in, right now. That will remain a competition throughout our time with them from here until next year, but right now, that would be the case."
Riley had this to say about Del Rio's strengths at QB: "Nice, natural passer, ball comes out easily. Smart, got an early, good grasp of our offense."
Riley said he just needs more time working in OSU's pro-style offense.
"I think right now the only weakness that really he can't do anything about is just more time with us and more opportunity to get to practice and then opportunities to get into games and make plays," Riley said. "I really like him, but I think he's got a lot of stuff, I think he's a tough guy and I think he'll be a good quarterback for us in the future."
Brad Fuqua is a sports copy editor and sports writer at the Corvallis Gazette-Times. He can be reached via email at brad.fuqua@lee.net.