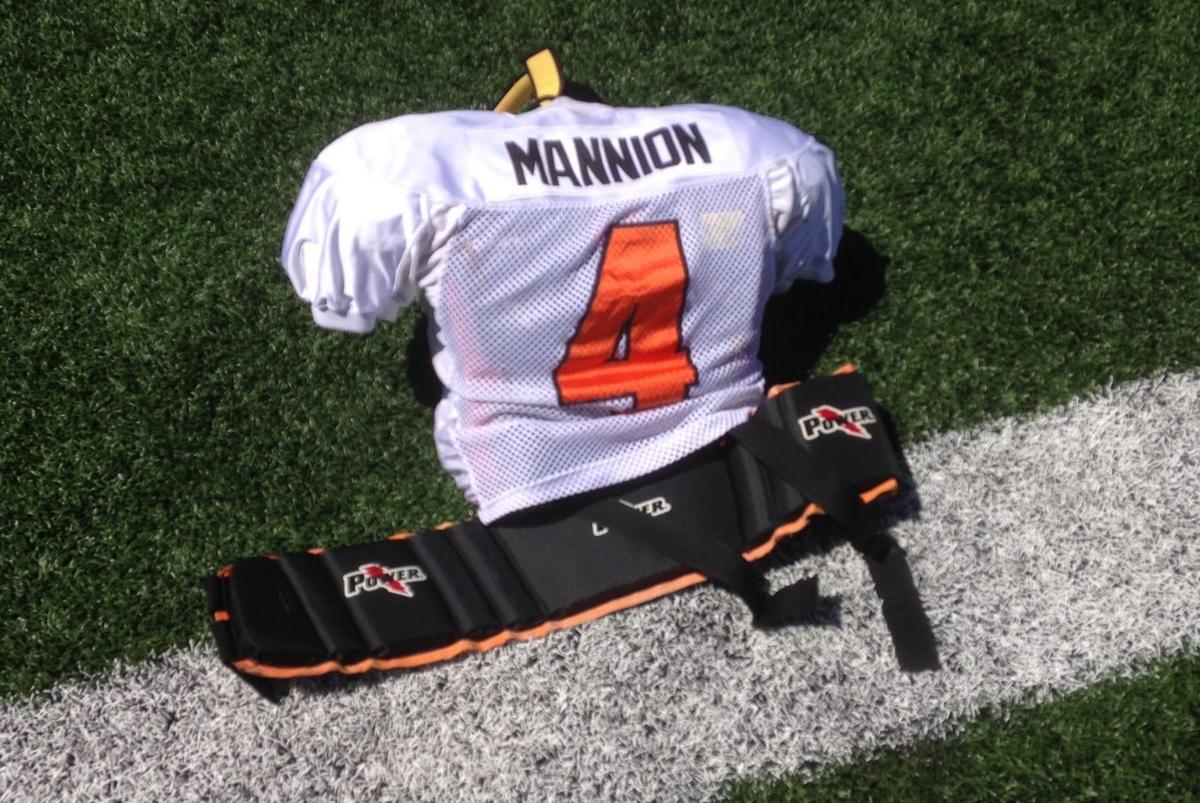 Heading into Saturday's game, Portland State definitely knows it must prepare for the onslaught that will be Oregon State's passing game.
Sean Mannion has all kinds of targets ... Richard Mullaney, Victor Bolden, Connor Hamlett, Caleb Smith, Malik Gilmore, Rahmel Dockery, and Terron Ward and Storm Woods out of the backfield.
Mullaney said Tuesday that the offense is really working on balance, one of the primary themes of fall camp.
"I feel like we've been working on our running game a lot and I'm excited about it," Mullaney said, "because that will just open up a lot of options with the passing game."
DEPTH CHART: Oregon State released its depth chart Tuesday for the Portland State game. Here are differences between the depth chart from preseason to Week 1:
• Junior Gavin Andrews is the starter at offensive left tackle, moving over from right tackle. Redshirt freshman Will Hopkins was the preseason No. 1 but has been sidelined with a hand injury.
• Sophomore Garrett Weinreich is the left guard starter moving up from No. 3 at right tackle in the preseason.
• Junior Josh Mitchell is No. 1 at center with Isaac Seumalo injured.
• Sophomore Sean Harlow has moved from the starting spot at left guard to right tackle.
• Terron Ward is No. 1 at running back with Storm Woods at No. 2.
• Ricky Ortiz gets the start at fullback with previous No. 1 Tyler Anderson at No. 2.
You have free articles remaining.
• Siale Hautau is the starter at defensive left tackle with Jalen Grimble at No. 2. Hautau moved from right tackle. Bud Delva is now No. 1 at right tackle.
• In the defensive backfield, Larry Scott is listed as the starter at right cornerback over Dashon Hunt. Ryan Murphy and Ty Zimmerman switched spots at strong and free safety.
• On special teams, Garrett Owens is the new kicker in place of Trevor Romaine.
FUN TIMES: Portland State coach Nigel Burton said Tuesday that his team broke fall camp with a positive feel.
"Camp went unbelievably well. I don't think the words 'camp and fun' have ever been in the same sentence, at least not for me. We actually had a lot of fun," Burton said. "Our kids had a great level of energy and focus every day and we got better and they made it fun to coach them."
The Vikings play at 1 p.m. Saturday at Oregon State.
"It's gonna be fun. Always that first game, there's that breathless anticipation," Garrett said in Week 1 of fall camp. "I/m just really excited to see what the atmosphere here is at a home game and just that buzz on campus, and I'm really looking forward to how our guys play."
Garrett will be on the sideline to work face-to-face with players and contribute his perspective on plays to run, although that duty remains with head coach Mike Riley.
SUCCESS AS SALUKI: Former Oregon State running back Malcolm Agnew leads the Southern Illinois running game. The Southern Illinoisan published a feature on Agnew describes how he's worked through a hamstring injury that limited him last season, although he still had 888 yards and six TDs.
"I thought even going back to last spring, I think he's found his burst, that acceleration that makes running backs special," SIU coach Dale Lennon said in a story by Todd Hefferman. "We ran him early in pre-fall, tested him early in pre-fall, and he passed that test with flying colors."
Brad Fuqua is a sports copy editor and sports writer at the Corvallis Gazette-Times. He can be reached via email at brad.fuqua@lee.net.