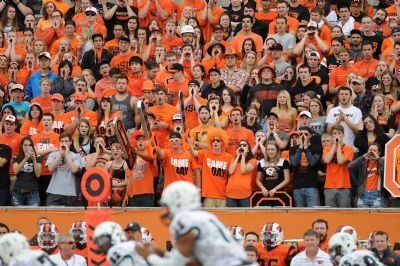 The orange and black assault began at Portland International Airport's Gate D15 while waiting to board a Hawaiian Airlines flight for Honolulu.
An older gentleman leaning on a cane with his Beavers gear proudly in view. A stocky fella in his mid-20s who said it's the only way to spend a weekend during football season. A middle-aged man traveling alone to catch the Beavers. Two college girls laughing and having fun with a weekend adventure upon them.
Tomorrow night (well, tomorrow afternoon in Hawaii), I'll see just how many Oregon State fans made the trek to Aloha Stadium to watch the Beavers. From what I've read, Hawaii's attendance hasn't been all that great so perhaps the OSU fans will have a presence.
You have free articles remaining.
The check-in clerk at the Best Western Plaza Hotel seems to think Hawaii might have a good chance after the performance they put in last week against Washington. She may be right if Mike Riley's crew doesn't take care of business.
The Beavers need to avoid a slow start, dumb mistakes and turnovers. If OSU plays a smart, sound game, a victory should be the outcome. OSU simply has more talent than the Rainbow Warriors ... I think I'm safe making that assumption. But performing on the field is another matter and all the talent in the world can be defeated if it fails to execute.
If you're back in Corvallis, get ready for the game tomorrow by reading through the GameDay special section in the Gazette-Times. There's a lot of good information in there. And then watch the game on the CBS Sports Network (Comcast channel 412) if you get that as part of your cable package. If not, there's always KEJO (1240 AM), sports bars and the Internet (I'll be sending out updates at Twitter.com/bradfuqua or just follow the #gtsports hashtag).
My take on the game? My GameDay prediction has OSU winning by 20 points. If the Beavers don't win, I have a feeling the fans won't be as cheery on the way home. And I'll be hoping I don't get the same woman for hotel check-out.
Brad Fuqua is a sports copy editor and sports writer at the Corvallis Gazette-Times. He can be reached via email at brad.fuqua@lee.net.