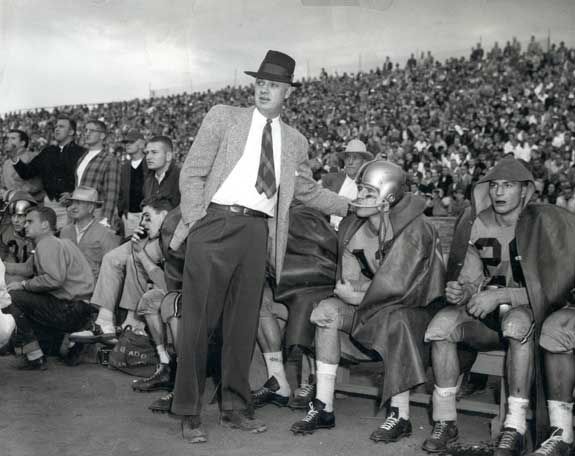 In our GameDay special section, I put together a feature on the series history between Oregon State and the opponent of the week. The Beavers don't have a deep history with the Buffaloes although they were some interesting meetings over the years beginning in 1932.
But while doing the research, I came across a man named Dallas Ward. He's one of those interesting connections that you can make between the two schools. Ward, a native of Lexington, Oregon, played his college football in Corvallis and was considered one of the top ends in the Pacific Coast region in the mid-1920s.
Ward, at age 41, became the head coach at Colorado in 1948. At $8,500 a year, he was one of the top paid coaches in the Rocky Mountain region.
Ward earned his shot as head coach after 12 years as an assistant under Bernie Bierman at Minnesota. He joined the Buffaloes at a time of transition for the program, leaving the old Rocky Mountain Conference and joining the Big Six, which would become the Big Seven (and later the Big Eight with the addition of Oklahoma State in the late 1950s).
You have free articles remaining.
It took Ward a couple years to get things going in Boulder but had a winning record by his third season. In his fourth year, Colorado finished second in the Big Seven. Later following the 1956 season, CU won the Orange Bowl over Clemson.
Ward had helped Colorado evolve into a team of national prominence behind its successful single-wing offense. Ward reportedly received job offers from USC and Minnesota. But he declined with the desire to continue building Colorado.
Two years later after seasons of 6-3-1 and 6-4, CU's board of regents fired him, which was not a popular decision among many. One thought offered by historians is that he was replaced because he could not beat Oklahoma (0-8-1 vs. the Sooners), which was one of the powerful teams during the 1950s. His overall record in Boulder was 63-41-6.
Ward never coached again, but remained at CU as a faculty member and was the assistant athletic director for several years. He never left Boulder and died there in 1983.
Ward was inducted into the OSU Sports Hall of Fame in 1997. Also in the Colorado Sports Hall of Fame, the Dal Ward Athletic Center on campus is named in his honor.
Brad Fuqua is a sports copy editor and sports writer at the Corvallis Gazette-Times. He can be reached via email at brad.fuqua@lee.net.