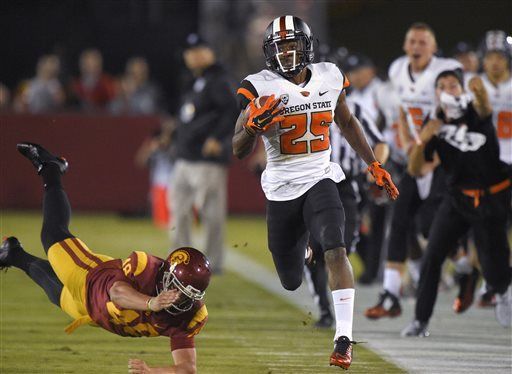 You might say it was an up-and-down experience on Saturday for Oregon State safety Ryan Murphy.
In the first quarter, the Beavers were trailing USC by a touchdown, thanks to a pick-six by Su'a Cravens. OSU needed to answer and the response was immediate as Murphy ran back a kickoff for the first time in his collegiate career. He didn't stop running until he reached the end zone for a 97-yard touchdown.
It was the fifth-longest in OSU history. And it was very satisfying for Murphy after he had been asking coach Mike Riley to include him on the kick return unit. Unfortunately, the play was followed by an excessive celebration penalty.
But the final outcome was not a happy occasion with USC taking a decisive 35-10 victory. Murphy was on the sideline on the first half's final play when the Trojans scored on a Hail Mary.
You have free articles remaining.
"It personally hurts me because I couldn't complete the half," Murphy said. "That's what I'm most upset about. I couldn't be there to help out."
The Hail Mary gave USC a 21-10 halftime lead and the Beavers could never recover.
"Initially I didn't want Oregon State to call timeout and them to have all that clock," USC coach Steve Sarkisian said about what preceded the desperation pass. "We put the offense on the field to make it look like we were going to go and the plan was to run it down to 2 seconds, take the timeout and run the Hail Mary.
"We've been practicing it all week and you never know when you're going to use it. But when you do use it, you want to make sure you're going to execute it, and it was well done. ... If we didn't catch it, even if they intercepted it it'd be the end of the half."
Another key to the game for the Trojans was their ability to convert on third down. And that was accomplished against an OSU defense that ranked among the best nationally in that category.
"It;s on us. As our coaches preach, finish and that includes third downs," Murphy said. "All the guys on defense take pride on third downs and they converted a couple later on in the game and that helped shift the momentum."
Brad Fuqua is a sports copy editor and sports writer at the Corvallis Gazette-Times. He can be reached via email at brad.fuqua@lee.net.