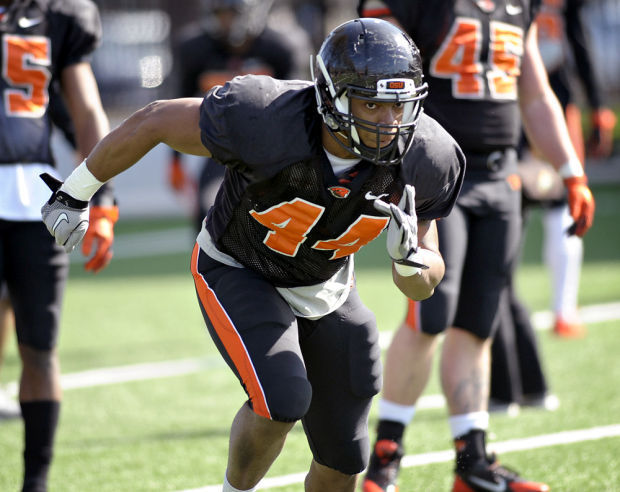 Oregon State's defense enters the season with high hopes for success. Defensive end Dylan Wynn, linebackers D.J. Alexander, Jabral Johnson, Rommel Mageo and Michael Doctor, and defensive backs Steven Nelson, Tyrequek Zimmerman and Ryan Murphy are all returning starters.
"We've had a very good summer camp, very productive," defensive coordinator Mark Banker said Wednesday. "With any luck, we'll stay healthy. Good senior leadership. Got some fifth-year seniors. We've got a couple guys out of the JCs that are now seniors and just really coming together chemistry-wise. Real good group from a standpoint of paying attention to detail and now we've just got to get that carried over to the game."
You have free articles remaining.
RILEY ON COACHING: Coach Mike Riley appeared on Jim Rome's show Wednesday. Entering his 14th season at Oregon State, Riley has the longest tenure of any Pac-12 coach. Here's what he had to say about developing the OSU program.
"The great thing about being able to stay someplace for a while is to have an identity, have something you believe in, try to keep making it better," Riley said. "So it's obviously never a finished product but the process is very rewarding, very fun."
DAD MAKES IT BACK TO CAMP: Former Oregon State quarterback Derek Anderson will be available for tonight's preseason finale for the Carolina Panthers.
Anderson tweeted at 3:49 a.m., "First night quite brutal on the ole sleep meter." He was supposed to fly to Pittsburgh today to join his teammates for a game against the Steelers.
Brad Fuqua is a sports copy editor and sports writer at the Corvallis Gazette-Times. He can be reached via email at brad.fuqua@lee.net.