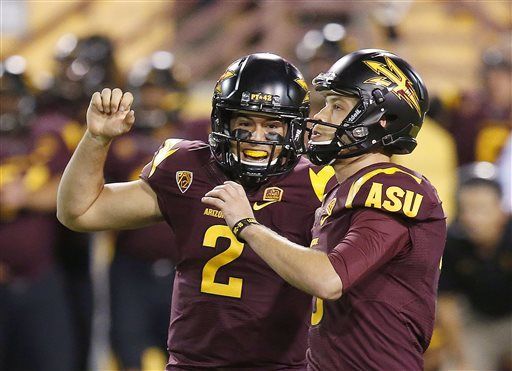 Arizona State and Oregon look to be on a collision course to play for the Pac-12 title after both won key home games on Saturday.
The Sun Devils needed overtime to slip past pesky Utah, 19-16, and become the only one-loss team in the South Division.
That's because the two other teams that entered the week with one loss — Utah and Arizona — both lost.
The Wildcats, who handed Oregon its only loss, fell at UCLA, 17-7.
Speaking of the Ducks, remember when they lost to the Wildcats and everyone said the season was over?
In the immortal world of ESPN's Lee Corso — Not so fast.
Oregon dismantled Stanford's defense with touchdowns on their first three possessions, then pulled away for a 45-16 win.
That had to feel pretty good after losing the last two seasons to the Cardinal and having their national title hopes wrecked because of them.
Also on Saturday, USC pounded Washington State, which lost quarterback Connor Halliday to a leg injury.
Then there was California running over Oregon State en route to a 45-31 win, handing the Beavers a big blow to their postseason chances.
And Washington fended off a Colorado team that led 23-17 in the third quarterback by scoring the final 21 points for a 38-23 win.
Oregon gets one last test in the regular season with a trip to Utah this Saturday while ASU also gets a test as the Sun Devils step out of conference play to take on Notre Dame.
At the other end of the spectrum, Oregon State hosts Washington State in the somebody-has-to-win game of the week.
On to this week's power rankings:
1. Arizona State (7-1, 5-1): Sun Devils needed to gut out another one and they did. After Notre Dame this week, ASU has WSU and OSU before travelling to Tucson for the finale.
2. Oregon (8-1, 5-1): Revenge was sweet for the Ducks, who made Stanford look un-Stanford like on defense. An ASU-UO showdown gets closer.
3. Utah (6-2, 3-2): Utes may have lost but they stay at No. 3. Andy Phillips missed a key FG in OT. It's a tough bunch.
4. USC (6-3, 5-2): Trojans bounced back and put up the points against the Cougars. It helped that Halliday went out.
5. UCLA (7-2, 4-2): Good win at home that keeps Bruins in the hunt. UCLA holds tiebreaker with ASU based on head-to-head win.
6. Arizona (6-2, 3-2): Wildcats no longer control their own destiny and will need help to win the South.
7. Washington (6-3, 2-3): The early start seemed to hurt the Huskies, who woke up in time to pull away in the second half. Shaq Thompson is a beast on offense and defense.
8. California (5-4, 3-4): Bears could have folded after letting OSU back in the game, but instead rallied for the win. Bears rushed for 269 yards in win.
9. Stanford (5-4, 3-3): Slow start was too much to overcome and Cardinal now have four losses. Stanford has a bye before home game with Utah.
11. Oregon State (4-4, 1-4): A bowl game looks like a long shot now after falling at home to the Bears. Fans calling for change in the coaching staff.
11. Washington State (2-7, 1-5): Losing Halliday all but does in the Cougars.
12. Colorado (2-7, 0-6): I like the fight. Now the Buffaloes just need to get a win.But they don't have WSU on the schedule.
Steve Gress is the sports editor of the Corvallis Gazette-Times. He can be reached at steve.gress@lee.net.