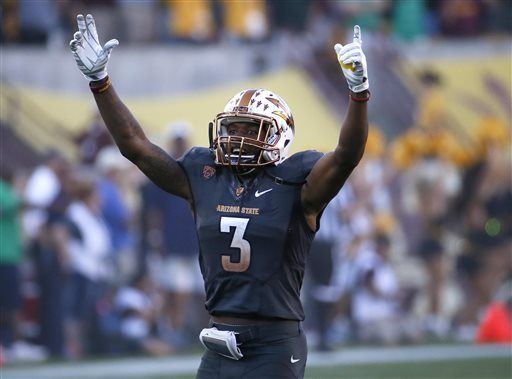 Arizona State made quite the statement on Saturday with a 55-31 rout of Notre Dame in a de facto College Football Playoff elimination game.
The Sun Devils blitzed the Fighting Irish and built a 34-3 lead before seeing Notre Dame cut the deficit to 34-31 in the fourth quarter.
But ASU owned the final 6 minutes and scored 21 points to win going away.
While the game did nothing to help the Sun Devils in their quest for a Pac-12 South Division title, it should give them plenty of momentum heading into the final three games of the season.
ASU will hit the road this week to take on an Oregon State team that has lost four straight. Then it is a home game versus Washington State and the season finale at Arizona.
With the big win, it would be hard for the Sun Devils to drop from the top spot in the power rankings, right?
Well, Oregon made a decent statement as well with a 51-27 win at Utah.
However, the Ducks needed a crazy 100-yard fumble return for a score to turn the tides early.
Utah was about to score to go up 14-0 when Kaelin Clay decided it didn't matter if he celebrated before actually crossing the goal line so he dropped the ball early.
Joe Walker picked up the loose ball and went 100 yards to even the score.
The Ducks never looked back.
Oregon wrapped up the North Division title and must not stumbled in its last two games of the regular season to stay in the hunt for a berth to the CFP.
You have free articles remaining.
Can't see the Ducks losing to Colorado or Oregon State.
In other action, UCLA pummeled Washington in Seattle, 44-30; Arizona scored the final 14 points in a 38-20 win over Colorado; and Washington State sent Oregon State to its fourth straight loss with a 39-32 win in Corvallis.
Here are this weeks rankings:
1. Arizona State (8-1, 5-1): Sun Devils earned lots of recognition nationally for the big win. Team has played well since the debacle against UCLA.
2. Oregon (9-1, 6-1): Ducks get a bye this week, then two more the falling weeks with games against Colorado and Oregon State.
3. UCLA (8-2, 5-2): Nice way to go into a bye. UCLA gets USC and Stanford at home to close out the season.
4. USC (6-3, 5-2): Trojans had a bye and stay at No. 4.
5. Arizona (7-2, 4-2): Wildcats back on the right track with a win over Buffs. They get reeling Huskies at home before trip to Utah.
6. Utah (6-3, 3-3): Utes have lost two in a row, although to the top two teams in the rankings. Utah heads to Stanford this week.
7. California (5-4, 3-4): Bears had a bye and head to USC looking for a sixth win and to qualify for a bowl berth.
8. Stanford (5-4, 3-3): Cardinal needed a bye and they got one. Like Cal, Stanford needs a win to be eligible for a bowl.
9. Washington (6-4, 2-4): Huskies have struggled on defense, and the passing offense has been awful. Still need a win to be eligible for a bowl game.
10. Washington State (3-7, 2-5): A former walk-on redshirt freshman starts at QB? No problem. Cougars add to Oregon State's woes with road win.
11t. Oregon State (4-5, 1-5): Beavers have lost four straight and it could end up being seven straight when it's all said and done.
11t. Colorado (2-8, 0-7): Buffaloes have been keeping things interesting but haven't been able to get that elusive Pac-12 win.
Steve Gress is the sports editor of the Corvallis Gazette-Times. He can be reached at steve.gress@lee.net.