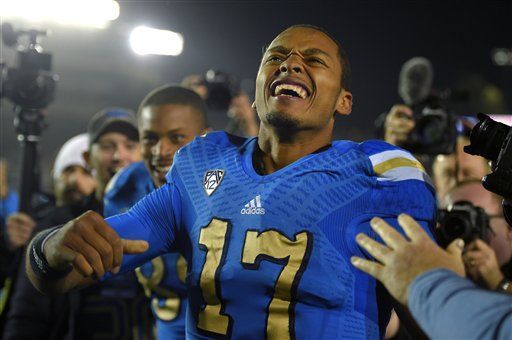 All that stands in the way of an Oregon-UCLA Pac-12 title game is for the Bruins to knock off Stanford this week.
That's because the Bruins continued their recent dominance over crosstown rival USC with a 38-20 thrashing of the Trojans in the Rose Bowl. UCLA has won the last three meetings, all under the direction of head coach Jim Mora.
Oregon was already assured a trip to the title game for the first time in three years when it took the field against a Colorado team that has shown signs of improvement this season. It was no contest as the Ducks bolted out early and won 44-10 in what was almost certainly quarterback Marcus Mariota's final home game in a Ducks' uniform.
UCLA's win means Arizona State, which started slowly before pulling away from Washington State in the second half for a 52-31 victory, needs help to win the South Division.
The Sun Devils must win at Arizona on Friday and hope that Stanford can knock off UCLA. If the Sun Devils and Bruins both win, they would end up tied at 7-2. But UCLA won head-to-head and would get the nod.
Beating Arizona will be no easy task as the Wildcats remained in the hunt with a 42-10 thrashing of Utah. If Arizona wins and UCLA loses, then the Wildcats would be the South champs and the Ducks would get a chance at revenge in the title game.
In other action, Stanford and Washington both became bowl eligible by winning. The Cardinal routed Cal in The Big Game, 38-17, while the Huskies pulled away to beat Oregon State, 37-13.
Here's a look at the power rankings heading into the final week of the regular season:
1. Oregon (10-1, 7-1): Ducks looked focused against Buffaloes. I expect the same against the Beavers in the Civil War.
You have free articles remaining.
2. UCLA (9-2, 6-2): Bruins have been playing well down the stretch. Pretty sure they want a rematch with the Ducks.
3. Arizona State (9-2, 6-2): Sun Devils bounced back from loss to Beavers but it seemed they had a hangover early. Can't do that against rival Wildcats.
4. Arizona (9-2, 6-2): So much for the weather being an advantage for the Utes. Wildcats still alive for South title.
5. USC (7-4, 6-3): Power has switched hands in Los Angeles. Trojans hope to not have repeat performance against their other rival, Notre Dame.
6. Utah (7-4, 4-4): Utes took one on the chin, but can still win at least eight games with victory over Colorado.
7. Stanford (6-5, 4-4): Cardinal are eligible for a bowl and would love to spoil UCLA's shot at a trip to the title game. Tough order.
8. Washington (7-5, 3-5): Huskies finally won a Pac-12 game at home this season, handing Oregon State another lop-sided loss. UW is also bowl eligible since it needed seven wins because Huskies are playing 13 regular-season games.
9. Cal (5-6, 3-6): Bears still need a win against BYU to be bowl eligible, but regardless of outcome, they have taken a step forward this season.
10. Washington State (3-8, 2-6): Gave the Sun Devils a run for 30 minutes. Now all that is left is to beat Washington in the Apple Cup.
11. Oregon State (5-6, 2-6): Beavers had a chance to make something out of lost season by winning at UW and becoming bowl eligible. It didn't happen. Now they must beat Ducks to prolong season.
12. Colorado (2-9, 0-8): Still winless in the Pac-12.    
Steve Gress is the sports editor of the Corvallis Gazette-Times. He can be reached at steve.gress@lee.net.